Issue Date: February 22, 2008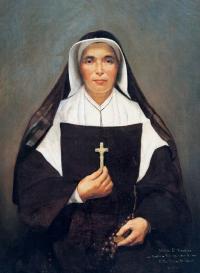 -- CNS/Courtesy Sisters of Providence
[Saint] Mother Theodore Guerin: a story of courage and trusting in the Providence of God
The sisters' story retold
By MARLENE SWEENEY
I recently left Sunday Mass shaking my head. Walking to the car I found myself ranting to my 23-year-old daughter. "Until we teach and encourage women to advocate for themselves, life in our church will not change." She looked at me somewhat startled.
We had just sat through a talk for Catholic Schools Week. The speaker (a woman) had made references to "the good sisters" of days past who, she reminded us, had once ruled our schools with a firm hand and a wooden ruler when necessary. The speaker's reference to "good sisters" was anything but good. The perpetuation of an old stereotype of women religious instilling fear in children and subjecting them to cruel and harsh punishment needs to be laid to rest. My adult daughter had no idea what the speaker was referring to when she mentioned "the look" (apparently a religious woman's ability to radically change another's behavior by gazing in their direction).
"Isn't it time we give it up?" I found myself mumbling. Have you ever heard a speaker at church make light of a priest's unbecoming behavior toward children? Of course not.
We would not tolerate it, or find it amusing. Then why do we think it is acceptable to characterize women religious as crotchety, stern defenders of the faith who somehow knew how to beat children into submission and since their disappearance the landscape of Catholic education has never been the same?
Why are we not, instead, committed to telling the truth about these women? Why are we not sharing their personal stories of how many of them came to the United States as pioneers with a desire to bring the Gospel message to all people? How many Catholics know the story of Mother Theodore Guerin, a missionary from France who along with five companion sisters came to rural Indiana in 1840? Her determination to do God's work in spite of numerous trials and prejudices against Catholics and especially against women religious is the story of courage and trusting in the Providence of God. It has all the makings of the numerous heroic stories we share about Fr. Jacques Marquette and Louis Joliet, which have been taught in American history for years, yet few people know Anne-Therese Guerin's name.
Don't we all lose out when we miss the stories of women like Sr. Henriette Delille? This religious woman of the 19th century defied the law against educating nonwhites in the South and founded a sisterhood, Sisters of the Holy Family, who provided education, nursing care, and a home for orphans and people of all colors.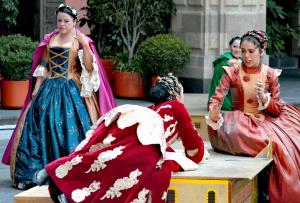 -- Notimex/Bernardo Moncada
Novohispano Fenix National Classic Theater Company performs Sor Juana InÚs de la Cruz's play "Love Is a Labyrinth" in Mexico City Oct. 6.
"Shouldn't we be applauding religious women's contributions to the intellectual and artistic life of our church?" I queried my daughter, while telling her how few religious women's scholarly works had ever appeared on my required reading lists during my 16- plus years of Catholic education. Yet, I know that I have been formed and influenced by the theology of the Dominican women I have known and sought out. I doubt that my spirituality would have blossomed without the inspiration of the Benedictine sisters whom I discovered through the printed word.
It seems as if the voice of so many gifted religious women has been missing in the conversation of our church not only in the past but still today.
"Artistic life?" my daughter questioned.
I grimaced to think I had probably never shared with her that the beautiful altar in her grandparents' church was designed and created by one of the sisters teaching art in our grade school. Did she have any idea that several of the paintings in our home were the creative work of a local artist who just happens to be a professed woman?
Countless religious women participate in the revelation of beauty through their art and creative expression. Had I shared with her young spirit the poetry of Sor Juana Inés de la Cruz or Joyce Rupp?
Suddenly, I was feeling part of the responsibility for this early morning rage. Why do so few religious women's names live on in church history? In parish life? At universities? Do we know of any school halls, activity centers or gymnasiums named after the women who served in these communities? Are we destined to accept all-male walls of remembrance in parish centers, archdiocesan offices and "distinguished alumni" tributes? Do we ever stop to question the lack of female names and faces?
Isn't it about time we invite today's church to learn about and honor the calling women have lived in the past and still today to further the kingdom of God, rather than trivialize their place in history? I believe that creating the kind of community that respects every member's contributions, regardless of gender, is the work of this generation. With the help of the Holy Spirit we can develop a theology that embodies the concept that women, too, are created in the image and likeness of God, "coheirs and copartners in the promise of Christ Jesus" (Ephesians 3:6). People need to pass on their stories of faith and honor those who have formed them in their values and visions.
I am deeply grateful to the many religious women who have shared their deep spirituality and profound humanity with me throughout my life.
I want my children to know about Sr. Angeline, Sr. Miriam, Sr. Kateri, Sr. Vincent Mary, Sr. Mary Lou, Sr. Marian, Sr. Margaret, Sr. Delores, and all those holy women whose personal influences have become a part of who I am.
Stopping for a cup of tea after a rough morning at church we did just that -- shared stories and faith -- re-telling our history.
Marlene Sweeney is a writer who lives in Hanover Park, Ill.
National Catholic Reporter, February 22, 2008 [corrected 03/07/2008]