Issue Date: February 22, 2008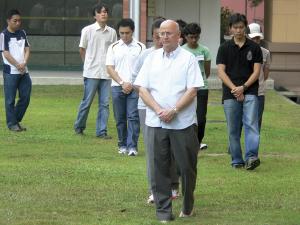 -- UCAN/Daniel Tay
Benedictine Fr. Laurence Freeman leads young Singaporeans in a walking meditation session during a Jan. 27 day of recollection.
Monk leads young people in meditation
By UCA NEWS
Singapore
"There is nothing worse than to say on your deathbed, 'I've lived a meaningless life,' " a British monk told about 40 young people during a day of recollection.
"If life does not seem to have a meaning for you, then all forms of suffering would seem meaningless," Fr. Laurence Freeman, director of the London-based World Community for Christian Meditation, said at the Jan. 27 event. "Therefore, when life does produce suffering, we will not be able to handle it, and seek to escape from it through addictions."
The Benedictine monk of the Olivetan Congregation conducted the recollection titled "What Is My Purpose In Life?" at St. Patrick's School here. Most of those present, ages 17-35, were Catholics.
A youth meditation group that is part of the local chapter of the World Community for Christian Meditation organized the event. The group was established last year at the Church of the Holy Family.
During the recollection, Freeman explained how meditation can lead one to a greater sense of purpose. It "leads us into a journey of harmony with ourselves and with God," he elaborated.
Freeman then guided the group through a 15-minute meditation session. He invited participants to sit up straight, place their hands on their laps and close their eyes. He then asked them to focus on their breathing and mentally repeat a simple religious phrase.
Freeman recommended reciting "Maranatha," which means "Come, Lord" in Aramaic. Scholars believe this language was Jesus' mother tongue.
Later in the day, he led participants in meditating as they walked slowly in a large circle on a field. Some of the young people said later that they found this method of meditation "refreshing."
Operations manager Gary Ng, 26, told UCA News: "I think the theme for today is very appropriate for young people, because in the context of our society, we find that we want to be 'somebody.' The most important thing is that God loves us for who we are, not who we want to be."
Ng, who has been practicing meditation for the past nine months, said the practice has helped him discover "a simple kind of joy" and "balance" in his life.
Sales manager Eliza Tan, 28, admitted she had not expected much. "I never thought that I would be in the least bit interested in meditation," she told UCA News. "This was my first time trying meditation. Surprisingly, I found it simple."
At the end of the recollection, those interested in practicing meditation regularly were invited to join one of the existing World Community for Christian Meditation groups in Singapore.
The local chapter of the worldwide community has 28 meditation groups that meet weekly in 18 churches, hospitals, prisons and homes.
The World Community for Christian Meditation was formed in 1991 and continues the work of the late British Benedictine Fr. John Main.
National Catholic Reporter, February 22, 2008