Issue Date: February 22, 2008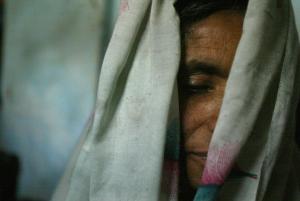 -- AFP/Getty Images/Anna Zieminski
An Indian woman named Sumari sits at the home of a neighbor in the district of Mewat, Haryana, Jan. 17. Sumari, who originally came from the northeastern Assam state, is among more than 10,000 women who have been bought or lured with the promise of a job from poorer Indian states to northern India to be married to men who cannot find a wife.
Nuns launch plans to fight trafficking of women
By UCA NEWS
Mangalore, India
Superiors general of about 35 women's congregations based in India have drafted a plan to fight trafficking of women and children through educating religious as well as cooperating across congregations and with church institutions.
The nuns, whose congregations have members in various Asian countries, met in early January in Mangalore, as a follow-up to a workshop on trafficking held in October 2007 in Rome. At the Rome meeting, about 30 nuns from 26 countries formed the International Network of Religious against Trafficking in Persons.
At the Mangalore meeting, the nuns agreed to collaborate across congregations to combat trafficking of women and children in India and other parts of Asia, Sr. Jyothi, superior general of the Bethany congregation, told UCA News.
Another Bethany nun, Sr. Lilitta, pointed out that 74 million South Asian women have been reported missing, with 20 million said to be working in Indian brothels. An estimated 25 percent of women trafficked to India are under 18 years old, according to the nun, who did her doctoral research on human trafficking. She urged women religious to "do whatever possible to curb this menace."
The plan drafted at the meeting suggests religious attend workshops designed to "sensitize" and "activate" them. It also proposes an intercongregational network and joint projects in collaboration with individuals and various church institutions, including Caritas India, the local Catholic church's social service organization. The projects would aim to prevent trafficking, rescue its victims and rehabilitate them.
Trafficking of people, especially women and children, occurs for diverse purposes including prostitution, servitude, illegal adoption, organ transplants, drug trafficking and beggary, Lilitta noted.
The problem is a sociopolitical issue, she contended, pointing out that of the 685 people Indian police arrested on trafficking charges in 2007, only 27 were prosecuted. The nun said most affected women and children are poor and easily taken advantage of, coming from the socially and economically backward classes.
According to Lilitta, India, the Philippines and Thailand together have around 1.3 million children in the sex trade.
The meeting on trafficking followed the four-day annual plenary of the women's section of the Conference of Religious India. About 350 major superiors representing more than 90,000 women religious gathered in Mangalore for the assembly, which ended Jan. 1.
The plenary launched plans for a theology research institute to empower women religious and redress the gender disparity in religious studies. They appointed a seven-member committee to work out detailed plans for establishing the intercongregational institute to spur education, development and research among women religious.
The new center will "enable the women to empower themselves" through scientific and systematic research and study on the contributions of women in general and religious women in particular, explained Bethany Sr. Jyothi, a committee member.
At the annual meeting, several participants expressed concern over gender discrimination within the church. Some said women religious are treated as "just decorators," reported Sr. Jyothi, who was also vice president of the meeting's organizing committee.
Chavanod Sr. Evelyn Monteiro, a theologian, observed that one reason for male domination in the church has been women's lack of competence in theology.
The idea for a theology center for training nuns began even before the plenary. Sr. Jyothi Fernandes, who directs Mater Dei theological institute in Old Goa, western India, wrote a position paper that was studied at regional and national levels prior to the plenary.
Fernandes, an Ursuline Franciscan nun, said several meetings were held at the regional level about the feasibility of such a center before proposing it in the general body.
National Catholic Reporter, February 22, 2008