Issue Date: March 7, 2008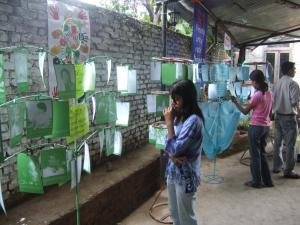 -- Courtesy of 1,000 PeaceWomen/Lasse Andersson/Switzerland
A young woman in Kathmandu, Nepal, views the PeaceWomen exhibit in 2006.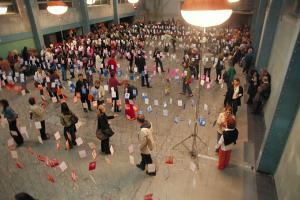 -- Courtesy of 1,000 PeaceWomen
A large crowd turned out for the inaugural exhibition in Zurich, Switzerland, in 2005.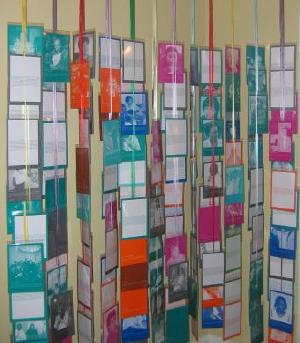 -- Courtesy of Xavier University/Laurel Bauer
At the Xavier Women's Center, the cards are displayed on banners.
Beautiful Women
By RENÉE LaREAU
Cincinnati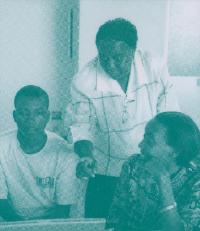 Eunice Nangueve Inacia, Angola
"I wish to see women free of poverty and illiteracy, bringing peace and equitable development in Angola, to see women leaders prevent armed conflict and promote inclusive, just governance."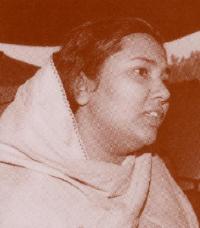 Rubina Feroze Bhatti, Pakistan
Fighting violence against women -- such as "honor killings" -- through the media is key to Rubina Feroze Bhatti's schema, as is building interfaith and inter-sect harmony.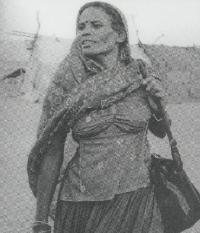 Meghiben Samariya, India
Meghiben has inspired some 2,500 women in the entire Pachcham area to take up the cause of human rights empowerment and justice for women.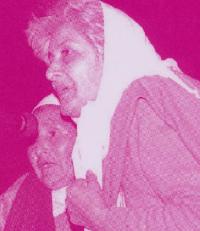 Olga del Valle Márquez de Arédez, Argentina
"I am the daughter of an indigenous native and a Spaniard. We, the indigenous people have a mandate to bury our dead so that they can rest in peace. And peace shall be with us."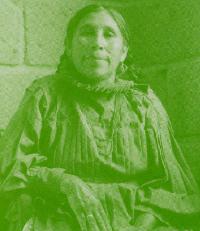 Macedonia Bias, Mexico
"Everything can be achieved, bit by bit, little by little."
Rolene Miller, South Africa
"Women are the first agents of change, the first teachers because they are bearers and nurturers of culture. If change has to happen, it must start with women."
Women have their own way of avoiding war and creating peace." These are the words of Samsidar, an Indonesian activist who was one of 1,000 women collectively nominated for the 2005 Nobel Peace Prize.
Samsidar's words also serve as the premise behind a traveling exhibition that pays tribute to the work of women peace activists from 150 countries around the globe.
Currently on display at the Xavier University Women's Center in Cincinnati, "1,000 PeaceWomen Across the Globe" aims to honor and showcase the peacemaking efforts of women worldwide, many of whom often go unnoticed.
Specifically, the exhibit pays tribute to the 1,000 women who were nominated for the 2005 peace prize by PeaceWomen Across the Globe, a Swiss-based nonprofit organization that coordinated the nomination and subsequently launched the exhibit in Zurich in October 2005. The exhibit has since been displayed in more than 25 countries from Canada to Kenya to Mongolia.
"It really captures the many ways women are acting locally and globally to promote peace," said Jennifer Wies, director of the women's center at Xavier.
The exhibit consists of 1,000 multicolored postcards that are grouped and hung from brightly colored ribbons.
Each postcard features a different nominee. In most cases, the postcard includes the woman's photograph, her home country and region, a brief description of her work and a quotation that highlights her personal mission.
"These are women who are working every day internationally for their city, for their nation, for global peace," Wies said.
The cards are color-coded to denote 10 different categories of service: reconciliation and reconstruction; women's rights; human rights on the way to gender democracy; the struggle for survival among minority and indigenous groups; economic rights and livelihood; justice and peace; health issues; peace education; environmental justice and ecological security; and politics and governance.
What emerges is a fascinating and colorful array of peacemaking efforts by journalists, scientists, authors, physicians, attorneys, nurses, activists, scholars and mothers.
"Depending on the day you're having, depending on what you need, there's one woman out there to inspire you," Wies said.
A quotation from an American nominee, Elise Marie Biorn-Hansen Boulding, succinctly captures the display's central message: "The range of human activity that can be re-tuned to contribute to peace-building is vast." Boulding is a Quaker peace educator and activist.
One literal example of this "re-tuning" is Xiaoying Zheng, China's first female opera and symphony orchestra conductor. In the wake of the country's Cultural Revolution in the 1960s, Zheng rebuilt the country's Central Opera Theater Orchestra from ruin. She has spent her adult life helping to promote the popularization of classical music in China.
"I wish to present wonderful music and peaceful life to the public and popularize exquisite classical music to the best of my ability," Zheng says.
Other "PeaceWomen" featured include individuals such as Binda Pandey of Nepal, an activist who is responsible for helping tradeswomen unionize and who has played a role in the movement for the restoration of democracy in Nepal.
In Jordan, Insaf Arafat, a physician, has been working for more than 30 years to promote health care for mothers and children and to care for displaced survivors of war and disabled land mine victims.
"My motivation to work for peace comes from the tragic conditions that wars cause, leaving behind a large number of disabled land mine survivors, displaced people, widows and orphans," Arafat says.
The snapshots of women such as Arafat who work amid war and violence are especially remarkable. Another example is Alina Allo of Russia. In war-torn Chechnya in 1998, she organized project "White Dove" -- an appeal for mutual forgiveness by Russian parents to Chechen parents who have lost their children as soldiers in the war.
"We have to do all we can to avoid that Russian and Chechen children become enemies," Allo says.
Though the 2005 nomination of these women and their counterparts did garner some publicity, they did not win the prize. That year's honor went to the International Atomic Energy Agency and to its director general, Mohamed ElBaradei. Since the Nobel Foundation's inception nearly 107 years ago -- in 1901-- only 12 women, approximately 10 percent of the winners, have won the peace prize.
The PeaceWomen Across the Globe organization was founded not only to honor specific women, but also to lobby for wider roles for women in peace negotiations and policy development and to "challenge narrow definitions of peace."
"Peace-building is often thought of as something heroic or spectacular, or as something carried out by heads of state," a statement on the organization's Web site explains. "In reality, peace-building is rarely spectacular, although it does require courage and endurance. Effective peace-building is the long-term pursuit of justice and human security. This is the criteria we use to identify women who are peace builders."
The Xavier Women's Center has purchased the materials for the exhibit, which includes the postcards, a 55-minute film and a 2,000-page book with black-and-white photographs and biographies of the nominees.
Wies says she has been "dumbfounded" by the amount of attention "1,000 PeaceWomen" has received from the local media and from the community.
"It seems trite to say that people are moved," Wies said. "But people are inspired by these women. People will find a connection with one or two or three women. People come in and they find what they need; they find what they were seeking."
Wies says she plans to use the exhibit again in the future.
"It's been an amazing investment," Wies said. "In three years we can hang it up again and there will be new angles to look at."
First shown at Xavier on the U.S. holiday honoring Martin Luther King Jr., Wies says "1,000 PeaceWomen" will remain on display through March 18.
Renée LaReau is a freelance writer living in Columbus, Ohio.
Women's centers at Jesuit universities
Since 1912, when Marquette became the first Jesuit university to admit women as students, Jesuit institutions have grown and expanded the ways they provide resources for women.
It's difficult to determine exactly how many Jesuit colleges and universities house women's centers because in some cases their functions are part of academic departments such as women's studies or interdisciplinary programs or institutes.
Such centers are at Boston College; Creighton University in Omaha, Neb.; Fairfield University in Fairfield, Conn.; Georgetown University in Washington; Loyola College in Baltimore; Loyola University in Chicago; Seattle University; University of Scranton in Pennsylvania; and Xavier University in Cincinnati.
Some are classified as resource centers, meaning that they tend to offer direct services such as advocacy and educational programming. Those categorized as research centers focus more on cultivating and disseminating scholarship by or about women. Some women's centers fall into both categories.
-- Renée LaReau
National Catholic Reporter, March 7, 2008