Issue Date: March 7, 2008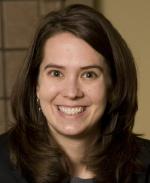 Jennifer Wies
Women's center tackles big issues in cozy space
The women's center where 1,000 PeaceWomen is on display is a new initiative for Xavier, a Jesuit university in Cincinnati with more than 6,600 students. Jennifer Wies, director of the center, said the exhibit provides an opportunity to publicize the center among the wider community.
"This is our first big thing," Wies said. "This is the program we used to get our name and mission out to a large audience."
The center -- one of at least nine such centers at Jesuit universities -- opened in August 2007.
Xavier first opened a women's center in 1972, three years after the university began admitting women as full-time students in 1969. But it closed eight years later when the university community decided it was no longer needed. In 2005 a group of faculty, students and administrators created a proposal to open a new center.
Wies describes it as "a place to center women's needs and issues."
"The mission is to have programs and initiatives that serve not only students, faculty and staff but also alumni and community members," Wies said.
Recent programs have included a brown-bag speaker series at lunchtime, which has included such topics as breast cancer and women and immigration. (For the record, men are most welcome, too. One speaker was a male student who talked about his experience working as an intern at a Washington think tank for peace and justice issues.)
At Xavier, the women's center's mission includes providing a space where discussion of women's issues can take place and also promoting research on women, girls and gender issues by partnering with university groups such as academic departments, said Wies, who has a doctorate in applied anthropology.
Wies said she is working with the athletic department on a proposal for a program that will utilize student athletes as role models for healthy attitudes and behaviors related to alcohol use.
"It's not very common for a women's center and an athletic department to partner," she said wryly. "We do partner with practically everybody on campus."
The center serves as a conduit to the university's assistance program for women who are victims of domestic violence, Wies said.
"Sometimes people come in, they get to know me and they disclose they've been a victim of violence," she said.
The center is housed in a spacious bungalow built in the 1920s as a family home. It retains the cozy feel of a home, with a sizeable dining room table and a living room outfitted with comfortable couches and big floor pillows. Coffee, tea and cookie dough are always on hand, adding to the spirit of hospitality.
"It's so important to have a space that's connected to campus but a little separate, a little different," Wies said. "It's a place where women and men can hang out and ask questions they may not be asking other places on campus.
"It's neat to be in a position of being a culture changer," Wies said. "It takes me down a new path every day."
National Catholic Reporter, March 7, 2008