Issue Date: March 7, 2008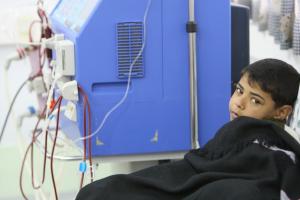 -- Getty Images/AFP/Mehdi Fedouach
Raw sewage runs in the streets of Gaza
By MOHAMMED OMER
Inter Press Service
Gaza City, Palestine
A stream of dark and putrid sludge snakes through Gaza's streets. It is a noxious mix of human and animal waste. The stench is overwhelming. The occasional passerby vomits.
Over recent days this has been a more common sight than the sale of food on the streets of Gaza, choked by a relentless Israeli siege.
Hundreds of thousands of Gazans, almost all of its able male adults among a population of 1.5 million, crossed over into Egypt in late January to buy essential provisions -- and a new lease on life. That has staved off starvation. But streets continue as sewers.
The rain has not helped. The sludge has spread, and the stench with it. Starved of timely income and essential supplies, municipal services have all but ceased.
"The smell," said Ayoub al-Saifi, 56, grimacing as he holds a handkerchief over his nose and mouth. "The stench of the sewage … my wife has asthma, and she can't breathe."
Saifi lives next to what has become a newly formed pool of waste. This used to be the street leading to home. "It's getting worse day by day," said neighbor Said Ammar, an engineer and father of four.
The sewage treatment plant in al-Zaytoun neighborhood in Gaza City requires 20,000 liters of fuel a day. In January Israel ceased delivery of all fuel and supplies to Gaza. The consequences have been catastrophic.
Without fuel to pump it away, the waste backs up, flooding the streets and clogging the plumbing. The local ministry of health has declared this an environmental catastrophe.
Doctors have warned that a medical catastrophe could follow by way of the spread of cholera and other diseases. That is at a time when not even life-saving medical services are available anymore.
"We have to choose between cutting the electricity on babies in the maternity ward, cutting it to heart patients, or shutting down our operating rooms," said Dr. Mawia Hasaneen, director of emergency care at al-Shifa Hospital, the largest in Gaza.
The World Health Organization released a statement in January warning of serious health difficulties arising in Gaza Strip, isolated by the Israeli siege, the Egyptian border and the Mediterranean Sea.
"Frequent electricity cuts and the limited power available to run hospital generators are of particular concern, as they disrupt the functioning of intensive care units, operating theaters, and emergency rooms," the organization said. "In the central pharmacy, power shortages have interrupted refrigeration of perishable medical supplies, including vaccines."
Christine McNab, acting director in the communications department in the World Health Organization in Geneva, added, "Our current concerns are about the supply of electricity to health facilities, the ability to move medical supplies into the region, and the ability of people to seek care outside of Gaza."
McNab noted that even if the full blockade is lifted, additional measures would need to be taken by the international community against any further disruptions.
Israel has blocked off fuel and supplies to Gaza because it says it faces rocket attacks from the Palestinian area, which elected Hamas, the Palestinian party that does not recognize Israel.
More than 700 rockets and mortar shells have been launched from Gaza against Israel since the beginning of the year, according to Israeli military officials.
Israel has retaliated with firing from tanks and attacks by F-16 aircraft firing Hellfire missiles into Gaza's neighborhoods. On Feb. 17, Israeli troops raided homes in southern Gaza, killing four Palestinian militants and capturing 80 Palestinians and taking them back to Israel for questioning.
Some 300 Palestinians, including dozens of civilians, have been killed in the last year by Israeli air strikes and raids. In the same period, Palestinian rocket fire has killed two Israelis.
John Holmes, U.N. undersecretary-general for humanitarian affairs, visited Gaza Feb. 15. He is the highest U.N. official to visit Gaza since Hamas took control of the area June 14 last year, when the Israeli blockade began to be tightened.
Saying he was "shocked by the grim and miserable things I have seen and heard," Holmes urged a re-opening of Gaza's borders to relieve the suffering of 1.5 million civilians.
Holmes told reporters in Gaza City that the long-imposed blockade "makes for a grim human and humanitarian situation here in Gaza, which means that people are not able to live with the basic dignity to which they are entitled."
National Catholic Reporter, March 7, 2008