Issue Date: March 7, 2008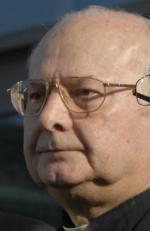 -- AP Photo/Bernd Kammerer
Archbishop
Robert Zoilitsch
German bishops' new leader promises liberal agenda
By NCR STAFF
The new chairman of the German Roman Catholic Bishops' Conference has promised continuity with his sometimes controversial predecessor. He was delivering on that promise within days after his election, speaking against clerical celibacy and for greater ecumenism.
Archbishop Robert Zollitsch of Freiburg was elected head of the German bishops' conference Feb. 12. He succeeds Cardinal Karl Lehmann, who offered his resignation last month after more than 20 years in office, citing health reasons.
Speaking of his predecessor, Zollitsch said, "We're theologically and personally so close that you'll find it hard to see a difference."
As leader of the German hierarchy, Lehmann found himself in tension with the Holy See on several points, such as allowing Communion for Catholics who are divorced and remarried, priestly celibacy, and the policies of church-run counseling centers regarding abortion referrals.
Within days of his election, Zollitsch told the German newsmagazine Der Spiegel that he was against "a prohibition on thinking" about the subject of celibacy and that the link between the priesthood and celibacy was "not theologically necessary."
He also said he hoped to improve ecumenical relations. About half of Germans are Protestant and many objected to a Vatican statement released last summer that said Protestant communities are not "churches" in the full sense of that word. Asked about the statement, Zollitsch told Der Spiegel the Protestant community "is a church; I cannot deny it."
In other media interviews, he spoke in favor of a recent government proposal to triple the capacity of government subsidized daycare facilities. The government says it wants to assist working families, but critics -- including some outspoken Catholic bishops -- say the proposal devalues traditional families. Zollitsch said, "We need nurseries because many parents simply are in need."
German media reported that going into the election, another, more conservative bishop was the favored candidate, Reinhard Marx, 54, the recently installed archbishop of Munich. But Zollitsch, 69, was elected by a simple majority on the third round of voting. He is to serve a six-year term. Lehmann, 71, remains bishop of Mainz.
The Catholic reform group Wir sind Kirche, or We are Church, said it welcomed Zollitsch's election. "In view of the increasing centralism in the Roman Catholic church, we expect the new chairman -- while remaining loyal to Rome -- will represent the concerns of the Catholic church in Germany to Rome emphatically and with self-confidence," a statement from the group said.
The group also took "as a good sign" Zollitsch's commitment to expanded ecumenical dialogue with other Christian churches, which has "stagnated" recently.
The German bishops' conference comprises 71 bishops and archbishops from Germany's 27 dioceses.
Protestant leaders and figures from other faiths welcomed the choice, as did Germany's two main political parties, the Social Democrats and Christian Democrats. Chancellor Angela Merkel praised the choice, saying, "Zollitsch approaches people with great openness and addresses their needs and concerns."
Wolfgang Huber, head of the Evangelical church in Germany, told Reuters that Zollitsch "stands for a Catholic church aware of its traditions in a very established region, but he also represents a willingness to reform."
Zollitsch has a doctorate in theology. Pope John Paul II named him archbishop of Freiburg in 2003. He was born in 1938 to a German family in the former Yugoslavia. They were expelled after the Second World War and fled to Germany.
National Catholic Reporter, March 7, 2008