Issue Date: March 7, 2008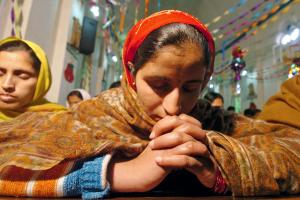 -- AFP/Getty Images/Irshad Khan
India women attend Christmas prayers at the cathedral church in Srinagar Dec. 25.
India's bishops strive for gender equality in church bodies
JAMSHEDPUR, India -- Acknowledging that the presence of women in Indian church structures is still "inadequate," India's bishops have decided to reserve 35 percent of seats in church bodies for women.
This initial quota is part of efforts by the Catholic Bishops' Conference of India to eliminate "root causes" of discrimination against women in the church and society.
The bishops had placed the "women's empowerment in the church and society" on the agenda of their eight-day biennial plenary, which ended Feb. 20. At the meeting were 160 bishops, 40 lay and religious women, and seven laymen.
In a statement issued at the end of the meeting, the bishops committed to having each of the 12 conference regions formulate its own policy within a year.
Regardless of laywomen's contributions in education and health care, the statement says, "their potentials are yet to be sufficiently tapped in administrative and executive roles, as well as the theological, liturgical, pastoral and missionary apostolates of the church."
Henceforth, the church will ascertain that at least 35 percent of the members and office bearers of parish and diocesan pastoral councils, finance committees and national church bodies are women, according to the statement. The quota will grow gradually until women get "the ideal of 50" percent.
The Indian prelates acknowledged that the lack of a spirituality rooted in women's experiences and insights into God, mission, the sacraments and scripture have impoverished the church.
The bishops directed that family education and marriage preparation courses be revamped to remove the cultural bias against girls and sexual stereotypes. They also agreed to encourage family-oriented movements to promote the equality of husband and wife.
Other plans include scholarships for women to study theology, Bible and canon law, and allowing them to teach in theology colleges and spirituality centers and to work as pastoral workers, researchers and in faith formation.
Another plan is to make use of church laws and systems to help women "emotionally and legally" when they suffer and seek separation from husbands.
The statement also reflects the bishops' commitment to educate women of tribal and low-caste groups and to find jobs for them in church institutions.
-- UCA News
National Catholic Reporter, March 7, 2008