Issue Date: March 7, 2008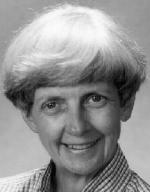 Sr. Anne Carr
Feminist theologian Anne Carr dies
By NCR STAFF
Feminist theologian and expert on Karl Rahner and Thomas Merton, Sr. Anne Carr died at her home in the Hyde Park neighborhood of Chicago Feb. 11. She was 73.
Carr was professor emerita of theology at the University of Chicago Divinity School, where she taught for 30 years. She was the first woman and the first member of a religious order appointed to the school's permanent faculty.
Her major publications were The Theological Method of Karl Rahner, Transforming Grace: Christian Tradition and Women's Experience and Thomas Merton's Theology of the Self.
When Carr retired from the university in 2003, David Tracy of the Divinity School called her a founding mother of Christian feminist theology. Of Transforming Grace, Tracy wrote, "In that amazing book, she never hesitated to expose the sexism of the Christian tradition, as well as to retrieve overlooked resources of the experience and theology of women."
An NCR review of that book when it was published in 1988 credited Carr with helping move feminist theology "from a focus on women's ministry and ordination to feminist exploration of the full range of Christian symbols to Christian feminist theology."
Carr entered the Sisters of Charity of the Blessed Virgin Mary of Dubuque, Iowa, in 1958, taking final vows in 1966. Before that, she taught kindergarten in the Chicago Public Schools for two years.
Community member Sr. Christine Athans believes Carr's years as a kindergarten teacher shaped her later life. "There is something about human nature that you learn by teaching little kids that you don't learn anywhere else," she said. "Anne had a gentle simplicity coupled with a sense of awe and wonder at the universe and the beauty of life."
In some ways this informed her exploration of theology, believes Athans, professor emerita at the School of Divinity of the University of St. Thomas in St. Paul, Minn. "I think her probing into Merton was one more effort to look beyond the question of just the theoretical" in theology.
In 1984, Carr was among 91 nuns and priests who signed an ad in The New York Times backing a statement by vice presidential candidate Geraldine Ferraro that there was "a diversity of opinion regarding abortion among Catholics."
Signing the ad cost Carr her spot as a consultant to the U.S. bishops' committee drafting a pastoral letter on women in society and church. After multiple drafts and years in committee, the letter on women was eventually tabled and never issued.
The Catholic Theological Society of America honored Carr with its John Courtney Murray Award for outstanding contributions to theology in 1997.
National Catholic Reporter, March 7, 2008