Issue Date: March 7, 2008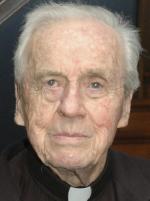 -- CNS
Fr. Berghardt
Jesuit professor, prolific writer dies
By RELIGION NEWS SERVICE
Fr. Walter J. Burghardt, a Jesuit priest known for his electrifying preaching style and commitment to social justice, died Feb. 16 in a Jesuit infirmary in Merion, Pa. He was 93.
"For all his brilliance, bearing and elegance, he had wonderful simplicity about him," wrote Fr. Jim Connor, also a Jesuit, in a homily prepared for Burghardt's funeral. "And this is what made him so appealing and such a good friend."
Over the course of his career, the prolific Burghardt wrote 25 books and 300 articles for theological journals.
His memoir, Long Have I Loved You: A Theologian Reflects on His Church, was honored by the Catholic Press Association.
Burghardt was born July 10, 1914, in New York City. He was ordained a Jesuit in 1941 at Woodstock College in Woodstock, Md., where he began his 32-year teaching career.
From 1946 to 1990, he worked as an editor for the Catholic journal Theological Studies. During that time, Burghardt was also a visiting professor at schools such as Princeton Theological Seminary and Union Theological Seminary in New York.
When he was nearly 80, Burghardt started the "Preaching the Just Word" program through the Woodstock Theological Center at Georgetown University. Despite going blind due to macular degeneration, Burghardt led the program's countrywide retreats to help priests address social justice issues in their communities.
Burghardt wrote an essay on courage in the July 14, 2006, issue of NCR marking his 92nd birthday, 75th year as a Jesuit and 65th year as a priest. He wrote that he had one comfort in going blind: "Keenly I am aware that although I am losing my eyesight, I am not losing my vision." Blindness, he wrote, had taught him about courage.
"There must be times, will be times, when you, too, are afraid -- afraid to love, afraid to give or forgive, afraid to cry out against injustice, afraid to face an incurable illness. Recognize a basic reality: Courage is not the absence of fear. It is feeling afraid to do something but finding the strength to do it," Burghardt wrote.
National Catholic Reporter, March 7, 2008