Issue Date: March 7, 2008
Gems from home and abroad
'Praying with Lior' is a poignant documentary; 'Caramel' depicts sisterhood in Lebanon
By KEVIN DOHERTY and JOSEPH CUNNEEN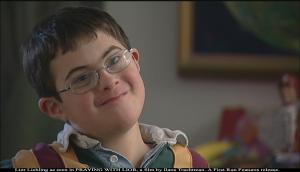 -- First Run Features
Lior Liebling in "Praying with Lior"
Praying with Lior is a documentary about a Philadelphia Jewish boy with Down syndrome that should have special appeal to all those who believe in prayer. Lior's mother, Devorah Bartnoff, herself a rabbi, died when Lior was only 6, but she had taught him well by constantly singing to him. Although today he has a strong, caring stepmother, he still feels the loss of his mother, and the scene in which he accompanies his father, Rabbi Mordechai Liebling, to Devorah's grave and kisses her tombstone, will move the most hardhearted spectator. Amazingly, director Ilana Trachtman manages to avoid sentimentality: The love Lior shows for "davening" (prayer), the joy with which he sings (atonally) and the happiness he shares with those who come to his bar mitzvah are truly irresistible.
Understandably, Lior's father, former director of the Jewish Reconstructionist Federation, is supremely proud of him, and his stepmother, Lynne Iser, and his brothers and sisters have surrounded him with love. Fortunately, they have been able to provide him with a supportive environment and have wisely sent him to a Jewish school that makes ritual a major element in education. The film avoids scenes of inner family tension but includes some honest recognition of the constant pressures of caring for this child. His younger sister Anna complains that Lior's "specialness" means she is never the center of attention. Older brother Yoni sums up the situation: "I don't know if there's a God, but if there is, Lior is closer to him than anyone I know."
The secret behind the boy's confident approach to prayer is revealed in the home movies made by his mother when he was very young, which are used several times during the documentary. A soundtrack composed by the klezmer virtuoso Andy Statman helps create an overall mood, and Lior's dancing serves to sustain it. His stepmother alludes to the limitations later life will impose on Lior, but this film about making his bar mitzvah will deepen your understanding both of the "handicapped" and of prayer.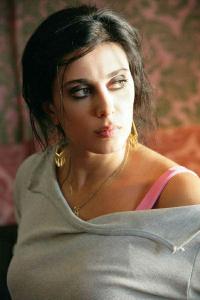 -- Roadside Attractions
Natine Labaki as Layale in "Caramel"
Caramel, a light comedy from Lebanon, centers on the sisterhood of five women who work in a Beirut beauty salon. For a movie that takes place in the Middle East there are few overt political overtones. Instead, director and star Nadine Labaki concentrates on a warm portrayal of the lives of these women in a world with an East/West cultural mix. Even its title, which refers to the hot/sweet gel that is used to remove unwanted hair, is an allusion to that mix. Any hint of the repression of women is so subtly embedded that the theme flows non-polemically throughout the film.
In Arabic and French (with subtitles), "Caramel" revolves around several of the women's romantic conflicts, and the efforts of the group to help them resolve their problems. Layale (Ms. Labaki) is the owner of "Si Belle," a shop that while not quite up-to-date specializes in Parisian chic and a genuine caring for its varied clientele. She lives at home while carrying on a stressful affair with a married man, while a young police officer in the neighborhood is beginning to show interest in her.
Her coworkers include Nisrine (Yasmine Al Masri), a young Muslim about to get married who is afraid that her fiancé will find out she is not a virgin. Then there is Rima (Joanna Moukarzel), the young hairstylist-in-training, who falls in love with a beautiful female customer. The latter, a mysterious client, returns to the shop and asks to have only Rima work on her hair. Meanwhile Aunt Rose (Siham Haddad), an aging seamstress awakening to her own beauty in response to an elderly male customer, asks the shop for a facial makeover. The broadest humor is saved for Rose's disturbed sister who says and does anything that comes into her head. Her hysterically foolish behavior, however, always manages to contain a grain of truth when directed at others.
American viewers might think they are getting something in the vein of Pedro Almodovar, whose comedies feature women characters. "Caramel," however, has none of his aggressive quirkiness; its tough-minded humanity overcomes any temptation to melodrama.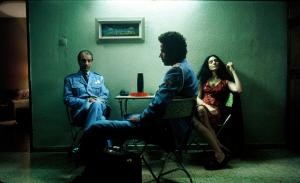 -- July August Productions
From left, Sasson Gabai, Saleh Bakri and Ronit Elkabetz in "The Band's Visit"
The Band's Visit is a small charmer from Israel, as delightful as it is unpretentious. It would have been a strong candidate for best foreign film, but the authorities ruled it out because too many lines were in English, though it also contains Hebrew and Egyptian.
Written and directed by Eran Kolirin, it tells the story of an Egyptian police band invited to Israel to play at an Arabic cultural center. Alas, they get on the wrong bus and end up in Bet Hatikva, where they find there is "no Arab culture, no Israeli culture, no culture at all."
There they are seen as a possible distraction by Dina (Ronit Elkabetz), the bored but forthright woman who runs the village café. She is accommodating enough to feed the band's leader, Lt. Col. Tewfiq Zacharya (Sasson Gabai), and his seven players, all wearing powder blue uniforms, and even arranges for them to stay overnight in her small house since there's no bus out of town till the next day. Perhaps recalling her childhood, when she and her mother used to go every week to Egyptian movies and both were in love with Omar Sharif, she puts on a red flowered dress to show the colonel her village in the evening.
Happily, the movie is more interested in studying character than in sexual titillation. Although Dina makes herself alluring, what ultimately emerges is an understanding of what lies behind the colonel's polite but doleful countenance. He is someone, we learn, who loves fishing but throws everything he catches back in the water.
The band's chance visit brings out the humanity of both villagers and musicians, especially their loneliness and yearning. Perhaps the film's most charming moment comes when Haled (Saleh Bakri), the most junior of the musicians, comes to the aid of romance at a roller skating rink. Sitting next to a supremely shy Jewish youth, he puts his hand on the latter's knee, thereby teaching his companion to put a hand on the knee of the young Jewish girl sitting alongside. Would that the agonies of courtship and the hostility between nations could be so delightfully choreographed.
Kevin Doherty teaches film at Manhattanville College; Joseph Cunneen is the author of Robert Bresson: a Spiritual Style in Film.
National Catholic Reporter, March 7, 2008