Issue Date: March 7, 2008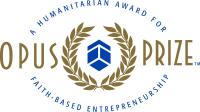 The Opus Prize
Rewarding heroes $1 million at a time
By EMILIE LEMMONS
When Gerald Rauenhorst went into the construction business for himself in 1953, he had little money -- just $350 and a $2,500 loan from his older brother. But the 25-year-old had big expectations, not least of which was putting ethics and honesty at the foundation of his work. That meant no kickbacks, payoffs or back-room deals. It meant sticking to his word and delivering projects on time and on budget. It meant treating clients and employees with respect. And it meant giving back to the community.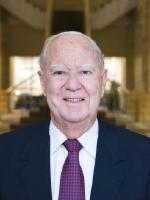 Gerald Rauenhorst
Nearly 55 years later, Rauenhorst's company, the Opus Group, based near Minneapolis, has become one of the leading companies in the construction business. Opus has built projects all over the country, ranging from churches to sports arenas, corporate headquarters to shopping developments.
Opus is also a leader in corporate philanthrophy. Rauenhorst maintains that corporations have a responsibility not only to their stockholders, but to the community in which they operate. To that end, Opus donates 10 percent of the company's pre-tax profits to charity. And since 2004, the company's Opus Prize Foundation has awarded a $1 million humanitarian prize each year to an "unsung hero working on the front lines of today's most persistent social problems," as the foundation's Web site describes it. (See related story below.)
Rauenhorst, 80, has maintained a low profile over the years -- "I like to walk around quietly," he told NCR -- and his family remains private about their many community involvements.His philanthropic style is "largely driven by Gospel values," said Jesuit Fr. Robert Wild, president of Marquette University in Milwaukee, where Rauenhorst earned an engineering degree and has overseen construction of several buildings. "My strong sense is that … he really believes that [you] don't let the right hand know what the left is doing. I admire that."
Over the years, Rauenhorst has asserted that integrity and ethics belong in corporate culture.
"I think it's the secret to success," he said. "Our company has done very well. We worked hard at it."
Opus' long record of successful projects and satisfied customers is a testament to that philosophy. Now led by Rauenhorst's son, chief executive officer Mark Rauenhorst, Opus is a $2.1 billion real estate development company with 2,100 employees, according to its Web site. It runs 28 offices in the United States and Toronto, organized into five geographical divisions: North, South, East, West and Northwest.
But Rauenhorst has avoided working "in certain parts of the country," such as New York City, where unethical behavior is more common, Tom Roberts, president and chief executive of Opus West in Phoenix, told the Phoenix Business Journal in 2003. A company spokeswoman confirmed that this is still the case.
Rauenhorst's values were formed early in his upbringing in rural Minnesota. One of eight children in a tenant farmer family, Rauenhorst, in a 2003 book, described his childhood as "poor in material things -- we didn't even have an indoor biffy until I was 15 -- but we were rich in the things that count."
"We were taught all the right things. To work hard and not to cheat and to always tell the truth," he said in his book, A Better Way, written with help from business journalist William Swanson. "To treat people with respect, to pay your bills, and to go to church every Sunday."
Catholic clergy were frequent visitors in the Rauenhorst household, and Gerald Rauenhorst remembers those visits as an early lesson in the importance of stewardship and philanthropy.
In A Better Way, he tells of the time when the parish priest talked his father into pledging $2,000 for a new church. "My father was struggling to keep his family afloat, and yet he was asked for -- and he provided -- what was … a staggering amount of money," he said. "I've never forgotten that story, knowing what a sacrifice that had to have been for him."
Rauenhorst's mother encouraged him to go to college, and he graduated from what is now the University of St. Thomas in St. Paul with a degree in economics, followed by an engineering degree from Marquette. Along the way, he married his college sweetheart, Henrietta; they would go on to have eight children, one of whom died in infancy.
He struck out on his own in 1953 after working for two construction companies whose unethical practices made him uncomfortable. "I founded Opus with the philosophy that business can be done a better way," Rauenhorst told the Design-Build Institute of America's Dateline in a 2007 interview.
Described as friendly but reserved and unimposing at 5-foot-7, the young Rauenhorst nonetheless began to win early bids for projects, competing with companies much larger and more established than his. It became clear that he was a man of his word, and he soon developed lasting relationships with clients such as the University of St. Thomas, which named its business school after Opus in 2006.
One way Rauenhorst realized his company could better serve its clients was by providing both the architectural and construction services for a project, rather than subcontracting one or the other -- a concept called "design-build."
"By serving as the single source of responsibility for a construction project, the design-build firm is able to be involved in and manage the design, and closely coordinate personnel and materials, thus accelerating and scheduling with precision the ultimate completion date and maintaining budget control," Rauenhorst said in A Better Way.
The design-build model has been a boon for Opus' relationships with clients such as Marquette, for which Opus built a well-received addition to the library at the center of campus, among other buildings.
"They really pioneered design-build," said Wild, Marquette's president, who has known Rauenhorst since the 1970s and served on the university's board with him in the 1990s. "The firm gives you a price at the front end; they work with the design team; and they guarantee the price tag. [Construction companies] don't all do that, but it's been a hallmark of Opus. And we like that. When we budget for something, we like it to be what it is."
Rauenhorst's conviction that "ethics do belong in business" (as he said in a 1981 speech quoted in the book) has meant some tough standards for employees.
"We have a system now, for some dozen years or more, where every employee signs a little booklet every year [saying] that they will abide by the ethical rules in that book, which are very strict," he said.
"It requires them to report fellow employees if they are unethical," he said. Superiors must promise not to reveal who made a report, he added, but the prospect of being a whistleblower is still difficult for some.
Nonetheless, everyone from workers in the mailroom to members of the board of directors signs the booklet. "If they don't, they no longer work for us," he said.
Rauenhorst also fostered a culture in which his employees were encouraged to give serious thought to how Opus could play a role in its community.
In 1970, he challenged his staff to choose a serious societal problem and come up with a plan for solving it. The result was a program for people recovering from addiction. The program, called Progress Valley, helped 6,000 people in its Twin Cities and Phoenix locations in its first 30 years, according to A Better Way.
The family contributes generously -- and often anonymously -- to community causes including Catholic education and health care institutions. Catholic Charities and the Mayo Clinic are among the many recipients. Several of Rauenhorst's children sit on boards at Catholic universities and organizations across the nation. (See story.)
Rauenhorst has been a major contributor to both of his alma maters: Opus has built more than two dozen buildings on the Marquette and St. Thomas campuses, and Rauenhorst family members have been generous donors of their time and money. Rauenhorst has served as a St. Thomas trustee since 1966 -- the institution's longest-serving board member. He was on Marquette's board for 30 years, also a record, according to Wild.
The Marquette president said he thinks Opus' success has stemmed from a combination of Rauenhorst's integrity and his innovative "drive to do things better."
"He was not satisfied with the status quo," he said. "He kept challenging his people … to do things better -- just to see everyone reach an optimum level of creativity. But he was always very sensitive to the people and the ethics behind his decision-making."
Emilie Lemmons is a freelance writer in St. Paul, Minn.
National Catholic Reporter, March 7, 2008