Issue Date: March 7, 2008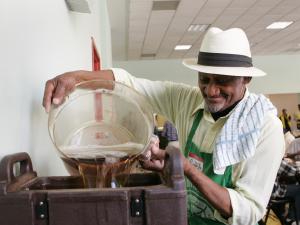 -- CNS/Nancy Wiechec
Volunteer Robbie Banner, 67, fills a container with iced tea at Our Daily Bread kitchen in Baltimore May 1. Catholic Charities of the Baltimore archdiocese runs the center, which provides subsidized housing, services and food for those in need.
Charities brace for leaner economy
By EILEEN MARKEY
As the specter of recession looms over the U.S. economy and Americans begin to tighten their belts, managers of major Catholic charities are preparing for the possibility of smaller donations at a time of increased need for the services they provide.
Taken together, Catholic institutions -- from parishes to shelters to 600 hospitals -- amount to a $100 billion economy, according to Francis J. Butler, executive director of Foundations and Donors Interested in Catholic Activities, known as FADICA, an amalgam of 54 private foundations that concentrate their philanthropy on Catholic causes. While much of that $100 billion in spending is supported through government funds, such as Medicare payments at hospitals and Department of Housing and Urban Development grants at affordable housing complexes, diocesan operations rely heavily on private donations, Butler said. Nationwide all parishes together collect between $6 billion and $7 billion annually. But when times are lean, the collection plate is lighter, he said.
"Traditionally giving patterns parallel the stock market," he said in an interview at the end of February. "I would suspect, just speaking with folks in the dioceses, that giving is down in the collection baskets."
FADICA and organizations that track charitable giving do not have data on the amount of donations charities have received in the past few months as the economy slowed, housing prices sunk and the effects of the subprime mortgage fiasco battered everyone from private and institutional investors to communities hit with increased rates of foreclosure.
Survey data released in December by the Center on Philanthropy at Indiana University, which tracks donations nationwide, suggested that nonprofits were bracing for leaner times.
That means more work, but less money.
"Prior research shows that human services nonprofits are among the first to see an increased demand for services when the economy slows," Eugene R. Tempel, executive director of the Center on Philanthropy, said in a statement accompanying the release of the report. "In those circumstances, such organizations often also face declining financial support from households, foundations and corporations. Even though the economy is not in a recession, uncertain economic conditions may be of particular concern for these organizations."
Nearly half of respondents to the center's survey predicted the economy would have a negative impact on fundraising in the first six months of 2008, according to the report.
Butler said while Catholic organizations will feel the sting of recession or slowdown, the best have probably already been planning for it. "A good development office is on top of that. If they've been through it before they know to expect it," he said. "I'm sure most of the larger charitable organizations are aware of what's happening and are trying to ramp up appeals."
John Keightley, vice president for membership and external affairs at Catholic Charities USA, said the economic downturn that followed the attacks on the World Trade Center in 2001 and the recession of the early 1990s meant smaller donations for Catholic Charities and its affiliate agencies in dioceses across the country.
"It's obviously something we pay some attention to. But the downturn gives us an opportunity to say, 'Look, if you are feeling this, imagine someone without a job or someone who is losing their home.' It puts a real premium on us finding new and creative ways to reach out to people," he said at the end of February, on his way to meet with potential donors in Louisiana.
Lean economic times strain Catholic Charities from all sides, Keightley said. A recession would mean much more demand for the agency's services -- such as housing counseling, emergency utility assistance or shelter -- coupled with smaller or fewer private donations.
Catholic Charities affiliates usually get 17 percent of their budgets from private donations, Keightley said. "It tends to be that flexible undesignated funding that is so crucial, particularly in an economic downturn," he said, pointing to funds that are not attached to particular programs and can be used for something like emergency fuel assistance for a needy family or as taxi or bus fare for someone trying to reach an education program.
"At this point it's a little early to tell," Keightley said of the economy's possible impact on private donations and support from sponsoring dioceses. "But so far some of the more significant impacts are the government cuts."
Keightley said that while economic slowdowns mean more demand on fewer resources, public or private, some donors come through specifically in tough times. "You are going to get some tightening up. But you also see people who get the message."
Michael Murphy, executive director of the International Catholic Stewardship Council, said his organization's analysis of Catholic giving at the parish level suggests donation levels stay even or increase in times of distress.
"Most Catholics do not see their parishes as a charity," he said, explaining that the weekly offertory occupies a different place in many Catholics' thinking about philanthropy and is rarely affected by the short-term economic winds. "Unless you are giving stock or a really big gift, they see it as a responsibility," Murphy said. He said the International Catholic Stewardship Council's records show parish-level giving went up in 2001-2002, when the economy was hurting. Donation levels increased in 2005-2006 as well, the most recent years for which the council has complete data. The net offertory collection in American parishes went up 12 percent that fiscal year; annual appeals by dioceses garnered 9 percent more donations than the previous year, Murphy said.
While Murphy did not speak on the ripple effect of the credit collapse's impact on charitable investment funds, he predicted most local giving would remain steady.
Eileen Markey is a freelance writer who lives in Bronx, N.Y.
National Catholic Reporter, March 7, 2008