Issue Date: March 21, 2008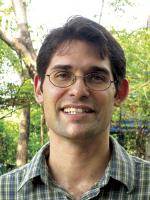 -- NCR photo/Teresa Malcolm
Daniel Aguilar Ortiz
Refugees from Myanmar find a home in Bangkok
Bangkok's Wat Prok seems to be swarming with boys in the morning. Most are dressed in identical blue -- they get to play soccer this afternoon, so they wear their sports uniforms all day in anticipation, and some kids are getting in some early informal practice. Others come up to greet their teacher, an American Maryknoll lay missioner, with a wai, the prayer-like gesture of respect used in Thailand.
It's only when classes begin that calm descends. After a "homeroom" in which these Mon children of migrant workers from Myanmar sing both the Mon and Thai national anthems, they disperse by age group to rooms on the grounds of this Buddhist temple or to a park in an adjacent Chinese graveyard. This morning they're studying math. Other days it will be Thai or English.
Seventy-five children are taught -- 74 boys and one girl, ages 7 to 18. The girl is the daughter of the abbot's secretary. The boys all live at Wat Prok, a temple in Bangkok for Myanmar's Mon ethnic minority.
"Their parents will leave them here so that they can get some kind of education with the monks," explained Daniel Aguilar Ortiz, 36. "And just to let them have a safer environment than where [the parents] are working at construction sites or factories."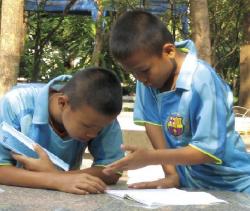 -- NCR photo/Teresa Malcolm
Two boys talk over a math assignment in class.
While the Thai constitution has guaranteed universal education, in practice it is not always available for immigrant children. Some of their parents may be in Thailand illegally, but many have a visa that allows them to work but confines them to a certain geographical area -- preventing the parents from visiting their sons here in Bangkok.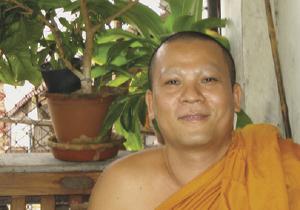 -- NCR photo/Teresa Malcolm
Phra Utara
Wat Prok already had Catholic connections through Br. Matthew Peters (see main story), when Ortiz, a lay Maryknoll missioner from New Mexico, proposed the idea of a teaching program for the many boys in the temple's care. Phra Utara, the monk in charge of the children, readily agreed.
"Before, from the moment I woke up, I had to be doing this, this and this with the boys, from waking up to going to bed," Utara said through an interpreter. "Now I have the chance to rest a little bit. My responsibilities have lessened."
He is the boys' main guardian at Wat Prok, insisting that parents meet with him before dropping off their child. For about a week that new child will be homesick, missing his mother and father, Utara said, but soon they want to stay.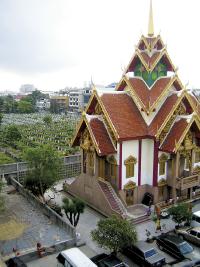 Wat Prok is adjacent to a Chinese cemetery in Bangkok, and the Mon monks have added Chinesestyle statues on the temple grounds to appeal to that ethnic group.
Ortiz agreed: When he has asked the boys if they want to go home, they tell him, "No, no, when I was at home all I did was stay in the house. I didn't go to school, I didn't have friends."
The boys themselves are "very tender" in the way they treat other boys, Ortiz said. "Volunteers here have started crying, watching the way the boys take care of each other."
The lone girl, who lives with relatives, is just as well integrated, Utara said. "She's like a boy," he added with a chuckle. "She can really defend herself."
As for daughters of the migrants, they are kept close to their parents at the worksites. "They don't often have the same kind of education -- it's more like learning to be a housewife," Ortiz said.
The boys' education at Wat Prok focuses on the skills they will need to make their way in Thai society. Ortiz teaches math and English. Two Thai women teach math and Thai. At 18, the boys will usually return to their families to join them working in construction or at factories. If their Thai is good enough, boys can sometimes get into trade or technical school, offering them opportunities such as opening a motorcycle repair shop.
Once when some of the boys copied each others' math assignment, Ortiz explained to them that it's not for a grade -- it's so they will have the knowledge so they won't get cheated on the job. They understood that. "The next day," Ortiz said, "they did their own work."
-- Teresa Malcolm
National Catholic Reporter, March 21, 2008