Issue Date: March 21, 2008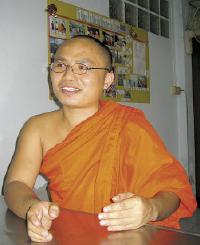 -- NCR photo/Teresa Malcolm
Buddhist monk Phra Panya
Future looks bleak for locked-in land
The crackdown on demonstrators by Myanmar's military government in September has provoked intense international pressure, including moves by the European Union and the United States to tighten economic sanctions against the regime. The junta's announcement in mid-February that it intends to hold a referendum on a constitution in May and elections in 2010 might raise hopes that the pressure is working, but pro-democracy advocates have dismissed the plans as a hollow attempt to deflect international criticism.
"Marching a fearful population through a stage-managed referendum will not advance democracy or reconciliation in Burma," Brad Adams, Asia director for Human Rights Watch, said in a statement. "A referendum under these repressive conditions will only cement in place continued military rule."
The draft constitution has not been made public, but a few details have leaked out. One provision reserves 25 percent of parliamentary seats to military appointees. A rule against the election of anyone to the presidency who is married to a foreigner would exclude opposition leader Aung Sang Suu Kyi, whose late husband was British. Her party, the National League for Democracy, decisively won national elections held in 1990 but has never been allowed to take power. Suu Kyi has been under house arrest for a majority of the past 18 years.
Human Rights Watch characterizes the 14-year process of drafting the constitution as "a tightly controlled, repressive and undemocratic process in which there is little debate and those who publicly criticize the process have wound up in prison."
"It is a mockery, a travesty of how a constitution should be drafted," said Catholic missioner Br. Matthew Peters. "As for the referendum, it is a sham, and the elections, if they are held, will be a sham too."
At the beginning of March, the military rulers rejected U.N. envoy Ibrahim Gambari's proposal for independent observers to monitor the May referendum.
According to Peters, who has extensively traveled in Myanmar, many there question the usefulness of the sanctions levied against their country since the early 1990s. Championed by the United States and the European Union, the sanctions have been endorsed by the National League for Democracy, but others, including some pro-democracy activists, say it has pushed a xenophobic regime even deeper into isolation -- and into the hands of the Chinese. "They own and operate the country as far as Mandalay," Peters said. "Certainly every business in Myitkyina is controlled by the Chinese."
"It's impossible to free Burma, because we have India on one side, China on one side and Thailand on one side to help [the Burmese military]," said Phra Panya, a Buddhist monk from Shan state now living in Thailand. All three countries, as well as numerous other Asian countries, maintain economic ties with Myanmar.
Panya's use of the name "Burma" is typical of many outside the country, while inside everybody calls it "Myanmar," according to Peters, who switches back and forth between the names in conversation. Outside, pro-democracy activists, in particular, often refuse to use the name Myanmar, as it was the military junta that changed the country's English name in 1989. Historically, both Myanma and Bama were names the Burman ethnic group gave their land, and the British subsequently adopted the name Burma for its colony, even though its territory encompassed many non-Burman peoples.
Peters sees one ray of hope: People in Myanmar told him that some younger army officers were "disgusted" by how the September protests were handled and are open to forming "some sort of coalition government as a transition to democracy. It would be foolish to think you could suddenly have democracy tomorrow in Burma. The problems are too deeply rooted. There would have to be a long transition period of a joint government, probably between some of the army and some of the National League for Democracy, moving progressively toward a civilian government.
"I don't think there are any easy solutions," he added.
-- Teresa Malcolm
National Catholic Reporter, March 21, 2008