Issue Date: March 21, 2008
The need to beat somebody up
PBS offers an in-depth look at 'Bush's War'
By RAYMOND A. SCHROTH
In "Duck Soup," the Marx Brothers' satire on the irrationality of war, Rufus T. Firefly (Groucho), dictator of the republic of Freedonia, arbitrarily slaps the ambassador from neighboring Sylvania in the face with his glove. The sputtering ambassador declares, "This is warrr!" And the entire government of Freedonia -- congress, courts, military -- celebrates in a Broadway song- and-dance routine.
As the Bush presidency collapses like a deflated balloon, the media try to make sense out of what must be the strangest -- and most tragic -- administration in our history. Those who stood by as Mr. Bush bullied us into the attack on Iraq no longer defend the indefensible, though they have not answered the ultimate question, "Why?" Perhaps Norman Mailer came closest when he suggested that following 9/11 we just had to find somebody we could beat up.
Now PBS's "Frontline" offers a five-and-a-half-hour study, "Bush's War," to be broadcast March 24 and 25.
It is a terrible story simply told in the rich baritone of Will Lyman, the "Frontline" narrator, who sets the context for a parade of talking heads -- including administration participants; The New York Times' John Burns, Dexter Filkins, and Elizabeth Bumiller; The Washington Post's Bob Woodward; and Thomas E. Ricks, author of Fiasco, the best book on what went wrong -- from the search for illusive weapons of mass destruction to today's "surge" strategy.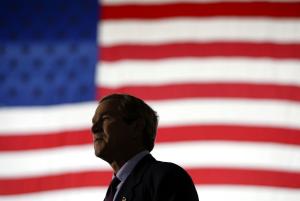 -- AP Photo/Christopher Morris
President George W. Bush
For me, three themes emerge: First, four names -- Paul Wolfowitz, Dick Cheney, Donald Rumsfeld and George W. Bush -- will live in infamy for this crime, for how can starting a war that kills nearly 4,000 American soldiers and a minimum of 89,000 Iraqi civilians without sufficient reason be anything but a crime?
Second, our leaders were at war within their own camp. Colin Powell and Condoleezza Rice were frozen out of decisions by the buddy team of Mr. Rumsfeld and Mr. Cheney. But Gen. Powell and Ms. Rice deserve no sympathy. Ms. Rice was intellectually ill-equipped for her position and drew whatever influence she had from being Mr. Bush's pal. Gen. Powell was passive in the face of Pentagon maneuvers to sideline him. If he wanted to retain his moral authority rather than keep access to power, he should have resigned long before he was coldly fired.
Third, the top levels of the bureaucracy, both civilian and military, were often incompetent. When L. Paul Bremer made the most damaging early decisions of the war -- purging Baathists from every level of public life and disbanding the Iraqi army -- he acted like an emperor, without consulting his colleagues in Washington. When Ms. Rice replaced Gen. Powell as secretary of state, she exacerbated already tense infighting within the administration by impinging on Rumsfeld's jurisdiction by proclaiming a new military strategy, called "clear, hold and build," on television.
To force a reassessment of overall strategy, Ms. Rice got President Bush to convene a meeting of think-tank scholars at Camp David. Mr. Bush opened the meeting, then abruptly disappeared, flew secretly to Iraq for a face-to-face with Iraqi president Nouri Kamal al-Maliki in order to take his measure. As the Camp David group watched on closed-circuit television, Mr. Bush emerged in Baghdad, announced that he had "looked him in the eye" and declared Mr. al-Maliki a worthy ally.
John Burns describes President al-Maliki as the kind of man whom one would not with confidence name principal of a grammar school.
From the beginning, it has never been made clear why we are there. With giddy euphoria Mr. Bush's team watches Saddam Hussein's statue fall; President Bush lands on the aircraft carrier in a fighter jet and declares victory under the banner "Mission accomplished." But there are no weapons of mass destruction. Euphoria fades as we flatten Fallujah to save it and the insurgency shifts into civil war.
As the documentary concludes, Mr. Bush is still telling the American people that we are winning. John McCain says that if we had withdrawn six months ago al-Qaeda would have proclaimed victory. Hillary Clinton promises to bring the "vast majority" of troops home. Barack Obama says, "No amount of American soldiers can solve the political differences at the heart of someone else's civil war."
I hope a future "Frontline" will ask what in America's psyche allowed this to happen. Chris Hedges' War Is a Force That Gives Us Meaning explores the drives, some erotic, that permit the state to maneuver its citizens into the madness that is war. I've met men who regretted that they were too young for World War I and too old for World War II. Much of this is patriotism, a willingness to serve. But at bottom is the notion that war proves one's manliness.
This war was engineered by four men who never wore a uniform except for the commander in chief who used the National Guard to avoid combat in Vietnam. They never saw the headless corpses in the marketplace, the children with their arms and legs blown off. They never in their calculations considered the civilian dead, or the countless veterans who will go through life blind, legless, brain-damaged, wounded in mind and soul. They never saw the citizens of their abstract "evil empire" as individual human beings.
Jesuit Fr. Raymond A. Schroth is author of The American Jesuits: A History, recently published by NYU Press. His e-mail address is raymondschroth@aol.com.
National Catholic Reporter, March 21, 2008