Issue Date: March 21, 2008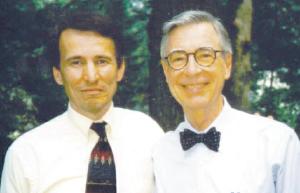 The author, left, with Fred Rogers
My personal invisible rabbit
By CHRISTOPHER de VINCK
There is an old British superstition that on the first day of the month, if you wake up and say, first thing, "Rabbit, Rabbit" you will be granted good luck for the next 30 days. If you forget to say the magical word, and if you still wish to retain the promise of good fortune, you can repeat the word backwards, "Tibbar, Tibbar," and still keep yourself in the loop of luck.
One evening I was feeling rather low about my publishing career. My agent hadn't been able to sell a recent title, my essays were not being picked up by newspapers, and I had received the week before a letter from one of my publishers stating that another of my books was being declared out of print, which is like sending a racehorse to the glue factory.
I dragged myself around a bit, avoided the word processor, and I didn't want to burden my wife with another of my writer's whines about being ignored, underappreciated and, well, a failure.
"Call Fred," my wife suggested. She knew the solace a friend can offer. So I called Fred.
"Hello, Fred?"
"Hello, my dear. I was just thinking of you."
"I'm a bit discouraged."
"Well, I'm glad you called."
"I thought I'd be a great writer someday."
Fred said with his famous, reassuring voice, "Do you remember what the Little Prince said in Antoine de Saint-Exupéry's little book? 'It is only with one's heart that one can see clearly. What is essential is invisible to the eye.' "
"It seems that my work is invisible to everyone's eyes."
Fred spoke about reaping what we sow. He reminded me that if we work at what we truly love, the work will find its way. When he sensed that I was being stubbornly adolescent and not really paying attention to what he was saying, Fred suggested a different approach.
"Let's play a game." And so Fred introduced me to the rabbit. "You know, Chris, between friends, the one who says, 'Rabbit, Rabbit' first at the beginning of the month wins good fortune for that entire month. The friend who forgets has to, in surrender, repeat the word backwards: 'Tibbar! Tibbar!' "
I like games. I liked that my 65-year-old friend liked games. We spoke about luck; I shared with him how difficult it was for Madeleine L'Engle to find a publisher for her famous book A Wrinkle in Time. "It was rejected by 26 publishers before editors at Farrar, Straus and Giroux read it, loved it and published it."
"Oh, Chris, it is not luck. Yo-Yo Ma did not become a great musician by luck."
In May 2002, Fred asked me if I would proofread a speech that he was preparing for the Dartmouth graduation. I read aloud Fred's speech over the phone as he followed along. We both had the text in our hands. As I read, I made suggestions, spoke about the use of single words, and the delight of his ideas and wisdom. And then I read these words from his speech: "What is essential about you? And who are those who have helped you become the person you are? Anyone who has ever graduated from a college, anyone who has ever been able to sustain a good work, has had at least one person and often many who have believed in him or her. We just don't get to be competent human beings without a lot of different investments from others."
I paused for a moment, and then Fred said, "You know, Chris, you have been one of those people in my life."
Each first day of the month, Fred called and beat me at the game: "Rabbit! Rabbit!" I never remembered, and each time I said, in humble surrender, "Tibbar! Tibbar!"
For me, Fred Rogers was, in many ways, like Harvey, the six-foot invisible rabbit in the famous film of the same name.
Elwood P. Dowd, played by Jimmy Stewart, said, "Harvey and I sit in the bars ... have a drink or two ... play the jukebox. And soon the faces of all the other people, they turn toward mine and they smile. And they're saying, 'We don't know your name, mister, but you're a very nice fella.' Harvey and I warm ourselves in all these golden moments. We've entered as strangers -- soon we have friends. And they come over ... and they sit with us ... and they drink with us ... and they talk to us. They tell about the big terrible things they've done and the big wonderful things they'll do. Their hopes, and their regrets, and their loves, and their hates. All very large, because nobody ever brings anything small into a bar."
Fred Rogers was a nice fella. Everyone who met Fred wanted to tell him about their hopes, regrets, loves and hates. Fred had the extraordinary capacity to see the good in everyone he met.
We all need someone to believe in us.
"Keep writing, Chris, from the heart," Fred said often. "Focus on the invisible."
Fred Rogers died five years ago, and now he is my personal Harvey, my invisible cheerleader whispering every first day of the month, "Rabbit! Rabbit!"
Author Christopher de Vinck met Fred Rogers in 1986 at the HBO Studios in New York.
National Catholic Reporter, March 21, 2008