Issue Date: April 4, 2008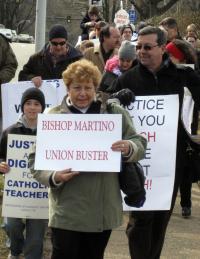 -- The Times-Tribune, Scranton, Pa./
Sarah Hofius Hall
Rita Schwartz leads a Feb. 10 march in support of the union rights of teachers in the Scranton, Pa., diocese's schools. Behind her is Michael Milz.
Union ban provokes firestorm of criticism
By PATRICK O'NEILL
When Bishop F. Martino closed four unionized Catholic high schools in a reorganization of the Scranton, Pa., diocese last year, he said he would permit the Scranton Diocese Association of Catholic Teachers to continue to organize in schools.
In June, the bishop changed his mind. He refused to meet with the union and in its place implemented an employee relations program that critics have dubbed a "company union" -- one in which the diocese is in control. Teachers who had previously agreed to labor contracts with individual schools were told the union would no longer be recognized.
The bishop's move has ignited a firestorm in this heavily unionized and Catholic region of northeastern Pennsylvania. The dispute has also gained the attention of the Vatican Congregation for Catholic Education, where, according to union president Michael A. Milz, the case will come under review.
In the Scranton diocese, two high schools each closed for a day after association teachers called in sick. At one, Holy Redeemer in Wilkes-Barre, students also took part, with 275 staging a short walkout and another 175 calling in sick, according to Milz, a high school teacher in the diocese. The union counseled students to remain outside the dispute after those involved were penalized, with some losing their right to play on school athletic teams.
In mid-March, the diocese issued a statement that said: "The tactics of SDACT's leaders will not benefit anyone, and they will not succeed. SDACT will not be recognized, and this decision is final."
Although the union has been in the diocese for 30 years, the bishop has the law on his side. The 1935 National Labor Relations Act does not include protections for Catholic lay teachers, and a 1979 U.S. Supreme Court case upheld the exclusion. Only three states -- New York, New Jersey and Minnesota -- have enacted laws to protect lay Catholic teachers' unions.
Still, the bishop's decision has drawn criticism from all corners of the diocese. Milz said the union will keep pressure on Martino to dialogue with the association, but the option to strike is also on the table.
As Milz sees it, support for the union from teachers and the public is overwhelming, an assessment affirmed by a local reporter familiar with the issues. Milz got a standing ovation from a crowd of 700 parents and teachers who attended a March 9 informational meeting in Wilkes-Barre, and more than 150 union-backers walked together in the city's annual St. Patrick's Day parade.
While diocesan priests have remained quiet, Holy Cross Fr. Patrick J. Sullivan, a professor at Wilkes-Barre's King's College, wrote Martino and local newspapers criticizing the bishop's actions.
"Why must the teachers have to suffer financially and be denied not only their moral right to unionize, but also their moral right to an adequate living wage -- a bedrock of Catholic social teaching?" wrote Sullivan, who teaches sociology and theology with an emphasis on labor. "When the U.S. Catholic bishops issued their 1986 pastoral, 'Economic Justice for All,' they supported real unions, not 'company unions.' "
A diocesan priest who requested anonymity said Martino won't back down. Describing the standoff as "a disaster" in terms of diocesan unity, the priest predicted, "This doesn't have a happy ending."
Martino has turned down interview requests, including one from NCR.
Milz said he's not sure why the bishop decided to cut off the union. He said he learned of Martino's decision from an article in the Jan. 24 issue of the diocesan paper, The Catholic Light. Until then, Milz said, he had received repeated assurances from diocesan officials that the union could remain.
Six of Pennsylvania's eight dioceses have union representation (Scranton, Pittsburgh, Philadelphia, Greensburg, Altoona-Johnstown and Allentown). Erie and Harrisburg have never organized.
In a full-page ad placed in major newspapers in Wilkes-Barre, Scranton and Williamsport, the bishop wrote: "The primary goal of SDACT's leaders has always been the acquisition of the greatest financial gains and other contractual concessions it could obtain from the parishes that formerly governed the schools."
In response, Milz wrote: "First, we make no excuses for what our contracts have called for financially. Even at those schools that had the highest-paid teachers, wages and benefits ran far below those enjoyed by public school teachers. ... We have always looked on our job as a ministry or vocation, one in which we have had a chance to mold the next generation of Catholic adults into productive and Christian members of society."
An e-mail reply to NCR from the diocese included seven documents from the diocesan Web site. "This information represents any comment the diocese would make," wrote Bill Genello, the diocese's executive director of communications.
Regarding the Vatican's role, Rita Schwartz, president of the National Association of Catholic School Teachers, said if the Congregation for Catholic Education sides with the diocese, the union will appeal to the Supreme Tribunal of the Apostolic Signatura -- often called the Supreme Court of the church.
Milz, who also serves as executive vice president of the Philadelphia-based National Association of Catholic School Teachers, said union battles between bishops and Catholic institutions are all too frequent, given church teaching in support of workers' rights. In the past, teachers have been fired outright for union activities, and last year in St. Louis, teachers gave up an eight-year battle to organize Catholic elementary school teachers.
In St. Louis, the "union was systematically broken" by the hierarchy, Milz said. "It is as if the church's social justice teaching [on labor] didn't exist at all."
Patrick O'Neill is a freelance writer in Garner, N.C.
National Catholic Reporter, April 4, 2008