Issue Date: April 4, 2008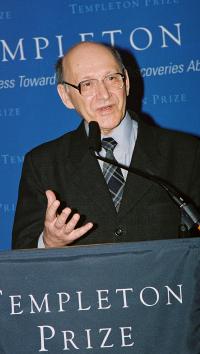 -- Courtesy of the Templeton Foundation/
Karen Marshall
Fr. Michal Heller speaks at the Templeton Prize news conference in New York March 12.
Lifelong search for knowledge, meaning
Childhood of displacement left its mark on Templeton winner Fr. Heller
By CHRIS HERLINGER
New York
Michael (Michal) Heller is a warm, shy, courtly man -- a cosmologist and a Roman Catholic priest whose frequent displacements as a child bred in him a wish to do something significant with his life.
As a sign that wish had been fulfilled, this quietly assured 72-year-old was recently named the winner of the 2008 Templeton Prize -- the annual prize that has, over 35 years, evolved from recognizing achievements in religion in general to celebrating those in the more specialized domain of religion and science.
Heller, an opponent of "intelligent design," speaks with clear authority about his problems with a theory that insists God's overarching role in creation leaves no place for evolution through randomness or chance. As a professor on the faculty of philosophy at the Pontifical Academy of Theology in Kraków, Poland, and author of 30 books, Heller has refined his gift of explaining complex theories to laypeople, including his reasons for finding intelligent design so troublesome.
On that, a little background is in order. In his remarks on winning the Templeton -- and with it $1.6 million in prize money -- Heller criticized advocates of intelligent design for reviving an old debate with "theologically erroneous" arguments, arguments that he said "postulate the existence of two forces acting against each other: God and an inert matter, in this case, chance and intelligent design."
Speaking at a March 12 ceremony at the Church Center for the United Nations in New York, Heller lamented the renewed debate. "Within the all-comprising mind of God what we call chance and random events is well composed into the symphony of creation," he said.
In an interview the day before the prize was announced, Heller gave a preview of his address and denounced the narrow notion that chance cannot be integrated into a wider theological worldview. The notion is clearly wrong, he said, in part because physics itself leaves room for random events. "We know this," he said excitedly, and took out a pen to demonstrate.
Heller held the pen upright and let it drop on a table top. His point? We know with certainty the pen will fall, he said, but we can't predict where precisely the pen will land. The mind of God, Heller said, allows for "this collaboration of chance and laws."
"For us, it's chance," he said. "For God, it's part of his strategy."
A morning with Heller is time spent with someone who understands why others press the question and debate about the once seemingly irreconcilable views of religion and science. But Heller shows a bit of wry amusement, and maybe a little impatience, toward those who see the scientific and religious worldviews as too divergent to be merged into a coherent, unified whole.
As part of a long Catholic tradition that respects and upholds scientific, rational discourse, Heller is particularly wary of biblical literalism, regarding it as an unfortunate byproduct of expanding American cultural influence in Europe and Russia.
Biblical literalism, he said, "polarizes people."
By contrast, when seen as collaborative, "science gives us knowledge, religion gives us meaning," Heller said. The John Templeton Foundation, in announcing Heller's winning the prize, said that for more than four decades, Heller "has developed sharply focused and original concepts on the origin and cause of the universe, often under intense governmental repression."
"He sees the comprehensibility of the universe as due to its mathematical structure and his academic and religious background allows him to move comfortably and credibly within the disciplines which consider life's ultimate questions," the foundation said.
Put another way, Karol Musiol, rector of Jagiellonian University in Kraków, in nominating Heller for the Templeton, said his colleague has "brought to science a sense of transcendent mystery and to religion a view of the universe through the broadly open eyes of science."
Part of this ability to merge differing perspectives and worldviews stems from his personal history. Sitting in a hotel lounge chair affording a panorama of the eastern Manhattan skyline, Heller warmed to the subject of his father, Kaziemierz, an engineer and painter, who instilled in him a love for both science and religion. His father's religion "wasn't just based on faith but was a rational decision," Heller said.
As such, Heller said, his father's belief system prevailed at a time when the Heller family's world collapsed. Like other Poles during World War II, Heller, his parents and four sisters found themselves uprooted more than once. They were first driven to work in Siberia, then deported to the Volga region and then, eventually, uprooted a third time to western Poland.
The trauma of displacement, Heller said, had imparted in him a longing to focus on "the most important things." In his remarks to reporters following the announcement, he said he had found those to be science and religion. Repeating his theme that "science gives us knowledge, and religion gives us meaning," he noted, "Both are prerequisites of the decent existence."
(In his remarks to reporters, Heller didn't dwell on one notable biographical fact: Heller's father was not happy that his son had opted to become a priest, as Heller was an only son and the last holder of the Heller name.)
Heller earned a master's degree in theology from the Catholic University of Lublin, Poland, in 1959, the same year he was ordained, and a doctorate from the same university in 1966 with a thesis examining relativistic cosmology.
Like other young intellectual Catholic Poles after the war, Heller found himself under government scrutiny, and would for years afterward. This was in part because as priest and scientist, he represented a double irritant in a regime hostile to both the Catholic church and intellectual inquiry.
Even so, the church -- particularly after the Second Vatican Council -- offered Heller what one biographical description called "a sphere of protection," allowing him the intellectual space to become a renowned cosmologist.
Heller's 30 books range from philosophy and history of science to examinations of general relativity, quantum mechanics, multiverse theories, and geometric methods in relativistic physics.
Much of that authorship came in a time when Heller and his colleagues were able to expand theological dialogue within Poland by initiating what some have called "the theology of science" -- broadening Christian views of the universe by connecting them to interpretations of cosmology.
A key figure in this movement was the young archbishop of Kraków, Karol Wojtyla. Heller and the future John Paul II were friendly, though not close friends, partly because Heller was slightly younger than the scientist friends of Wojtyla's immediate circle. Heller said the future pope "had a grasp of science and a bit of a scientific mentality." He has fond memories of the Kraków archbishop's role in convening meetings and gatherings of priests, theologians and scientists to discuss and debate both scientific and theological trends and movements.
Out of such gatherings emerged the Center for Interdisciplinary Studies, which eventually became part of the Theological Faculty in Kraków. The center generally, and Heller's work specifically, became better known during the thaw of the 1980s, bringing about the rise of the Solidarity movement and the eventual collapse of Poland's authoritarian government.
A new center in Kraków that Heller hopes will become a leading institution for the study of science and religion -- the Copernicus Center, formed in conjunction with Jagiellonian University and the Pontifical Academy of Theology in Kraków -- will receive Heller's prize money.
Asked the inevitable question: Would he use any of the Templeton money, even just a bit of it, for himself? Heller laughed.
"My only needs are books," Heller said -- though he did admit that his only shopping while in New York was to look for a digital book reader.
Chris Herlinger is a New York-based freelance journalist. He last wrote for NCR in January on the fragility of life in Afghanistan.
National Catholic Reporter, April 4, 2008