Issue Date: April 4, 2008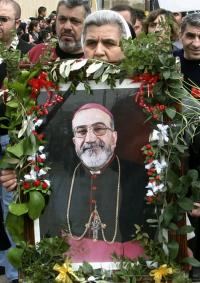 -- CNS/Reuters
A nun holds a picture of Archbishop Paulos Faraj Rahho during his funeral in a village outside Mosul, Iraq, March 14.
Prelate's death underscores Iraq chaos
By CATHOLIC NEWS SERVICE
Citing the recent death of an Iraqi archbishop and the fifth anniversary of the start of the U.S.-led war in Iraq, Pope Benedict XVI issued "a loud and concerned outcry," appealing for an end to the bloodbath and hatred tearing apart Iraq.
"Enough with the bloodshed, enough with the violence, enough with the hatred in Iraq," he said immediately before reciting his noonday Angelus prayer in St. Peter's Square March 16.
In his address, the pope recalled the "tragic loss" of Chaldean Catholic Archbishop Paulos Faraj Rahho of Mosul, 65, who was kidnapped Feb. 29 in an attack that left his driver and two bodyguards dead.
The archbishop had paid "beautiful witness of faithfulness to Christ, the church and his people, whom he did not want to abandon despite numerous threats," the pope said.
The archbishop's body was recovered March 13 after the kidnappers contacted Catholic leaders in Iraq. His funeral and burial were March 14 outside Mosul.
Police were unclear whether Rahho had been killed. He suffered from a heart condition and needed medication, church officials said.
An autopsy was inconclusive about the cause of death because of the advanced state of the body's decomposition. The archbishop had no bullet wounds, and he appeared to have been dead a week, reported the British news agency Reuters.
For many, Rahho's kidnapping and death have cast a new light on Iraq, where 4,000 U.S. armed forces personnel have died since the 2003 invasion. The conflict has cost $500 billion, with another $500 billion possible, with most of the cost borne by the United States.
Conservative estimates put the Iraqi death toll at about 89,000 people, while 4.3 million have been displaced, including more than 600,000 Iraqi Christians.
Akram, a 55-year-old Iraqi who fled to Lebanon from Mosul with his wife and eight children last April, said of Rahho's death, "We were very, very sad."
"When I heard the news, it stirred such fear in me," said Shoukrie, Akram's wife. "It's like we're living the Iraqi nightmare for Christians all over again."
"We knew Samir, Ramy [the archbishop's bodyguards] and Ferris [the archbishop's driver], who was a relative of mine. He was an usher at the church," she said.
Shoukrie and Akram, like all the refugees interviewed by Catholic News Service in Beirut, requested their full names not be used. Between 5,000 and 10,000 Iraqi Chaldean Catholics are refugees in Lebanon.
Chaldean Catholic Bishop Ibrahim N. Ibrahim of Detroit, the bishop for most Iraqi Catholics in the United States, said many Iraqis living in Michigan knew Rahho. Since October, 2,800 Iraqi Chaldean Catholics have resettled in the Detroit area.
"We are from Mosul, all of us," said Ibrahim March 13. He said Rahho spent his life in Mosul and was close to Catholics and Muslims.
Rahho "[believed] in the fraternity of all humankind," Ibrahim said. "He [preached] forgiveness for everyone. He [preached] to take care of each other, without regard to the faith or the name or the gender."
Ibrahim, head of the St. Thomas the Apostle eparchy, based in Southfield, Mich., said that the administration of U.S. President George W. Bush is responsible for the terrorism and killing of Christians in Iraq. He said the administration is ignoring the problem.
"No one is defending us," he said. "They are killing Christians because they are Christians."
Ibrahim's comment echoed other Catholic leaders from around the world.
"We find it inconceivable that internal, regional and international efforts could not have prevented this tragic fate," said Chaldean Bishop Michel Kassarji of Beirut, Lebanon.
"We hope that this new sacrifice offered by the Iraqi Christians will be the last martyr, and we hope that the murder of this bishop strikes the alarm and wakens the consciences of leaders of Iraq and the region to do their utmost to stop the waves of extremism overwhelming the region. Our aim is the free and safe presence of the Christians in Iraq, Lebanon and the Middle East," he said.
Chaldean Archbishop Djibrail Kassab of Sydney, Australia, said lawlessness in Iraq, "from kidnapping, extortion, murder, to forcing the Chaldeans to flee their country" is not new. The bishop said the Chaldean Catholic church truly "can be called a martyr church."
In one of his last communications with Catholics in the West, Rahho had appealed for prayers and money in a letter to the New York-based Catholic Near East Welfare Association.
Describing the decimation of his community by immigration, violence, kidnappings, bombings and unemployment, Rahho had written: "We are asking for your prayers to remove this cloud from our country and our church."
The letter was written in January and released to Catholic News Service March 17.
Despite a 25 percent decline in revenues, Rahho said the church provided "nonstop pastoral services for Chaldean families forced from Baghdad and other insecure areas" who had settled in villages in northern Iraq.
"We do not want to close our churches or leave Mosul," Rahho said. He added, "Personally, I will be the last person to leave."
National Catholic Reporter, April 4, 2008