Issue Date: April 4, 2008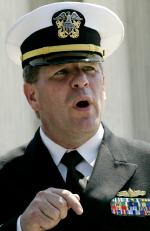 Lt. Cmdr.
Charles D. Swift
A passion to restore the rule of law
Guantánamo lawyer seeks justice for client accused if war crimes
By LAURA LLOYD
Salim Ahmed Hamdan, Osama Bin Laden's former driver, remains incarcerated in Guantánamo Bay and is set to be tried for war crimes. His defense attorney, working pro bono, is retired Lt. Cmdr. Charles D. Swift, a law professor at Emory University in Atlanta.
"I've told Hamdan I'm going to stay with him until the end," Mr. Swift said a few days before making one of his periodic trips to Guantánamo. "Right now, he is my No. 1 hobby."
Mr. Swift isn't lighthearted very often about the Hamdan case, which he was assigned to in 2004 when he was a U.S. Navy attorney. He sees the terms of the struggle to defend Salim Ahmed Hamdan as nothing less than resurrecting the rule of law in American justice. He won the first round by convincing the U.S. Supreme Court that military tribunals set up by the Bush administration violated the Geneva Conventions and the Uniform Code of Military Justice. Hamdan v. Rumsfeld, a seminal case that earned accolades for the defense attorney, wasn't, however, the happy ending many legal minds expected.
"This administration has shown an unwillingness to follow the law," Mr. Swift asserts. Mr. Hamdan and his counsel will be required to face a new round of hearings beginning later in April.
Following the Supreme Court decision, Mr. Swift was passed over for a promotion in the Navy. That meant he had to resign, which he did to become a law professor at Emory. His loyalty to Mr. Hamdan has remained steadfast, however. He makes frequent trips to Guantánamo and is preparing for the next phase of legal proceedings involving the war crimes charge.
In the meantime, Mr. Hamdan cools his heels in solitary confinement, complaining of a variety of symptoms that sound a lot like posttraumatic stress disorder. His everyday life might surprise many well-intentioned Americans. "The guards say there is no law in Guantánamo," Mr. Swift says.
The subject of a profile in Vanity Fair magazine in March 2007, Mr. Swift recounts in the magazine how when he first met his client in January 2004, Mr. Hamdan was brought to him in shackles. Deprived of mail from his family and recently placed in a small room kept cold by air conditioning, the detainee was freezing and asked his lawyer for a pair of socks. It was a small request, but as Mr. Swift told Vanity Fair not only could he not secure his client the basic elements of a fair trial -- there was secret and coerced evidence, forced guilty pleas to charges never made public, no right to habeas corpus, no attorney-client privilege -- he couldn't even get his client a pair of socks.
Today, despite Mr. Swift's victory in Hamdan v. Rumsfeld, Salim Hamdan remains in legal limbo.
A graduate of the Seattle University School of Law, Mr. Swift recently spoke at another Jesuit school, Rockhurst University in Kansas City, Mo., about his role in the Supreme Court case. Legal scholars view the decision in Hamdan v. Rumsfeld as one of very few instances in American history when the power of a commander-in-chief was limited during a time of war.
The picture Mr. Swift paints of Mr. Hamdan is of a poor Yemeni with a fourth-grade education whom Mr. Swift is convinced took the job driving for Osama bin Laden only for the money. The fact that he was captured in Afghanistan with parts of a rocket launcher in the back of his car is of little significance to Mr. Swift.
"The missiles were not fireable," he said. "There was no launcher. It was like having only bullets. You need a gun to make it work."
Mr. Swift doesn't mince words. In his view, saying that delivering missiles constitutes murder is an "extreme conclusion that takes the laws of war and throws them into the toilet."
Interviewed later from his office at Emory, he observed, "The U.S. is taking an extraordinarily unilateral approach and treating law as a one-way street" that others have to abide by while the United States does not. "The administration is ignoring that law must be a two-way street."
"Under the rule of law, the sovereign is equally bound to obey the law as is everybody else. We fought a revolution over that," he said. "We should have justice by following the law. That's what makes justice different from revenge."
Mr. Swift believes that the Bush administration showed bad faith when it didn't abide by the findings of Hamdan v. Rumsfeld and dismantle the military tribunal system. Instead, it set up similar military commissions that would accept evidence obtained by coercion -- in other words, torture, which is illegal in the civilian court system.
Mr. Swift said those defending Mr. Hamdan "don't seek a novel protection" but believe Guantánamo prisoners should be treated according to the Geneva Conventions.
The National Law Journal's runner-up for Lawyer of the Year in 2005, the law professor wrote an article in the March 2007 issue of Esquire magazine called "The American Way of Justice," in which he argues that Guantánamo should be closed immediately. Today Mr. Swift says he is cautiously optimistic that the next president will do so. "I'm heartened that all three serious presidential candidates have raised questions about Guantánamo," he said.
But he doesn't believe that American justice should depend on who is in power. He says that a structure of laws, obeyed from the top down, is what the United States is all about. The rule of law is more important than any case or any person, Mr. Swift asserts.
In the meantime, he seeks to defend a man he believes was attracted to a better wage and had nothing to do with terrorism. That man has a hard life as the players position themselves to wield justice, Guantánamo style.
And the waiting has a price of its own. A Spanish judge released a Jordanian and a Libyan, Guantánamo detainees, from being tried. "They were too damaged [psychologically and physically] to stand trial," Mr. Swift said. "The illegal policy of the U.S. is damaging our opportunities for justice."
Laura Lloyd is a freelance writer in Kansas City, Mo.
National Catholic Reporter, April 4, 2008