Issue Date: April 4, 2008
Brittanic capers
'The Bank Job' is solid entertainment; 'Miss Pettigrew' is deliberately weightless
By JOSEPH CUNNEEN and KEVIN DOHERTY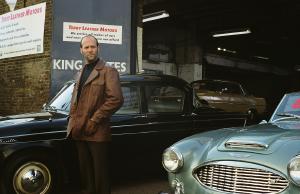 -- Lionsgate
Jason Statham in a scene from "The Bank Job"
The Bank Job, a new heist film from England, combines the familiar features of the genre with the political reality of the London of more than three decades ago. Loosely based on the 1971 robbery of a bank in London's Baker Street, it demonstrates Australian director Roger Donaldson's ability to construct a solid entertainment that recalls classic Hollywood filmmaking.
Within a few days, the actual crime virtually disappeared from the tabloids, leading pundits to speculate on a political involvement that even included the royal family. The first scenes prepare the way, showing Princess Margaret partying a little too hard in the Caribbean while being candidly photographed by an unknown local. These photos fall into the hands of a black militant in England called Michael X (Peter de Jersey), a real personage who was an extortionist, drug dealer and pimp.
Scotland Yard, however, manages to come up with a plan to defuse X's power by setting up a heist of the safe deposit boxes in the bank where the incriminating photos had been kept. Using a coerced informer (the beautiful Saffron Burrows) to set it up, a team of unsuspecting, low-life criminals are enlisted to pull off the robbery. The script neatly balances the suspense as this crew tunnels into the vaults from a neighboring store with the passive involvement of the bobbies as things begin to go wrong.
The robbery gang, only lightly sketched out in the film, is a wonderful collection of outsiders, including a former porn star, wannabe toughs and foreign ex-cons. Their East End leader Terry Leather (British action star Jason Statham) gives a credible Steve McQueen-like performance, one in which he proves a lot can be done with just a little. His understated style, combined with the film's general breezy humor, makes us feel that this action drama does not take itself too seriously.
Appropriately enough, more than just the photos are found in the boxes. The bank proves to be a refuge for numerous hidden accounts, including lots of dirty laundry from other celebrities. All this adds up to a series of twists and turns, fueling a movie that leaves its audience in some confusion. But the film's sentiments are clearly on the side of Terry and his flawed counterparts who have nothing to hide, while the story openly exploits ambiguities in the various levels of British society.
Director Donaldson has spared no effort to create a movie that is as enjoyable as it is cynical. Some call it overly edited, but that is perfectly appropriate for this fast-paced caper. The ultimate irony is that no one ever claims any losses, even though millions had been taken from hundreds of looted safe deposit boxes.
The advance ads for Miss Pettigrew Lives for a Day promised light entertainment, but the first 15 minutes of Amy Adams' overly arch performance as Delysia, a dizzy aspiring singer-actress in pre-World War II London, may make you want to head for the exit. Fortunately, Delysia acquires the services of Miss Pettigrew (Frances McDormand), a down-and-out vicar's daughter, as an all-purpose "social secretary." The latter's perfect timing in hiding her employer's discarded clothing and finding scraps of food to relieve her hunger puts proceedings on an agreeably farcical level.
Directed by Bharat Nalluri and based on a novel by Winifred Watson, the movie is deliberately weightless and especially good on period detail. Its London settings and social diversions, including the serving of tea cakes, provide a credible grounding for its farcical framework. The liberal use of popular music of the time, another of the film's assets, grows naturally out of Delysia's ambition to play a leading part in an upcoming West End musical.
Although Miss Pettigrew cannot help but be shocked at the way Delysia juggles boyfriends in her efforts to become a star, the older woman gradually comes to enjoy the madcap proceedings of her day. Indeed, one's richest pleasure is the close observation of this process. Guinevere (the comically well-chosen name for Miss Pettigrew) attends a fashion show, acquires new Art Deco clothes and a hairdo, a gift from Delysia, and even captures a worldly-wise admirer, a lingerie designer (Ciarán Hinds). Their sly attachment gives the film a sense of maturity and some of its best acting.
Audiences will enjoy the vintage costumes as well as the reflection of more contemporary attitudes toward sexual equality. The fairy-tale attitude of the film, however, is ultimately dominant. After juggling two caddish swains during most of the film, Delysia comes to recognize her deeper feelings when her more genuine admirer, Michael (Lee Pace), a penniless jazz pianist, changes the song she is to sing at a party to "If I Didn't Care." Ms. Adams rises to the occasion, and the moment becomes genuinely moving.
"Miss Pettigrew Lives for a Day" succeeds because it gives its chief actresses flattering roles to play while allowing us to enjoy the flamboyant clothes and upper-class social world of an earlier period. It even achieves a note of poignancy because the air raid at the conclusion reminds us that its world is long gone, destroyed by time and the horrors of war.
Run, Fat Boy, Run, by first-time director David Schwimmer (star of the acclaimed "Friends" TV series), may be one of the most scattered films of the year. A story about lost love and running a marathon, it never really knows what direction to take. Sometimes it's a romantic comedy, other times a farce with plenty of pratfalls and scatological jokes. Eventually it becomes something of a sports drama à la "Rocky." While many of its parts are genuinely funny, it suffers from such a lack of focus that one never feels engaged enough to care about its characters.
It's basically a simple tale, set in contemporary London. Simon Pegg plays the underemployed and eternally adolescent Dennis, who gets cold feet on his wedding day and literally runs away from his already pregnant girlfriend (Thandie Newton). Regretting it years later, he tries to win her back, making weekend visitations to his now 6-year-old son. But she has a new boyfriend, Whit (Hank Azaria), a rich, successful marathon runner. Dennis' only hope is to match his rival in the city's upcoming marathon. Out of shape (but not as fat as the title suggests), he enlists his cronies, a bunch of ne'er-do-wells who play cards all day, and his especially overweight neighbor from India to help him train for the event. Farcical bits follow, like popping a huge blister on his foot and finding an agency to sponsor him, the Erectile Dysfunction Society, whose sweatshirt he has to wear in the race.
In realistically reflecting the ethnic diversity of today's England, the casting may be the film's strongest point. It boasts two of the funniest new actors to emerge in cinema today: Mr. Pegg, the hesitant lover, and his totally self-absorbed friend, Gordon, played by Dylan Moran. Audiences may remember this emotionally stunted pair in the hilarious zombie satire "Shaun of the Dead."
Director Schwimmer never gets us to believe that his performers all live in the same world. Much of the movie feels like patched-together TV spots that look good in half-hour blocks but on the big screen seem fragmented and disjointed. Maybe "Run, Fat Boy, Run" needs commercial breaks so the audience will feel at home with a narrative that fits better into the smaller screen format.
Kevin Doherty (Macguffin1@optonline.net) and Joseph Cunneen (SCunn24219@aol.com) are NCR's regular movie critics.
National Catholic Reporter, April 4, 2008