Issue Date: April 4, 2008

In praise of the peaceable machine
By COLMAN McCARTHY
Seeking a positive, bracing, low-cost addiction that is beneficial to your heart, lungs, legs and soul, does not pollute the air or land and reduces the profits of Big Oil?
Try commuting by bicycle.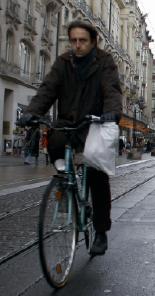 -- IML Image Group/Nikos Kokkas
My own addiction goes back 35 years and some 80,000 miles ago, to 1973 when the West had its first energy crisis and some of us went from four wheels to two, from fast lanes to slow lanes, from imprisonment behind a windshield to liberation that inhales the wind.
Bicycling is a movable feast, engaging the spirit in all seasons and all weathers. It's a connection with life. Go fast down a hill and you'll savor the same sounds of rushing air that a flock of Canada geese hears when flying at 30 mph. Push painfully up a hill and you'll find that doing something hard every day is good for the soul.
Bracing is the only word for my winter jaunts. At 6:50 the other morning, while leaving home for my daily 10- mile, hourlong round jaunt to and from a high school to teach a pair of classes at 7:25 and 8: 20, it was dark, windy and 18 degrees. Admittedly, I wasn't joy riding.
What kept me warm, aside from a double layer of clothes, was remembering the enduring lines of Iris Murdoch: "The bicycle is the most civilized conveyance known to man. Other forms of transport grow daily more nightmarish. Only the bicycle remains pure in heart."
While strengthening the heart.
For prime cardiovascular health, the National Institute of Health suggests an hour a day of exercise. Non-cyclists get in their hours the loony way: driving polluting cars to a health club to mount a stationary bicycle.
When added up, the cost of driving comes to 57 cents a mile, according to the American Automobile Association. A bicycle is less than a penny a mile. A 10-mile trip by pedal power, not oil power, means a savings of more than five dollars a day, $25 a week and up to $1,200 a year.
A peaceable machine, the bicycle is the first one we master as children. We ride through childhood on it until we are seduced by speed and the automobile. But not everyone is. Edmund Wilson, the literary critic, was a lifelong cyclist who never learned to drive a car. Tolstoy began bicycling at age 67 as a way to ease the grief of losing to death his 7-year-old son, Vanicka. Henry Adams was 50 when his wife died. He took solace by learning how to bicycle. Albert Einstein had his first thoughts about relativity while cycling. Reed Whittemore, D.H. Lawrence, Ernest Hemingway and Gene McCarthy all wrote lyrically about the joys of freewheeling. Has there ever been a stirring line of poetry written about the sooty combustion engine?
I wish I could report that after 35 years on the road I've noticed an increase in fellow commuters. All I see is more cars. Bigger, gaudier ones. The League of American Bicyclists states that less than one-half of 1 percent of the public commute to work on muscle power, a number that has remained steady for the past two decades.
No matter. Those of us who are head over wheels in love with the bicycle aren't out to bring the motorized and polluting world to its senses. We are happy keeping our senses to ourselves: the sense of excitement when hopping on the bike, the sense of joy at self-locomotion while gliding through the daily gridlocks, the sense of living simply for a few unhurried moments of every complicated day.
We're content to enjoy the line of Frances Willard, the 19th-century feminist and socialist who wrote in "How I Learned to Ride the Bicycle": "I found a whole philosophy of life in the wooing and winning of my bicycle."
Embrace that and you'll never spin your wheels.
Colman McCarthy teaches peace studies at four universities and three high schools in the Washington area.
National Catholic Reporter, April 4, 2008