Issue Date: April 4, 2008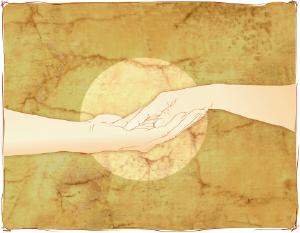 -- Dreamstime.com
Toward a Catholic Kama Sutra
By GORDON J. HILSMAN
On our 25th wedding anniversary, my wife and I listened to a series of CDs by Wendy Doniger, an expert on the infamous fourth-century Hindu classic The Kama Sutra. It occurred to me then that readiness is approaching for the communal formulation of a "Catholic Kama Sutra," a gathering together, revising and refining of Christian tradition honoring the sexual loving aspect of life as deeply spiritual.
In the original Kama Sutra (literally meaning Rules of Love), the fourth-century editor Vatsyayana compiled, commented on and embellished over 800 years' worth of disconnected Hindu wisdom writings regarding sexual love and romantic relationships as related to the common religious beliefs of his era. While his work is notorious for its presumed, almost pornographic over-emphasis on sex, the book is actually what could now be called both religious and spiritual. It is an attempt to optimize enjoyment of sexual loving, to teach how to enhance its effect on the quality of life and to relate that inscrutable mystery to established religious traditions.
Catholicism is in dire need of such a project. According to Dr. Doniger, the Kama Sutra originally stood between two distinct Hindu traditions, one that favored earthy sexuality as spiritual, and the other a "renunciate" group that taught celibacy as religiously superior. While Vatsyayana's emphasis was clearly the former, he did include points of view from the latter as well. That debate, about whether the natural joy of sexual loving is a positive spiritual arena, or a distraction from spiritual excellence, continues to be reflected in today's Catholic church.
None but the Hindus among major world religions -- Judaism, Catholicism, Confucianism, Islam and Buddhism -- have ever produced a rich coalescence of religious values with sexual loving spirituality. But several societal factors are now contributing to a readiness to begin communally formulating a Catholic Kama Sutra.
Thirty years ago the term "spirituality" was rarely used outside Catholic circles. In the past several decades, however, American society has increasingly sought spiritual perspectives on life issues -- ways of understanding them that emphasize what enhances deep human happiness. As that expansion of spiritual views has flourished, the narrowness of merely moral views has become increasingly clearer. The way moral perspectives on sexuality have dominated theology for centuries has belied the richness and power of sexual loving to feed the soul. An oversimplified "right or wrong" stance regarding complex human experiences does no justice to some of the most pivotal spiritual experiences of any life. A strictly moral view leaves out human loving, the value upon which Christianity is most fundamentally based, reducing formative human relationships to mere infractions deserving disdain.
What does one of the most exhilarating experiences of human life, the "carried away" aspect of sexual loving, mean spiritually? What was the Creator's purpose in establishing an intensely pleasurable two-person configuration for reproduction? Sexuality itself is likely to remain a profound mystery to humankind for a long time, and sexual loving is even more complex. But for our age a widely diverse community of dedicated and educated Catholics committed to formulation of something like a Catholic Kama Sutra may determine that some of the ways in which intimate relationships feed the human spirit reflect the presence of God as clearly as any other religious experience when they are no longer a priori considered to be "bad in all circumstances."
Sexual intercourse outside of sanctified committed relationship serves as an example. If not condemned morally carte blanche, some uncommitted sexual loving would emerge as spiritually transformational. Not a few solid Catholic marriages, perhaps even a majority, were enlivened by full and loving sexual expression before the wedding. Some sexual activity proceeds without love, of course, and would continue to be clearly seen as destructive. But continuing to consider all pre-wedding passionate romance to be damned as fornication may be narrowly missing some of the most profound work of the Spirit of the Creator in many people's lives.
A Catholic Kama Sutra is likely to show the need to redefine the virtue of chastity to something like a lifelong project of bringing sex and love together in service of nurturing the richness of life. If so, then narrow and arid moral perspectives will fall into their proper and crucial place of protecting the perimeters of harmful behavior rather than defining how everyone should act to reinforce archaic understandings of humanity.
Gordon J. Hilsman is a clinical pastoral educator in Tacoma, Wash., and author of Intimate Spirituality: The Catholic Way of Love and Sex and the Web site www.intimatespirituality.com.
National Catholic Reporter, April 4, 2008