National Catholic Reporter
Subscribers only section
April 4, 2008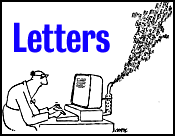 Your editorial "Examine the Catholic exodus" (NCR, March 7) is right on. The recent study by the Pew Forum shows a significant exodus of Catholics from our eucharistic communities. Most analyses in Catholic newspapers and magazines seem to dismiss this fact by noting that the total number of Catholics in our country is being augmented by large numbers of mostly Hispanic persons adding to the total number.
The only addition I would make to the editorial is to ask the further question: Why are so many of us staying? Why do people like me who are discouraged and dismayed by a pope who calls for the end of discrimination and violence against women while continuing to allow discrimination against women in our church remain in the Catholic church? Why does a father who has two wonderful adult daughters who happen to be lesbian stay after hearing the Vatican and our bishops say they are intrinsically and objectively disordered in their sexual orientation? Is it because we ask, "Lord, to whom shall we go?" (John 6:68) I have often thought of walking away from this all-too-human, male-dominated institution. But I stay. We need to discuss why so many are leaving, but we can also learn to move forward in building Christ's kingdom on earth by talking about why we stay.
STEVE BALOG
Mount Angel, Ore.
* * *
Your article reminded me of a conversation I had recently with a member of my former parish. I told her I had transferred to a different parish. She understood. Two things we talked about that were not mentioned in the Pew Study were priests who lack the gift of pastoring and long-winded, unprepared homilies that say nothing. The scarcity of priests means that bishops have to appoint men as pastors who are not cut out for the role, as in my former parish. Folks who care about ministry in the parish throw in the towel, leave or drop out altogether. Years ago I read in a book by Martin Luther King Jr. that he started preparing his Sunday sermon on Monday morning. During the week he spent at least a dozen hours reading about and reflecting on the scriptures. How many priests do that? How many would be willing to submit their homilies for publication? Maybe bishops or priests' councils should offer refresher courses in both biblical exegesis and homiletics.
MARY ANNE VINCENT
Corona, Calif.
* * *
Millions who had no obstacle to full participation in Catholic life have drifted away. Often the cause is confusion or question about church teaching. For some it is disillusion about church personnel or practice. A theology that has not coped with the findings of biblical scholarship and science also causes a weakening of faith. The faithful hear one thing in church about the origins of humankind and something totally different in the daily press and see little attempt being made to reconcile the discrepancy. Theology seems stuck in untenable fundamentalism in some areas. Action will be needed from top to bottom of the church.
(Fr.) CONNELL J. MAGUIRE
Riviera Beach, Fla.
---
Regarding John Dear's article (NCR, Jan. 25) and the follow-up letters from readers (NCR, Feb. 8 and 22): If we lived in a cannibal society and someone raised an objection to the practice, that voice would be vilified, dismissed and mocked. Perhaps a few might question it and maybe go to the local cannibal priest who then assures them of cannibalism's rationality and practicality before God. Subsequent letters critical of Fr. Dear reveal a certain mercilessness, albeit exquisitely rational and practical with a veneer of pseudo-holiness and intellectual sophistication. We Jesuits are good at this. There's also a stubborn resistance to Christ's message and witness of nonviolence. I thank Fr. Dear for reminding all of us, Jesuits included, that it is impossible to speak of Jesus' sacrifice while ignoring the role of nonviolence in his message.
(Fr.) BEN JIMENEZ, SJ
Cleveland
---
I find the Vatican decision on the nullity of baptisms using phrases other than "In the name of the Father, and of the Son, and of the Holy Spirit" to be inconsistent, especially in light of the Vatican decree in 2001 regarding the validity of the eucharistic prayer of the Assyrian and Chaldean Catholic churches despite the absence of the words of institution (NCR, March 21).
The validity of that ancient eucharistic prayer was based on two theological/liturgical principles: First of all, it is the entire eucharistic prayer that is consecratory, not the words of institution alone (This is my body, etc). I believe even the Catholic catechism teaches this. Second, that this ancient eucharistic prayer is proclaimed "with the clear intention of celebrating the Eucharist ... in obedience to the command of Christ and according to the intentions of the church."
One wonders, then, why the use of other "titles" related to the Holy Trinity would render the sacrament of baptism invalid? Is the minister not baptizing with the clear intention of celebrating baptism in obedience to the command of Christ and according to the intentions of the church? Certainly the minister of baptism had the Holy Trinity in mind.
Speaking of inconsistencies, if the entire eucharistic prayer is in fact consecratory, which is the church's longstanding teaching, then why is the presider at Mass in the Roman Rite instructed to kneel and to "show" the host and chalice for veneration after the words of institution? Is it not the entire eucharistic prayer that is consecratory?
(Fr.) VINCENT GLUC, OFM Conv.
Baltimore
---
St. Louis Archbishop Raymond Burke moved to have a priest laicized (NCR, March 21). How refreshing yet ironic that Polish-born priest Fr. Marek Bozek should epitomize what Pope John Paul II in a 1995 address at the Newark Airport told us as Americans: "America will continue to be a land of promise as long as it remains a land of freedom and justice for all." Would that Archbishop Burke could truly comprehend the significance of the late pope's message. Does not "all" encompass both women and men, laity and clergy?
LEE KASPARI
Denver
* * *
Your unabashed bias concerning Marek Bozek and his actions has brought me to respond to your cover story of Feb. 22. You have chosen to canonize Fr. Bozek, who has made the decision that all things that are not in agreement with the will and mind of Marek Bozek can and should be overthrown.
I was there the day that Marek was ordained a priest. I heard him called in service to the church of Springfield-Cape Girardeau, Mo. I was there when he put his hands in Bishop John Leibrecht's hands and the bishop asked him, "Do you promise obedience and respect to me and my successors?" I was the master of ceremonies at his ordination, and I clearly heard his words in answer to the bishop's question. "I do," he said. The fact is clear that Fr. Bozek would not have any problem with Archbishop Burke had he been faithful and truthful to his promise of obedience and respect to Bishop Leibrecht. He would not have any problem with Archbishop Burke had he served the many needy people and parishes in this diocese of Springfield-Cape Girardeau.
If you are going to name saints, now may be the time for you to look toward faithful church ministers who labor, day after day, with the people they serve.
(Fr.) PAUL McLOUGHLIN
Ozark, Mo.
---
Your article on neuroscience and the soul (NCR, Feb. 8) touched subjects of great interest. However, I noticed little reference to Catholic tradition on the soul as found, for example, in the Second Vatican Council's "Pastoral Constitution on the Church in the World" as well as in the Catechism of the Catholic Church. We don't have to choose between simple materialism and a notion of spirit as a mysterious vapor practically independent of the body. Catholic theological tradition has preferred to understand the soul as the structure of a living organism. A structure is not another part, like another organ. It is not known by simple observation. It can't be seen with an electron microscope or brain imaging tool. It is known by an act of understanding, a grasp of the intelligible unity of the parts of a whole, of what it is that makes us human.
If "spirit" refers to a mysterious stuff only loosely connected with a body, then no, our souls are not spiritual. If spiritual means capable of seeking truth and loving what is good for its own sake, then human nature does have a spiritual aspect. Is a spiritual soul of this sort immortal? One's answer may depend on one's prior belief as to whether our destiny is eternal life, as Thomas Aquinas suggests. Thank you for raising some interesting questions.
(Fr.) FRANCIS COLBORN
Santa Barbara, Calif.
---
Regarding "Confronting white privilege" (NCR, March 21): Far too many Americans are oblivious to the fact that race relation problems still exist. No white person in our country could have addressed the issue as truthfully and as eloquently as Sen. Barack Obama did in his recent Philadelphia speech. Since white people have not lived the "black experience," it is impossible for whites to identify with the hurt African-Americans felt for so long and possibly to a lesser degree still feel. Of the presidential contenders still standing, Barack Obama is the only one who has the ability and understanding to help narrow substantially the racial divide in our country.
The burden is on "we the people." What kind of nation do we want to be? By tackling race relations head on, Sen. Obama shows courage, conviction, compassion and the ability to handle tough problems and situations.
PAUL L. WHITELEY SR.
Lousville, Ky.
---
Letters to the editor should be limited to 250 words and preferably typed. If a letter refers to a previous issue of NCR, please give us that issue's date. We reserve the right to edit all letters. Letters, National Catholic Reporter, PO Box 411009, Kansas City, MO 64141-1009. Fax: (816) 968-2280. E-mail: letters@ncronline.org (When sending a letter via e-mail, please indicate "NCR Letters" in the subject line. We've installed a new spam filter on our letters e-mail account. If it's not clear to us that yours is a letter, we might delete it.) Please be sure to include your street address, city, state, zip and daytime telephone number
National Catholic Reporter, April 4, 2008