Issue Date: April 4, 2008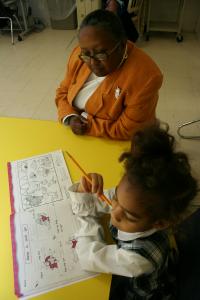 -- Photos by Michael Humphrey
Blessed Sacrament Sr. Lynn Marie Ralph, principal of Little Flower School, helps kindergartner Reschia Parrish with her reading and writing assignment.
Miracle in Memphis
Reopened Catholic schools bring life back to inner-city neighborhoods
By MICHAEL HUMPHREY
Memphis, Tenn.
Drive southeast on Lamar Avenue here in Memphis and the story of America's urban core flashes by at 40 mph. You see a housing project now boarded up, fenced, awaiting demolition. You count six liquor stores within a two-mile radius, while offices that once housed professional services and locally owned retail stand vacant. Cars and SUVs pass around you, hurrying away from downtown toward Interstate 240, a loop highway that connects suburbs. Along the way, you might miss St. John Parish and the St. John Catholic School. Built during the late 1940s and early '50s, the facades are simple and sit several hundred feet back from the busy four-lane street.
But if you do see the school and catch a glimpse of a child in the traditional Catholic uniform rushing inside -- then you've spotted the most hopeful sign that the 2700 block of Lamar Avenue has to offer.
In 1990, St. John Catholic School, which now teaches pre-K through sixth grade, was shuttered. It was another victim of the drain of Catholic families from the inner city, the decline of religious dedicated to education and the increasing cost of running elementary schools. The U.S. Conference of Catholic Bishops estimates that between 1990 and 2005, 850 parochial schools closed, the majority in urban areas. Name some of the great American cities -- Boston, Detroit, Chicago, Brooklyn, St. Louis -- and all recently have closed or will soon close significant numbers of inner-city schools.
The trend is significant enough to earn a mention in President Bush's 2008 State of the Union speech: "Sadly, these [faith-based] schools are disappearing at an alarming rate in many of America's inner cities."
It's almost unprecedented for an urban parochial school emptied for a decade to once again ring with the voices of students and teachers. Except in Memphis, where St. John is one of eight "Jubilee Schools" brought back to the inner city since 1999. The solution was not a private school voucher system, government grants or even urban renewal. A large anonymous donation, given by a most unlikely source, started the comeback.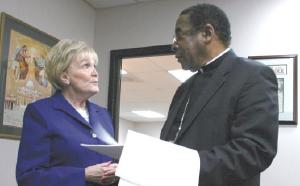 Mary C. McDonald and Memphis Bishop J. Terry Steib look over a recent report about Jubilee Schools.
"You see the neighborhoods where our schools reopened starting to come alive again," said Mary C. McDonald, secretary of education and superintendent of schools for the Memphis diocese. "We didn't follow progress, we felt progress could follow our Catholic schools."
The schools were named by Memphis Bishop J. Terry Steib, who wanted to see the revival begin in the Year 2000, a Jubilee Year. The reopenings, which school advocates often call "the Miracle in Memphis," actually began a year earlier than planned.
"I've heard others from around the country say that if they could get the funding, they would do the same things we are doing," Steib said. "It didn't begin with funding. It began with a vision."
No child left outside
Tuition for St. John is $3,000, just like any other school in the diocese. But no student is ever turned away because the parent can't afford full tuition. Millions of dollars in scholarships have been raised in Memphis to assure that. In fact, 95 percent of the Jubilee students receive tuition assistance.
"Every parent here pays some part of the tuition," said Teddie Niedzwiedz, principal of St. John. "Even if it's just a little bit each month. There's pride in that -- that you are helping your child attend this school. But we would never turn a student away because of inability to pay."
So far the open-door policy has not led to long waiting lists. In fact, many of the schools continue to recruit students, still selling the concept of Catholic education to non-Catholic families. McDonald said educators have learned that all of the help you can provide to children won't matter if the parents aren't enlightened along with their child. And so they've directed efforts to lift the parents up as well.
Last year the Jubilee Schools were able to reopen their own kitchens -- after using Meals on Wheels for the first eight years. Not only did this allow the schools to manage their own food costs, it also provided a special opportunity to employ some of the student's parents.
"It's been a blessing to work here," said Elmerie Rosser, assistant cook at St. John School and mother of a fourth-grader. "I can be close to my daughter and I received training that might help me again some day."
These kinds of initiatives are essential to the child's development, McDonald said. Jubilee Schools also offer parents training in literacy, job-seeking, health and wellness.
"We can provide the students with the best education," Niedzwiedz said, "but if it's not reinforced at home, it makes everything harder."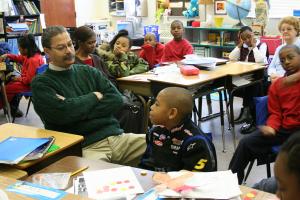 Christopher Thomas, a third-grader at St. John School, brought his grandfather to Grandparents Day Feb. 1 as part of Catholic Schools Week.
It is that pitched battle for children's lives that convinced Sr. Grace Saia, of the Sisters of Charity of Nazareth, that St. John must be a year-round school when she was charged with opening the school in 2000. Other Jubilee Schools are considering a similar move.
"Kids were behind before they even started school," Saia said. "I knew it was not that they couldn't learn, they just needed the extra time. It was a catch-up strategy. And what are they going to do in the summer? They aren't going to go the beach or visit grandpa. They would end up on the streets."
Once the students are graduated from their Jubilee School, they are automatically eligible for a scholarship that will send them to one of the Catholic high schools in Memphis. Currently, 172 Jubilee graduates are enrolled in Catholic high schools.
By the time they make it to high school, according to school officials, the Jubilee students are on par with students from the traditional parochial schools in Memphis. In fact, most Jubilee students are reading at grade-level expectations after one year and exceed grade-level expectations in standardized testing. The graduation rate is 99.9 percent.
Missions, signs and miracles
"The most successful model of all may well be in Memphis," The New York Times concluded after looking at Catholic schools in the inner city three years ago.
If that's true, the success came from an unlikely group of leaders -- a first-time bishop, a school superintendent who had to be talked into taking the job, and funders of Catholic schools who weren't Catholic.
"Who knows?" McDonald said. "Maybe the fact that we didn't know what we were doing is the reason it's succeeding so well."
What both Steib and McDonald did know was education. A native of Vacherie, La., Steib was one of five children, born into a poor family that valued education. He was ordained in the order of Divine Word Missionaries and became a teacher and vice principal in Mississippi before taking leadership roles in his order. After appointment as auxiliary bishop of St. Louis in 1984, Steib was named bishop of Memphis in May 1993.
He came to a diocese that was clamoring for more schools in the suburbs, while he wanted to put its focus on reviving inner-city schools. There was no model for his idea. So Steib decided to challenge the diocese and see what the reaction would be. And he wasn't subtle about it.
"I am tired of some of our schools struggling in places where they are most needed," he wrote in the diocesan newspaper for Oct. 23, 1997. "I am equally tired of schools which for too many people are havens for a social system rather than sanctuary for all of God's children! ... I am tired of a system that is fast becoming affordable to only a few!"
"Someone framed that column for me," Steib said with a laugh. "I said I am not going to look at new schools in suburbia or other places until we have the downtown and midtown settled. And people said, 'We're with you.' "
He wrote the column soon after the former superintendent of schools had resigned. A replacement search dragged on for a year, until McDonald -- then a principal at St. Benedict at Auburndale in Cordova, Tenn., a K-12 Catholic school -- was asked to apply.
"I didn't want the job," she remembers. "I loved my school and my job and I didn't want to leave. But I finally applied, just in case I was resisting God's will. And sure enough, I was offered the job."
Early in McDonald's tenure, Steib brought his article to her and explained his vision for what Catholic education could be in Memphis. Overwhelmed by the challenge, McDonald went into the office chapel to pray.
"I felt hopeless," she said. "I prayed that God would wrap his arms around the children and protect them, but it felt as if God had no arms."
A few weeks later she attended a conference in San Diego. During a Mass, she saw a crucifix hanging in the sanctuary that had no arms, a sign in her mind that she was to be God's arms.
"So I went back to work and I talked to anyone who would listen," she said. "I even put out the word, discreetly, that the diocese might be willing to sell the closed school buildings, just to see who might be interested. One day a gentleman came to my office to express some interest and we started talking about education."
That person remains anonymous to this day. But the upshot of the story is McDonald and Steib convinced him and a handful of his associates to help the diocese reopen those schools.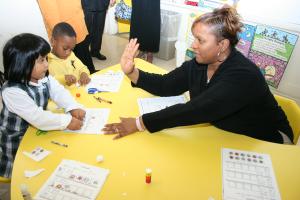 Little Flower School pre-kindergarten teacher Andrea Turner wants a high five from Rebecca Sabino for a job well done, while classmate Tadarius Poindexter awaits his turn.
"They had the financial resources and the desire to help children in the poorest areas of Memphis," she said. "We had a proven model for those children -- a Catholic education."
So less than two years after Steib's column, the Memphis diocese received a $15 million donation from a small group of anonymous Protestants to reopen seven Catholic schools that had been closed, some for decades, and would now teach primarily Protestant children. (An eighth school, called Resurrection, was built and opened in 2006.)
While opening up Holy Names School, McDonald looked through the building that had been closed since 1969. It was bleak, but again she found a sign.
"We opened this closet and as I looked up," she said, "there was a crucifix, with no arms. It was a miracle. There's nothing else you could call it."
Back to reality
But the miracle materialized deliberately. McDonald reopened one school, St. Augustine, in 1999 with just one kindergarten class of 26 students. The next year, St. John School opened while the first school added a first grade. And on it went with those incremental steps -- now all of the schools have opened and the Jubilee enrollment has risen from 26 in 1999 to 1,123 at the end of last school year.
The return was not greeted with hosannas, McDonald admits.
"Going back to the parishes to tell them about our plans reopened a lot of old wounds," she said. "Many of these same people fought the diocese to keep the schools open. Now we were telling them that we would reopen the schools and serve primarily non-Catholics."
Many of the parishioners she spoke to had stayed in their declining neighborhoods, often because of attachment to their church. Others lived in a different parish now, but remained members of their inner-city church. Most had bitter feelings about the school closing and their children were grown now, unable to benefit from the re-openings.
"We didn't ask them," McDonald said plainly. "We told them we were coming back. That was key. And you know, when the parishioners started seeing those faces, those children, walking into their school, they began to warm up to the idea."
But the surprises and challenges did not end there.
Like many of the Jubilee teachers, Niedzwiedz came to St. John from a suburban Catholic school. She was prepared from an educational point of view, both as a teacher and eventually principal, but she was not ready for the social realities her students face on a daily basis.
"I've been to funerals for parents of students who died violently," she said. "I've heard stories about kids going home [and finding] nothing to eat. You see everything here."
And out of those tragedies, an inspirational figure often appears, Niedzwiedz said. Take Shirley McCay for instance. She was suddenly the guardian of four grandchildren when her son Jason was shot and killed in his driveway. McCay is determined to see her grandchildren avoid the violence that took her son's life. And she said the Jubilee Schools are a key to their success.
"A day doesn't go by that they don't mention their daddy," McCay said. "And I remind them that he wanted the best for them. He was there for them and so is this school."
Jubilee Schools serve 86 percent African-American students, 6 percent Hispanic, 5 percent Caucasian and 3 percent Asian. Like many American cities, much of the inner-city depletion stemmed from white flight and Catholic schools were part of that flight. But their return to the Memphis inner city, led by a black bishop and white superintendent, could be a model for healing a city's racial divide, McCay says.
"The situations that these children are facing shouldn't ever happen to them," McCay said. "They are being uprooted, they are raising themselves. And people are turning their backs on it. This school does not. There is not a child in this school whose need will not be met."
In some ways, the work has been much harder than McDonald could have imagined. But overall, Jubilee has been a success that has begun the slow process of reclaiming neighborhoods for families.
"One day I was walking into a school that's attached to a parish that serves meals to the homeless," McDonald remembers. "The line was already forming for the meal and this man in line called out to me and waved me over to him. He didn't want to lose his place in line. He said to me, 'Save those children. It's too late for me, but it's not too late for them.' I will never forget that."
A model worth replicating
Steib insists the Jubilee formula is worth consideration by U.S. dioceses with struggling or disappearing inner-city schools. But he is quick to point out that Catholic education must be reimagined for it to work..
"There is an old model of Catholic education, which basically follows Catholic families wherever they go," Steib said. "This is a new model, one that looks for where the needs are. The point is evangelization, to be a light for those who need us the most."
Only 19 percent of the students enrolled in the Jubilee Schools are Catholic, compared to 65 percent Catholic enrollment in all of the Memphis diocesan schools.
"Yes," said McDonald, "I know it's historically considered Catholic schooling for Catholic children." And then she restates what may be the Jubilee Schools most repeated mantra: "We don't teach these students because they are Catholic. We need to teach them because we are Catholic."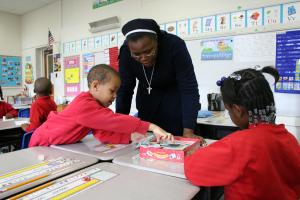 Charity Sr. Mamerta Buhembo, an assistant first-grade teacher at St. John School, helps two students with an image-matching game.
That means hundreds of Baptists, Pentecostals, African-American Methodists and children of many other denominations are being taught Catholic beliefs about the sacraments, saints and prayer.
The goal is evangelization, but not necessarily conversion, said Saia.
"Evangelization means instilling the core values of our faith into these children," she said. "Some of them may decide to join the church in the future and we would welcome that. But all of them leave with the values and message that they are children of God."
To be enrolled, students must agree to a pledge, the first two points of which summarize the school's values: "1) I will attend my church with my family regularly; 2) I will read for at least 30 minutes every day, outside of my schoolwork."
Parents also must make a pledge, which includes paying attention to their child's homework, volunteering time at the school and getting students to class on time.
The pledges, in a sense, take the place of the natural attachment that a parish usually has to its school. The ultimate goal, McDonald said, is to plant seeds that one day may flower into the old parish-school relationship.
"The diocese will always be involved in keeping [the schools] economically viable," she said. "We promised we would not close these schools again and we must keep that promise. But we want the parishes to have investment in the school."
To that end, the priest of each parish was named the spiritual director of the school. For now, their responsibilities stop there. They don't have to worry about school finances or fundraising, they don't have to engage parents on academic matters and they don't hire or fire anyone in the school. All of those duties fall upon the principal, who works with the priest as an equal.
"I think it's a wonderful relationship," said Fr. Carl Hood, pastor of St. Therese the Little Flower, which now has a school that teaches grades pre-K through second under the leadership of Blessed Sacrament Sr. Lynn Marie Ralph. "It's not just a benefit to the school to be attached to the parish. Sr. Lynn Marie has knowledge and insights that help all of us."
Each school is autonomous in various ways, including freedom to choose the religious order whose charism, or mission, guides its work. In an effort bring religious orders into the mix, McDonald recruited orders known for their work in education, including Christian Brothers, Sisters of Charity, Sisters of the Blessed Sacrament and others.
And religious came from Memphis and beyond.
"It was an opportunity that was just too good to pass up," said Blessed Sacrament Sr. Donna Banfield, principal of Holy Names of Jesus and Mary Elementary School, who came to Memphis from Brooklyn, N.Y. "To be able to teach in a school that has a true mission, but also to be able to instill your order's charism was exciting to me."
Autonomy stops, though, when it comes to financial responsibility. While principals are caretakers of the budgets given to the individual schools, the diocese is responsible for assuring overall financial health through fundraising and accreditation.
McDonald has spearheaded fundraising that reaches past $60 million for her district. The Jubilee Schools' resurrection was made possible by a $15 million anonymous donation. Those same donors have since given several million dollars more, as has the Memphis-based Hyde Family Foundation, Assisi Foundation of Memphis, and a lay-run organization called the Blue Streak Foundation, primarily parochial school alums who supply scholarships to Jubilee students.
Funding was initially provided for the vision, said Joe Jenkins, board chair of the Assisi Foundation. It continues because of the results.
"The Jubilee Schools are, in truth, reaching the whole child," Jenkins said. "Providing an environment where learning can happen and the resources so that learning will happen."
Michael Humphrey is a Kansas City, Mo., freelance writer.
National Catholic Reporter, April 4, 2008