Issue Date: April 4, 2008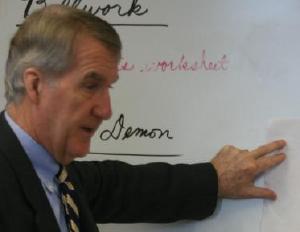 -- Mike Humphrey
Dave Ellis
St. John alum returns to serve
Dave Ellis thought he was taking a tour of his old elementary school and parish when he returned to St. John in Memphis. What he was actually doing was looking over his future.
"I was visiting a couple of the Jubilee Schools as part of an alumni group," Ellis said, "and thought I'd like to be a part of that."
He thought that meant a little volunteer work. But the more he thought about it, the more radical his idea became.
Ellis, 59, was the owner of a commercial printing company for 27 years, a business that his father started. He said the business was changing rapidly and he was losing his passion for it. At the same time, the Jubilee School, where he was once a student, kept working on his mind.
"I called a competitor who made an offer on my business several years before," he said. "I asked him if he was still interested and he was."
He sold the business, went to the University of Memphis to get a master's degree in education and tutored at St. John in the meantime. When he graduated, he was offered a teaching position at St. John in the sixth grade.
Now in his second full year, Ellis admits the transition from workplace to classroom has not always been smooth.
"It's a lot harder than I could have ever imagined," he said. "But I'm glad I did it, because I really believe in what's happening here. If I hadn't gotten a job in a Jubilee School, I'm not sure I would have taught anywhere else."
-- Michael Humphrey
National Catholic Reporter, April 4, 2008