Issue Date: April 4, 2008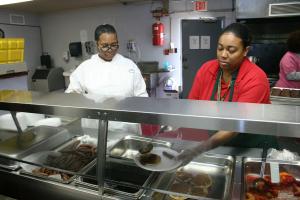 -- Mike Humphrey
Elmerie Rosser, left, serves breakfast alongside fellow chef Crystal Smith at St. John School.
Mother sees catholic school as safe haven
Elmerie Rosser does not complain about her life, but she doesn't hide its hardships either. She is the primary caretaker of a father in the acute stages of Alzheimer's and the single mother of a 10-year-old daughter.
"That's my life," she says. "Taking care of my dad and making sure my daughter gets a good education. Beyond that, there is no time."
Rosser is proud to send her daughter Lorrianna, a fourth-grader at St. John, to a private school. But even more than pride, she feels relief.
"I'm just happy she's safe every day," says Rosser, 57. "Sometime in the last 10 years the public schools didn't feel safe to me anymore."
She reared three children who did attend Memphis public schools. They made it through and have done fine in adulthood. She's not citing statistics; it is her gut that says Lorrianna would face peril in those same schools today. Still, without the Jubilee Schools, Rosser says, she would have had no option.
"We barely make it as it is," she says. "We couldn't afford a private school anywhere else."
Rosser, like 91 percent of the parents who send their children to a Jubilee School, is not Catholic. And she admits she would love for Lorrianna to attend a school run by the Pentecostal church.
"But it's not here," she says plainly. "The Catholic schools are here, so I tell Lorrianna to listen to what they say about God. Because this is a Catholic school and we knew that when we came here."
It's more than a school these days. For Rosser, it's her single means of income. She works part-time as an assistant cook at St. John. While she's away from home, a neighborhood friend tends her father. The school is Lorrianna's primary source of friends.
"We don't have free time," Rosser says. "When we're home, Lorrianna stays inside. I hate that she can't spend more time outside. But at school, she gets to go out and play with her friends."
Lorrianna spends much of her time at home studying, watching television or playing video games. They live in a well-built bungalow that Rosser's father has owned for more than 40 years. Just blocks off Lamar Avenue, a busy thoroughfare, the house sits on the corner of another busy street with an automotive garage and liquor store on one side and single-family houses on the other. Rosser says she just can't take the risk of sending Lorrianna outside.
"All my friends are at school," Lorrianna says. "I don't see them anywhere else but at school because they live all over."
So it's positive, Rosser says, that St. John stays open year-round.
"If she's not at school, she's here," Rosser says. "At least there she is learning and spending time with all of her friends."
-- Michael Humphrey
National Catholic Reporter, April 4, 2008