Issue Date: April 4, 2008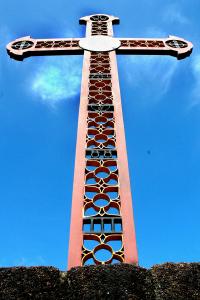 -- UCAN/Philong Sovan
The cross at the memorial of martyrs in Taing Kouk, Kompong Thom, for those who suffered during the Pol Pot regime that ruled Cambodia from 1975 to 1979
Young Catholics dominate catechetical ministry in Cambodia
By UCA NEWS
A youth wave is changing the face of the church in Cambodia, where the vast majority of catechists countrywide are young people.
"I like to do church work, especially ministry, especially as a catechist," Choeung Phana, 26, told UCA News recently. "I want to share my belief with my Cambodian brothers and sisters."
The catechist of St. Joseph Parish in Phnom Penh acknowledged the work is not easy. "We do not merely provide lessons to catechumens," she explained. "We also give them good examples through our daily lives."
Phana became a catechist 11 years ago, after being baptized at the age of 15. Over the course of more than a decade, she has spent free time and even holidays working as a catechist.
The Catholic church in Cambodia has been rebuilding since the 1990s, after the devastating rule of the Khmer Rouge from 1975 to 1979, during which no native priest or religious in the country was known to survive. But this revival has depended largely on foreign missioners.
That is changing as a wave of new Catholics, especially youth, get involved in many fields of ministry such as liturgy groups, charity and social work and catechism.
Of the 160 catechists currently serving the church, 130 are ages 18-35. Most have no formal catechetical degree, because the local church has no official catechism school.
Sun Nin, 25, one of Phana's fellow catechists at St. Joseph, told UCA News after two years' experience as a catechist that the service "is difficult, but it gives me strength and reaffirms my belief in Christ." In order to do his job better, he added, he reads the Gospels many times, reflects carefully and prepares classes with his parish priest.
His classes are based on the Bible, publications from the Cambodia Catholic Culture Center and his own experiences in the church, he said.
Since Cambodian society is 95 percent Buddhist, becoming Christian is not easy, Nin observed. The words "love and respect one another" are easy to say, but difficult to put into action, he said.
Chur Damo, a catechist at Prey Veng Parish in Kompong Cham apostolic prefecture, agreed that being a catechist is difficult. Yet, because of his faith, he said, "I am happy to do it." He added, "I received the best gift from God: love and happiness." In return he wants to bring these to other Cambodians.
To help catechists across the country in their work, the Cambodia Catholic Culture Center set up training this year on teaching methods.
The center's director, Fr. François Ponchaud, 69, considers catechesis in Cambodia weak, the Paris Foreign Missions priest told UCA News. Hence the center arranged the training open to catechists in all three church jurisdictions -- the Phnom Penh vicariate, and the Battambang and Kompong Cham apostolic prefectures.
According to church data, about 19,000 of Cambodia's 12 million people are Catholics.
National Catholic Reporter, April 4, 2008