Issue Date: April 4, 2008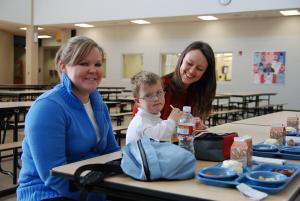 -- Photos by Albert de Zutter
Josef Kepus eats lunch at St. Therese Parish in Parkville, Mo., with his para-educator, Mollie Brown, left, and his kindergarten teacher, Heidi Vestal. Brown made him a book with pictures of all his classmates, which helped him learn all of their names. She works one-on-one with Josef, naming shapes and colors and helping him count.
Charley's needs led to more inclusive schools
Parents wanted special education for Catholic kids; they raised funds, found ways
By ALBERT de ZUTTER
Kansas City, Mo.
When the Nultons' fifth child, Charley, born with Down syndrome, was six months old, they feared he would not be able to go to school with his siblings because their parochial school lacked special education resources.
Maura and Carnie Nulton set about to change that reality. They and other parents of children with special needs started getting together on a regular basis to "brainstorm" about what they could do. They realized that the basic necessity was money, Maura Nulton told NCR.
Now, some 11 years later, the Kansas City-St. Joseph diocese has an active Foundation for Inclusive Religious Education (F.I.R.E.) that provides grants to seven parochial grade schools and one high school serving children with special needs. Three of the first group of children to be served have gone from kindergarten through eighth grade with their peers and are more than halfway through their first year at Archbishop O'Hara High School, one of four diocesan high schools (along with four private Catholic high schools) in the diocese.
While money was the fuel, the parents provided the engine in researching and promoting the program and creating the fundraising structure. Nulton was quick to point out the key roles also played by parish priests and educators, including Benedictine Sr. Anne Shepard, then-superintendent of schools for the diocese, and the support of Bishop Raymond J. Boland, now retired, and his successor, Bishop Robert Finn.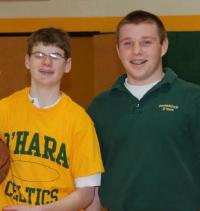 Parker Levi with his physical education mentor, Vince Saviano, a junior at Archbishop O'Hara High School.
Inquiries about the program, said Mary Beth Compton, recently appointed executive director of the foundation, have come from the archdioceses of Newark, N.J.; Omaha, Neb.; Minneapolis-St. Paul; and Galveston-Houston, as well as from the dioceses of Buffalo, N.Y., and Tulsa, Okla. Tulsa has launched a program called Religious Inclusive Student Education (R.I.S.E.), based on the Kansas City-St. Joseph model, and has its first special-needs students attending Marquette Catholic School operated by Christ the King Parish.
When F.I.R.E. first started, Compton said, "six families were doing it all." The program started in two contiguous large parishes -- the Nultons' home parish of St. Peter and in Visitation Parish. The motivating goal of the program was to enable special-needs children to attend Catholic schools rather than a public school, said Sister of St. Joseph Patricia Clune, associate school superintendent, but the unexpected gains have been transformational.
"All the kids have benefited," said Clune, who until March was interim diocesan superintendent of schools. "It has created a richer environment in our schools. Having children with special needs in our schools has been an education in itself."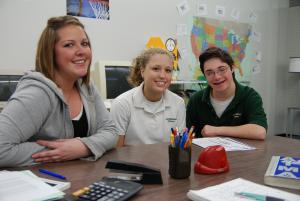 Ashlee Boursheski, special education resource teacher at Archbishop O'Hara High School, meets with Katie Bachkora, coleader of the student mentor group, and special-needs student Nicholas Costanzo.
Schools in the diocese have long had the rule of "No putdowns." But the presence of children with special needs brought that lesson home in a way that no amount of teaching or correction could do. Students have become aware that they are role models for their special-needs peers, who tend to imitate their behavior.
Said one sixth-grader at Nativity of Mary Parish School, "It makes you think before you say anything."
"They're fun to hang out with," said another.
"You learn not to judge a book by its cover," said a third.
Liz Baker, principal at the school, said that a sixth-grader who had had some discipline problems became friendly with Brett Hughes, one of two special-needs students there thanks to the F.I.R.E. program.
"This year," Baker said, "he is taking responsibility for both Brett and himself." Brett and Nathan Hoppman, an autistic child who specializes in drawing heavily populated depictions of animals surrounding Noah's Ark, say the Pledge of Allegiance together every morning over the school's intercom.

Liz Baker
Nativity's program and the program at Archbishop O'Hara High School are new this school year.
"It's been good for our faculty and the student body," Baker said. "When you welcome special-needs children they give you more than you give them. We are Catholic, and we are supposed to welcome everyone. That's what our church teaches us."
Teachers there and in the other schools in the program have signed up for training in dealing with special-needs students, which helps them in their overall proficiency in modifying the curriculum and accommodating students' individual needs, said Baker.
Her school was not expecting Nathan, whose family moved to Kansas City from Iowa as school was starting.
"They came and asked me if we would take him in. Our teachers were willing to try it. They are learning about autism and how to teach Nathan. Also, we were fortunate to find the right person to be his paraprofessional."
Each special-needs child in all of the elementary schools in the program has a paraprofessional, partially funded by F.I.R.E. The para-educators work under the supervision of an accredited special needs teacher.
Educators explained that the special-needs students work at their own level, while being moved up through the school system so they could stay with their age-group peers.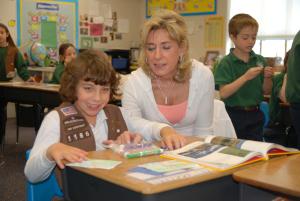 Tatum Deister, 9, gets help from her paraprofessional, Karen Faries, in the second grade classroom at St. Therese School in Parkville, Mo., a suburb of Kansas City.
"Teachers at St. Peter's at first were fearful," Nulton said, but have become more confident and competent each year. "And they pass it on to the new teachers." Now, she said, St. Peter's teachers take their special-needs responsibilities in stride, as do students exposed to special-needs children.
In anticipation of three special-needs students entering as freshmen at the start of this school year, faculty and students of Archbishop O'Hara High School, with the help of Nicolette Gibson, coordinator for inclusive education for the diocesan school office, devised a system of student mentors rather than paraprofessionals.
"I met with parents for four years with Nicolette's help," said Jane Schaffer, assistant principal. "We gave students the option of getting into a program we now call Introduction to Education Practicum."
Erin Stephenson, a senior, helped design the program starting in the spring of 2007, and is now a coleader with Katie Bachkora, also a senior, of the mentor group, which meets regularly.
Katie and Erin accompany the three boys -- Nicholas Costanzo, Austin Dearth and Parker Levi -- to their daily meeting with special education teacher Ashlee Boursheski ("Miss B"), for social studies, English, science and life skills. The boys go with mentors to regular classrooms for religion, physical education and math. Each mentor goes to one class a day with one of the special-needs children.
F.I.R.E. now has a formal board of directors and works with the diocesan school office. The office provides services through Gibson, who works with the schools as needed and provides training seminars for teachers.
The parents have organized themselves into a "worker bee" organization to raise funds. The group is made up of parents of children who are benefiting from the special needs program as well as others who just want to help.
The diocese estimates that more than 200 children -- not just those with diagnosed conditions -- benefit directly from working with special education teachers, paraprofessionals and now student mentors in programs partially funded by F.I.R.E.
Albert de Zutter is a freelance journalist and former editor of The Catholic Key, newspaper of the Kansas City-St. Joseph, Mo., diocese.
Related Web site
Foundation for Inclusive Religious Education
www.fire-program.org
National Catholic Reporter, April 4, 2008