Issue Date: April 4, 2008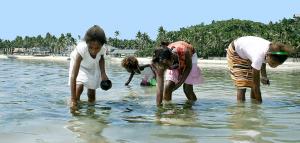 -- Getty Images/AFP/Tara Yap
Aeta girls collect shells from the waters off Boracay Island. They use the shells to create souvenir items for tourists. Over the last 20 years, Boracay's growth as a tourist destination has marginalized the Aetas, a once-nomadic people who are considered the oldest inhabitants of the archipelago.
Nuns' aid boosts indigenous education
By UCA NEWS
Boracay, Philippines
Standing in front of a statue of the Black Virgin Mary, Delsa Justo prays for strength to overcome discrimination and the poverty of her people.
As 47-year-old Justo, a chieftain of her 200-member Aeta tribal community, stood gazing at the statue in Most Holy Rosary Church in Boracay, she said she also prays for her 22-year-old daughter, Lourdes.
The woman leader told UCA News on March 9 that members of her community are waiting for her daughter to finish her degree in education at college because they know she understands their plight. "She wants to educate fellow Aeta," her mother said.
Lourdes received a scholarship from the Missionaries of Charity, who minister to the spiritual and material needs of tribal people in the city. The nuns provide scholarships to 36 Aeta, 32 of whom are in primary classes up to grade six with two more in high school. Lourdes and the other college scholars are pursuing bachelor of science in elementary education degrees.
Sr. Victoria Ustan said her congregation has no set criteria for scholarship applicants other than a desire to study. She added, "We understand few Aeta are interested to study because of their heritage of being nomads and the discrimination they face from fellow students."
The nun said Lourdes has inspired other Aeta. She is ranked among the top three students in her program and graduated from a caregiver course before deciding to become a teacher to help her fellow Aeta.
Upon finishing her studies at Colegio de San Jose in Iloilo City, she would be the first professional teacher from her community.
"When on vacation," Justo said, "she gathers children to teach them basic math and English. She also teaches them how to read and write."
Guillermo Colas Jr., provincial chieftain for indigenous people, told UCA News March 10 that several young women in his town are now interested in taking up education to help fellow Aeta alleviate poverty and ignorance.
Colas is a member of the Aklanon Bukidnon tribe in the mountain village of Libacao, Aklan, about 40 miles east of Boracay. About 150 families are members of his tribal community. He was selected provincial chieftain of the National Commission on Indigenous People in Western Visayas. Tribal people walk for hours over the hilly terrain to discuss their community problems with him.
"I recognize the role of women as teachers in our community," Colas said. "They are considered the hope of parents in the alleviation of poverty, and the older ones are already fed up with being poor."
Libacao and Boracay are in the territory of Kalibo diocese, which covers Aklan province. The 513,951 people of this area, 90 percent of them Catholic, include about 1,000 indigenous people.
National Catholic Reporter, April 4, 2008