Issue Date: April 4, 2008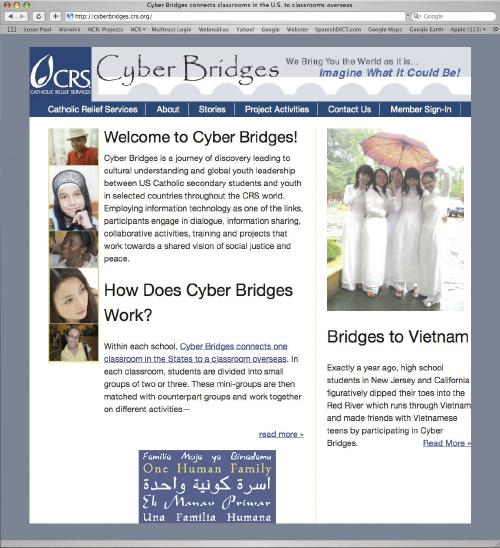 The home page of the Cyber Bridges Web site
Beyond video games: Students build empathy online
By HEATHER GRENNAN GARY
When Kelsey Peltz signed up for the Advanced Placement Environmental Science class at Fenwick High School in Oak Park, Ill., she didn't know that part of the coursework would be discussing water issues -- and life in general -- with Palestinian students from Bethlehem.
Her teacher, Marcus McKinley, had wanted to find a way to contact students in another country to start a water quality data-sharing program. Three years ago he learned of a pilot program from Catholic Relief Services called Cyber Bridges. When he discovered his class could be paired with a group of students from the West Bank, he decided it might be a good fit -- particularly because water is a huge issue in the Middle East, and the West Bank sits on the largest aquifer in the area.
Peltz and her classmates regularly log in to the Cyber Bridges Web site to share not just water data, but to experience some cross-cultural stereotype-busting and teenage sharing, as well. "It really puts things in perspective on our way of life," said Peltz.
The goal of Cyber Bridges, according to its Web site, is to foster intercultural relationships, raise global awareness and promote leadership between American Catholic youth and marginalized youth from the programs of Catholic Relief Services, the overseas relief and development agency of the U.S. bishops.
The Web site is a key tool for Cyber Bridges. Students work in small groups of two to five and are paired for a year with a small group in another country to get to know each other and work on six "bridges" -- activities that promote familiarity, tolerance and understanding. Each pair has space on the site to post assignments, photos and messages to each other.
"We believe solidarity will transform the world," Catholic Relief Services' Gloria Peterson-Ayigah said. "Cyber Bridges is in the spirit of Catholic social teaching -- it speaks to stewardship and connectivity and solidarity between peoples."
Currently 850 students are participating in the Cyber Bridges program, which started in early 2006 and is now in its second full academic year. Students in 32 American classes at 17 schools are linked to student groups from Palestine, Cambodia, Vietnam, Colombia and Kosovo. Catholic Relief Services plans to add another 10 classrooms next year, and may add student groups from Ethiopia as participants.
"There've been technological glitches, but I still think it's very worth it, and so do the students," McKinley said. "I can stand up in front of the class and teach a lesson on water in the Middle East, but when they make friends with students over there and hear about it from them, it makes a much greater impact."
This year the Fenwick group and their partners have been able to hold three videoconferences, two class periods each. "It allows us to not only hear their opinions but to see each other face-to-face and to see what they look like, what they wear, and what their center looks like," said Peltz. "It helps us to get to know them as more than words on a page." In their last videoconference, the students started out discussing water quality issues. "It was interesting to see the differences in our access to something as common as water," said Peltz. But after their class-related conversations they get a chance to talk about everyday life. "We've learned how to say 'hello' and 'Let's go!' in Arabic, and even sing 'Happy Birthday' to each other," Peltz said.
While the technology can still be problematic, the real lesson in patience sometimes stems from other sources. "Things tend to happen really slowly," said McKinley. "We have to be considerate of what's happening over there." While Palestinian students may only have to travel a mile to the community center, the trip could take hours, depending on the checkpoint situation.
For Peltz, that reality was an eye-opener. "We take some of the smallest things for granted," she said. "We can easily drive to another state, but they have to go through checkpoints to get to another town and sometimes are denied access to certain towns."
At Baltimore's Seton Keough High School, a group of 25 students meets twice a month for the Cyber Bridges club that started this year. They are also paired with a group of Palestinian teenagers at a community center.
"They adore the technology piece," said Mary Pat Tilghman, a religion teacher, campus minister and moderator of the club. "Just getting on the computer, working on PowerPoint, and e-mailing someone in another country really draws kids in."
The chance to hone her PowerPoint skills initially attracted sophomore Rachel Welch to the group, but she's enjoyed getting to know about the culture and traditions of her Palestinian partners. And the language barrier, although present, has been not overwhelming. "Their English is not bad. It's pretty easy to understand what they're saying."
By February, the Seton Keough group had completed two of the six "bridges": First, they presented information about themselves and their lives, and then they researched their partners' country and culture and presented it, hoping to spark online conversations about the truths and misconceptions that emerged.
The assignments showed plenty of similarities between the groups. "We do a lot of the same things and like the same things -- school, music, sports," said Jennifer Tomasic, a sophomore. "But you really have to think about what you're saying and how you say it" -- partly to avoid misinterpretation, and partly to respect cultural differences.
While most of the U.S. students taking part in Cyber Bridges are in religion classes at Catholic schools, the curriculum focuses on cross-cultural communication and justice issues rather than religion. And that makes it a good fit for classes like the science class at Fenwick. "Social justice issues should tie into everything we study," said McKinley. "This is one way to show students that it's all connected."
Tilghman expected last year's Middle East peace conference in nearby Annapolis would spark conversations among the groups. "But they're teenagers -- they want to know about each others' lives more than world issues," she said, noting that questions about school, family, music and movies are the most popular.
Still, the program has succeeded in raising awareness about events in their partners' country. Last spring after the shootings at Virginia Tech University, Vietnamese students posted a note on the Cyber Bridges Web site that read: "We were very frightened when hearing about the event. It's so sad. It killed our friends -- students like us. I burst into tears when I saw their radiant faces ... so sorry."
And in the United States, some international news stories hold a little more interest for Cyber Bridges students than they used to. "When I hear people talk about Palestine [on the news], I think about the people I talk to," said Alexandra Stanoski, a sophomore at Seton Keough. "I know people who are going through that."
Heather Grennan Gary is a freelance writer living in Goshen, Ind.
National Catholic Reporter, April 4, 2008