Issue Date: April 18, 2008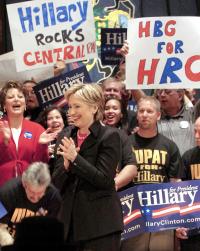 -- MCT/Allentown Morning Call/
Monica Cabrera
Democratic presidential hopeful Sen. Hillary Clinton speaks at a rally in Harrisburg, Pa., March 11.
Sen. Clinton's best hope -- the Catholic vote
By MARY BARRON
Health care for all Americans, economic justice and opposition to the war in Iraq are among issues pushing Catholics to the polls in record numbers this election season. Not only are Catholics turning out in droves; they are providing Sen. Hillary Clinton with the votes she's needed to remain competitive.
A strong showing for Clinton in Pennsylvania's primary would buoy her hopes of ultimately edging past Sen. Barack Obama in a nomination battle her campaign still insists she can win.
In recent elections, Catholics have stood out as swing voters who consistently cast their votes for winners. And notably, they have been showing up throughout the primary season in disproportionately high numbers.
"The Catholic vote is Democratic to the extent that people who are Catholic see the government as having a moral responsibility to help those in need, and this ties into the Catholic social teaching," said Catholic voting expert William D'Antonio.
Along with most analysts, D'Antonio, a fellow at the Life Cycle Institute at The Catholic University of America, expects Catholic votes to play an important part in a victory for Clinton in the April 22 primary in heavily Catholic Pennsylvania. Early reporting by election officials revealed 4.2 million Democrats and 3.2 million Republicans had registered by the April 7 deadline.
Universal health care is a high priority for those Catholics who support it, and it is key to Clinton's appeal among Catholics over Obama, D'Antonio said. "Obama's not coming up with a bad plan, but hers is universal."
Clinton's plan would require everyone to have insurance. Obama's proposal would require insurance for children but would not mandate it for adults -- though the aim is coverage for all.
Two-thirds of American Catholics, or 66 percent, compared to 63 percent of the general population, support government-guaranteed health care, according to August data from the Pew Research Center.
Also working in Clinton's favor in Pennsylvania are the Keystone State's affinity for traditional New Deal Democrats, its workers' unionized history and an electorate that "has heard about her and her husband working on these issues for many years," D'Antonio said.
Older voters who want to elect a woman president in their lifetimes also play a part in her support, he said.
Pennsylvania's is a closed primary, which means voters must register by party. So in a contest for Catholic votes, Clinton and Obama will be vying only for the votes of those Catholics registered to vote for Democrats. That number includes 86,000 voters who switched parties to vote Democratic -- including many who live in the predominantly Republican suburbs, according to the state's election officials.
Another 12,000 Pennsylvania voters switched to vote in the Republican primary this season.
Nationally, in this season's primaries where choice between parties is an option, it is significant that Catholics have been choosing Democratic over Republican ballots by a margin of more than two to one.
Gallup Poll tracking data for March show Clinton and Obama running about evenly among both Jewish and Protestant Democrats. But when it comes to Catholic voters, Clinton leads Obama by nearly 20 percentage points, 56 percent to 37 percent. Clinton is a Methodist; Obama is a member of the United Church of Christ.
Obama compensates for Clinton's strength with Catholics by polling better among Democrats with no religious preference and those practicing a religion other than Christianity or Judaism. D'Antonio said opposition to the war in Iraq is driving young Catholics to the polls in an election season in which discussion of religious values has expanded beyond hot-button topics like abortion and gay marriage.
The season's trends in Catholic voting would seem to bode well for Democrats in November, although experts hedge their bets with caveats and cautionary flags. These are based on the recent history of Catholics as swing voters and the fact that among Catholic Republicans, presumptive Republican nominee Arizona Sen. John McCain has done well.
Joshua DuBois, national director of religious affairs for the Obama campaign, said Obama is working hard to reach Catholic voters who are less familiar with his background than they are with Clinton's.
"Catholics may not know that Sen. Obama started his career as a faith-based community organizer for an organization that was funded in part by the Catholic Campaign for Human Development," DuBois said. "They may not know his strong record on social justice issues." His opposition to the war in Iraq and the integrity he showed in speaking against it from the start should resonate with Catholics, DuBois added.
For Pennsylvania, the Obama campaign has brought on a Catholic outreach coordinator, Mark Linton. A Catholic formerly employed by Catholic Relief Services who had previously worked on poverty issues in Obama's office, Linton is coordinating efforts like Catholic-specific phone banking, where Catholics are calling Catholics to win votes for Obama.
Burns Strider, director of faith-based operations for the Clinton campaign, said Catholic support for Clinton nationally is "large and solid."
The campaign still has hopes the Catholic vote will be as predictive of the winner in the Democratic primary as it has been in the last several general elections. Since 1972, the Catholic vote went to the winner of the popular vote for president in each race -- including Al Gore in 2000 -- although the exit polls from 2004 indicating that more Catholics voted for Bush than Kerry are contradicted by Gallup polls.
In previous primaries this year, analyses show that Catholics have been overrepresented in 20 of the 21 states for which data is available, with Utah being the exception. In Wisconsin, for instance, diocesan figures show Catholics to be nearly 30 percent of the state's population as counted in the U.S. Census. Yet Catholics made up almost 40 percent of primary voters.
Some say Clinton's strong showing among Catholics in the primaries could be used as an electability argument to woo superdelegates, whose votes will be needed for either candidate to win the nomination. But Strider downplayed that idea in an interview with NCR and said his efforts are focused on regular voters.
He said the affinity of Catholics for Clinton is strongest in two areas: values and the economy. In initiatives like the Family and Medical Leave Act and neighborhood policing, President Bill Clinton's administration "took values and put feet on them," Strider said. That sort of practical application of values to solutions is something "that Catholics hold dear" and that Hillary Clinton wants to bring back to the White House, he said.
The broader patterns of Catholic voting in this primary cycle suggest Catholic Democrats will have little trouble coming together to back whichever of the Democrats wins the nomination, said Steve Krueger, a Catholic activist on the leadership committee of Catholic Democrats, an online political group with headquarters in Boston.
"Catholic Democrats who have been greatly dismayed by what occurred in the last presidential cycle ... and who are seeking to advance a whole range of issues that reflect the bright light of Catholic social justice teaching realize that the last thing we would want to do is be partisan ourselves for a candidate," said Krueger. "We will come together."
Mary Barron is a freelance writer in Colorado Springs, Colo.
National Catholic Reporter, April 18, 2008