Issue Date: April 18, 2008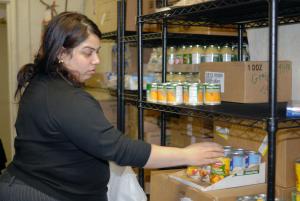 -- Amy Elliott
Ana Rodriguez, a staff member at Catholic Charities Brooklyn and Queens, fills a food bag for a client. People with mortgage-related housing problems come to the agency for a variety of needs, including food, according to agency personnel.
Mortgage crisis weighs heavily on poor
Buried in nation's financial woes is a serious moral issue, Catholic leaders say
By EILEEN MARKEY
As Congress grapples with solutions to the nation's housing crisis -- with bills aimed more at business bailouts than at helping the working class or poor -- consider the story of Joseph.
Joseph, a Nigerian immigrant who got caught in the subprime mortgage meltdown, doesn't fit the stereotype of people hurt by the crisis that brought down the Wall Street investment giant Bear Stearns and sent shock waves through global financial markets. He didn't buy a home out of greed. He and his wife weren't buying a McMansion or gambling on the housing boom, trying to turn a purchase into a jackpot. Joseph, too ashamed by his financial woes to permit his whole name to be used, bought his first home in 2004. With money saved from his job as a mental health counselor in a Bronx hospital, he put $5,000 down and took out a $300,000 mortgage, paying a good price by any measure for housing in New York City, even in a poor neighborhood in the Bronx.
"I wanted our piece of the American Dream," he said. "We wanted to have our own home where we could live comfortably." His was one of hundreds of thousands of working-class families striving to enter the middle class through home ownership. It is how President Bush's ownership society was supposed to work. Now they've found themselves instead in an expanding class of people at risk of losing their homes.
Joseph applied for a mortgage from reputable banks, seeking a favorable interest rate. A first-time homebuyer with mediocre credit, he was turned down. Then his labor union introduced him to a loan officer from Countrywide Financial, one of the largest subprime lenders in the nation and a company considered little more than a loan shark by affordable housing professionals. In addition to the $300,000 loan, he took out a line of credit that allowed him to cover the closing costs of buying his home. Like many homeowners with subprime loans, a disproportionate number of them minorities, Joseph might have qualified for a 30-year fixed interest loan. But lenders sent him to a broker who secured an adjustable rate loan instead. He knew his 2/28 mortgage meant two years at fixed 7 percent interest and 28 years at an adjustable rate. So when the two years were running out, he contacted Countrywide to refinance. He'd made his payments on time and was a good risk, he thought. But Countrywide said no.
"I didn't know the games. I didn't know how it was done. The bank would deny you, saying your credit score was too low, then the broker would take you and get you a loan from the exact same bank." The hidden agenda: "The broker took a commission from the mortgage and he got more points for an adjustable rate. It's a scam," he said.
Joseph's second mortgage was from Ameriquest, a third-party lender considered predatory by housing advocates. Now his mortgage was up to $400,000, more than his house was worth, and he did not know he could refuse the refinancing package. "They don't tell you when you get to this closing you are alone. The broker is not there with you. It is the bank that compels you to sign. The bank's attorney comes to your house," Joseph said. As the introductory interest rate on the refinanced mortgage approached expiration Joseph again tried to outrun the rate adjustment.
"Each time you refinance there are more closing costs, and appraisals and each time the lender sends an appraiser who says your house is now worth more. So you must borrow more," he said. By the time Joseph refinanced for his current loan, with Washington Mutual, he was carrying a $500,000 mortgage on a $300,000 house he'd been paying on for four years.
"This is one of the things in America. We didn't know that people are offering you things that are not genuine. Everywhere is a scam." Now his monthly payments top $5,000, he is five months behind, his credit is ruined, and he has stopped sending any money home to the village in Nigeria that relies on his help.
Stories like Joseph's are the reason the U.S. Conference of Catholic Bishops, the Catholic Campaign for Human Development, Catholic Charities and scores of other organizations inspired by Catholic social teaching are responding to the foreclosure meltdown as an issue of Gospel values. The crisis was created, these agencies say, when the financially powerful took advantage of the least savvy and least powerful, with total disregard for the resulting hardships.
"It's immoral," said Karla Alvarado, project coordinator for the subprime initiative for Catholic Charities Brooklyn and Queens, N.Y. "It's just so fundamental, what went wrong here," she said during a workshop for homeowners in crisis held at St. Therese of Lisieux Parish in Brooklyn last week.
Brooklyn Bishop Nicholas DiMarzio and local elected officials are sponsoring a series of such workshops at parishes throughout the diocese. Over coffee and doughnuts, in a place where they feel safe, distressed homeowners get financial education from housing organizations and city government -- though for many, the help comes too late. Advocacy groups explain how they are pushing for structural changes and Catholic Charities advertises its direct services -- assistance paying utility bills, a food pantry and psychological counseling. Afterward participants are referred to organizations for one-on-one assistance working with lenders for a true loan modification. The workshops draw 30 to 40 people after each Mass, virtually all in foreclosure or on the brink, Alvarado said.
Even as Joseph and his family were becoming ensnared in debt, Cardinal Theodore McCarrick was writing to Congress on behalf of the U.S. Conference of Catholic Bishops, warning about hazards of predatory lending. "Efforts to revitalize neighborhoods and to expand homeownership among low income families are being threatened by abusive lending practices," he wrote in 2002. "These practices, termed predatory lending, trap far too many unsophisticated and vulnerable people, often the elderly, into high-cost loans that frequently lead to foreclosure after stripping any equity from the home. The Catechism of the Catholic Church condemns this sort of speculation, this usury, as morally illicit."
Six years later the bishops are still pushing, said Kathy Saile, conference director of domestic social development. Now the church wants to make sure any government fix addresses the needs of people like Joseph. "Our policy should have a preference for taking care of the most poor," she said. "It should be protecting consumers to not fall into usury."
As everyone knows, Wall Street is hurting now, spreading its pain to investors small and large. Washington Mutual, which sold Joseph his last refinanced loan and targeted neighborhoods like his across the country with subprime loans, is hurting too. It reported losses of $1.87 billion in the fourth quarter last year. But here's the difference: Victims of predatory loans are losing their homes. Washington Mutual chief executive Kerry Killinger earned $5.3 million in 2007 -- a major comedown from the $14.3 million he made in 2006, but hardly an amount that puts him in need of the Catholic Charities food pantry.
Msgr. Alfred LoPinto, vicar for human services for the Brooklyn diocese and formerly pastor at St. Therese, now serves at St. Charles Borromeo Parish in a wealthy section of Brooklyn, ministering not to the people victimized by subprime loans, but to executives who established the investment mechanisms that fueled the crisis. He hopes they hear the Gospel message of justice and concern for the weakest. "When you go out with the idea that you are going to take advantage of another, that is abhorrent," he said. He wants his new parishioners to embrace the crisis as their own. "There are people not directly affected by this who can use their role in trying to create the type of public policy that looks out for one another."
Eileen Markey is a freelance writer in Bronx, N.Y.
National Catholic Reporter, April 18, 2008