Issue Date: April 18, 2008
Carbonated holiness
In their first encounter, writers Anne Lamott and Elizabeth Gilbert fizz with wit
By MARGOT PATTERSON
Los Angeles
The closest parallel that comes to mind is the near legendary slugfest between Norman Mailer and Gore Vidal on "The Dick Cavett Show" in 1971. It went 12 rounds and featured Mailer and Vidal going at it hammer and tongs. By the time it was over, the exchange of insults between the two had enraged both the host and the audience.
In the distaff version, two wry, witty women known for sharing their stories of self-discovery and spiritual longings on the printed page hug, extol each other's talents and footwear, and trade funny, self-deprecating remarks, bathing their audience in a warm glow of good feeling. All of which is enough to suggest that the book Men are From Mars, Women are From Venus may not be as ridiculously titled as it appears.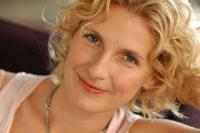 Elizabeth Gilbert
The conversation between Elizabeth Gilbert and Anne Lamott, on stage on the campus of the University of California at Los Angeles as part of UCLA Live's "Spoken Word" series, was sold out for months prior to the March 28 event. The literary "happening" was an encounter so upbeat and positive as to be almost treacly, but the writers in question were too talented and funny not to carry it off.
Gilbert, the author of Eat, Pray, Love, then in its 60th week as No. 1 on The New York Times Best Sellers list, is charming, winsome, blonde. Anne Lamott is equally witty and darker -- both in hair color and temperament. The author most recently of Grace (Eventually): Thoughts on Faith, released in paperback in February and No. 15 on the Best Sellers list, as well as six novels and five books of nonfiction, including the popular primer for writers Bird by Bird, Lamott has shared with readers her struggles with alcoholism and the challenges -- and joys -- of being a single mother. Hers is an edgier, grittier voice. Whereas Elizabeth Gilbert tells her writing students to imagine writing for a specific reader -- a friend, she emphasizes, for after all why would you want to imagine an enemy -- Lamott deadpans that she couldn't disagree more. "I tell my students that they need no reason to write other than revenge."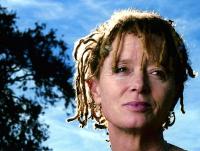 Anne Lamott
The evening began with Gilbert introducing Lamott and praising "the incredible reach" of her work. Gilbert said she had spent much of her 20s with people who were terrified of any talk of divinity: "These were people who would have to put their head between their knees if God was brought up, but they loved Anne Lamott." She added, "Annie just doesn't talk about God, she uses the J word."
Gilbert said Lamott, whom she had met for the first time just prior to the conversation onstage, had played a significant role in her life on three occasions. One of them was in pitching the book that would become Eat, Pray, Love. The memoir, published in 2006 and translated into 30 languages now, tells the story of Gilbert's sojourns to Italy, India and Indonesia in the aftermath of a painful divorce. Gilbert said she was telling her editors how she wanted to go to India to spend time in an ashram when she realized she was losing her pitch.
"They were looking at me like I was five minutes away from selling carnations at the airport. But don't worry, I assured them. I think I can make it accessible. I can tell it like Anne Lamott.
"At that moment the seas parted," Gilbert said. She'd won her pitch.
For almost two hours, the two writers swapped notes about their lives as writers, their spiritual paths, their thoughts on politics. If the parallels between the two women and their work were obvious to most in the audience, both offering beguiling first-person accounts of their travails as single women seeking a relationship with the divine and, sometimes, her human avatars, Lamott noted that the differences between them had already become apparent in the brief hour they'd spent with each other before going onstage. Gilbert had suggested they wait a few minutes for latecomers before starting; Lamott argued for beginning punctually. "Next time they'll know to be on time. That's the kind of Christian I am," she said.
Lamott dedicated her book Grace (Eventually) to St. Andrew Church, her church in California that she's attended for years. She became a Christian almost accidentally, she said, stumbling into a welcoming church that met her needs. "To let people be and to not try to correct them or to cheer them up is the most incredible act of grace," she remarked.
Gilbert has written of herself as culturally but not theologically Christian and is a student of an Indian guru. It's been unsettling to her that after the success of Eat, Pray, Love, which has sold more than 4 million copies, people treat her as some sort of spiritual expert, she said. "I'm a spotty meditator at best," she told the audience. "Most the time I'm thinking about other stuff."
She turned to Lamott. "I admire so much the constancy of your spiritual path," she said. "It's the same church, the same pastor."
"I am very devout," Lamott conceded. "But I don't have a lot of certainty or conviction. I believe the opposite of faith isn't doubt but certainty. I don't have the answer to any truly interesting questions."
But Lamott did propose "radical silliness" as a solution of sorts to depression and despair. "What we offer and share is what is going to fill us up. Flirting with older people at the health food store. It's going to make you feel better."
Perhaps one of the most arresting moments of the conversation came when Gilbert talked about how part of the depression she experienced in her late 20s, which she wrote about in Eat, Pray, Love, had to do with letting go of the idea of herself as a mother.
"My womb does not ache when I see a child. If you look at any human settlement, you'll see that there's a consistent 10 to 20 percent of women who don't have children. It's such a high number that I think there's a genetic necessity to have humane, compassionate women who don't have children. I call them aunties."
Gilbert said it was time to acknowledge that "It's not childlessness that makes people selfish. It's selfishness." It was a remark that won applause from the predominantly female audience.
For much of the evening, Lamott played the role of challenger, her interjections cutting through what could have been a heavy fog of warm, mutual admiration. "What is the most important thing you know?" she asked Gilbert out of the blue.
By her own description "ferociously political," Lamott said she grew up the child of atheistic parents who were fervent Democrats, which she is herself. "I believe in the Democratic Party. I believe in the liberal agenda. I believe the only question is: Are the poor better off?"
Both writers spoke of the challenge of writing every day. "I wake up most mornings and upon waking I'm mentally ill," Lamott said. "I try. It will be overwritten and overwrought. I'll make some weird, gratuitous attack on the Nixon daughters."
"The words don't come out like dreams through a straw," Gilbert remarked.
The two women fielded questions from the audience about death, politics and living in the now. "I'm a Christian. I don't have to be in the now," Lamott said, deflecting the question to Gilbert, who admitted to keeping a happiness journal. Gilbert said most of her moments of being in the now had to do with photosynthesis -- the effect of sunlight and walks outside. She added she'd read a fine essay recently by a writer who noted that most people's happiness came from memories and planning trips. Maybe living in the now isn't that important, Gilbert said. Maybe it's enough to take photos and make plans.
"How much are you in the now?" Gilbert turned to Lamott.
"Very, very rarely," Lamott answered. "I have these tiny psychiatric issues. I think it's by far the hardest thing we do. To me the hardest thing I do is self-acceptance. The second-hardest thing I do is to be in the breath."
Despite the contrasts between them, one line from the evening's conversation seemed to sum up both writers. "For both of us, we really believe humor is carbonated holiness," Lamott said.
With the evening drawing to a close, the two women shared their tattoos with the audience. Lamott's, on her leg, is a rose of Sharon, which is one of the symbols of Jesus. She connected it to an episode from the TV program "The West Wing" in which Martin Sheen, "our real president," she said meaningfully, learns a U.S. submarine is grounded in another country's waters and debates whether to intervene. "Trust the captain, trust the crew," Sheen decides.
"I know who the captain is," Lamott said.
Gilbert displayed two very discreet white tattoos, one on each arm. One arm says "Courage," the other "Compassion."
The conversation came to a close. The two women got up from their red velvet chairs on stage. Then of course they hugged. It was heartwarming. Yes, they have egos, you think, but what good manners not to display them.
Margot Patterson is a staff writer for NCR. Her e-mail address is mpatterson@ncronline.org.
Book excerpts from the two authors
Anne Lamott

At the UCLA conversation March 28, Anne Lamott read a story, "Ski Patrol," from her latest collections of essays Grace (Eventually). In it, the author recounts going on a skiing trip with her son, Sam, and flinging herself from the ski lift after the lift had already taken off once she realized that she'd missed her stop:

I do not imagine anyone had seen anything like this before, someone hurtling into outer space with such force, from such a low starting point. I felt like Icarus, near death in the snow, with melting skis instead of wings.

I was immediately aware of two things: That I was not badly hurt, and that most people were pretending not to have noticed, out of kindness, or horror, or mortification. I am ever my mother's daughter, and so my first impulse was to smile with confidence to the few who were watching, wave like a politician campaigning from a rarely used horizontal position.

... By the time I finally stood up, my hands were frozen. I was winded, ashamed, confused, bruised -- grateful only that Sam hadn't seen me. He'd have died. He would have stabbed himself repeatedly in the head with his ski pole.

Elizabeth Gilbert

From Eat, Pray, Love:

I have always felt, ever since I was 16 years old and first went to Russia with my saved-up babysitting money, that to travel is worth any cost of sacrifice. I am loyal and constant in my love for travel, as I have not always been loyal and constant in my other loves. I feel about travel the way a happy new mother feels about her impossible, colicky, restless newborn baby -- I just don't care what it puts me through. Because I adore it. Because it's mine. Because it looks exactly like me. It can barf all over me if it wants to -- I just don't care.

Anyway, for a flamingo, I'm not completely helpless out there in the world. I have my own set of survival techniques. I am patient. I know how to pack light. I'm a fearless eater. But my one mighty travel talent is that I can make friends with anybody. I can make friends with the dead. I once made friends with a war criminal in Serbia, and he invited me to go on a mountain holiday with his family. Not that I'm proud to list Serbian mass murderers among my nearest and dearest (I had to befriend him for a story, and also so he wouldn't punch me), but I'm just saying -- I can do it.
National Catholic Reporter, April 18, 2008