Issue Date: April 18, 2008
Lively oldsters, courageous youngsters
Seniors sing in 'Young @ Heart'; a little boy undertakes a perilous journey in 'Under the Same Moon'
By KEVIN DOHERTY and JOSEPH CUNNEEN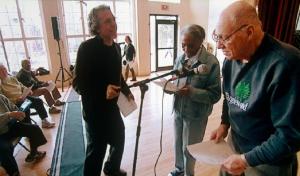 -- Fox Searchlight
Bob Cilman, director of the Young @ Heart chorus, with chorus members Dora Morrow and Stan Goldman in a scene from "Young @ Heart"
The idea of going to a documentary about a choir of senior citizens did not at first seem appealing. But Young @ Heart turned out to be a genuinely entertaining surprise. Spurred on by a young -- if 53 is young -- music teacher, Bob Cilman from Northampton, Mass., this group of singers (whose average age is in the 80s) are the hippest musicians around, with a repertoire that includes the hardest rock sounds from Jimi Hendrix, Talking Heads and Coldplay.
The movie's first shots tell viewers they are in for something completely different, as 93-year-old Eileen Hall moves into close-up, leans toward a stage microphone and begins blasting out "Should I Stay or Should I Go?" from the Clash's hard-hitting 1980s album. This is the opening number of the group's annual concert, but it is the events leading up to this show that are central to the tough, uplifting story of "Young @ Heart." Viewers are constantly reminded that this is not a film that slyly degrades old age, but a testimony to the drive and enthusiasm of singers who are vigorously determined to enter a new chapter of their lives.
Rehearsals are difficult and often humorous, as singers try to learn lyrics from songs that appeared long after their own favorites. Particularly challenging is Allen Toussaint's "I Know That We Can," which includes an impossibly tongue-twisting line that goes on for several stanzas. At each rehearsal the group keeps struggling to get it right. In addition, Dora Morrow, 84, and her partner, Stan Goldman, 80, though both are full of spirit, keep failing to come up with the correct words or rhythm for James Brown's "I Feel Good." With the concert only months away, it looks doubtful that these songs will make the final cut. Besides, over the course of preparations, singers get ill, others need to be coaxed out of retirement, and one member dies, a duet suddenly becoming a solo.
Director Stephen Walker gives the film a casual touch, letting each choir member tell his/her own story while he and his film crew move freely around various locations -- homes, rehearsal halls, even hospitals. Mr. Walker is often heard off-screen asking questions of the participants and adding his own wry comments in his distinctive English accent. Early on, the director and his cameraman squeeze into a tiny car filled with singers going to practice. Adding to the confusion is the suspect driving skill of the 88-year-old behind the wheel who got the job simply because he has the best eyesight.
One would like to know more about Mr. Cilman. Though his singers call him a tough taskmaster, he comes across as a warm and compassionate friend. We never get to see his life outside work, where his conviction that the group can succeed permeates every scene. And succeed they do, with two sold-out home concerts and a trip to Europe. Appropriately enough, one of the film's most moving bits comes when the group performs at a neighboring prison: They end their set with Bob Dylan's "Forever Young."
Under the Same Moon, a deeply emotional drama of the Mexican-American experience, is built around the love between mother and child. Director Patricia Riggen, who grew up in Guadalajara, is making her first feature film after considerable experience with documentaries. The screenplay by Ligiah Villalobos shows the hazards that Mexican and other refugees face when trying to enter the United States without legal papers. Rosario (Kate del Castillo), a young mother with a little boy, has been abandoned by her husband. In entering the United States illegally four years before the movie begins, she leaves behind a 5-year-old son, Carlitos, to be cared for by his grandmother. Rosario sends her son money every month, buys him special sneakers, and calls him faithfully once a month at a fixed time on Sunday morning.
Unfortunately, the grandmother dies, and Carlitos (Adrian Alonso), who is now 9, recklessly decides to be reunited with his mother. Without the necessary papers to enter the United States, he pays someone to smuggle him across the border, hidden under the back floor of a car. When the driver is stopped by the police, the boy manages to get away but loses the money he had brought along for the trip. The rest of the movie follows his irregular but determined path to rejoin his mother.
The moon of the film's title is used several times in evening scenes to dramatize the bond between mother and son, even though it emphasizes their separation. The director wisely keeps our attention focused on the jokes and survival games of Mexican immigrant culture, deemphasizing its sentimental and painful aspects. We soon become intent observers as the sweet-faced but shrewd Carlitos deals with the many hurdles on his journey. Popular Mexican music accompanies the story throughout, never more successfully than when the boy gets picked up and cheered on the road by traveling Mexican performers on their way to an engagement in the Southwest.
Meanwhile, Rosario considers returning to Mexico to be with her son. But the story centers on Carlitos' various adventures -- as a dishwasher, picking hothouse tomatoes, drifting about with a migrant worker who first wants to get rid of him but reluctantly manages to keep them one step ahead of the feds. This role, played by the celebrated Mexican comic actor Eugenio Derbez, dramatizes Carlitos' contagious effect on others.
Understandably, the material is presented from the immigrants' point of view; California's Gov. Arnold Schwarzenegger, for example, is mocked in song for opposing their obtaining driver's licenses. But the emphasis of the film is never political but personal, as we observe the constant harassments endured by a culture of half-existence. Some will complain of the film's sentimentality, but with Carlitos as standard-bearer, it is hard to resist its message of hope. The film's stirring ending might make even Lou Dobbs cry.
Kevin Doherty and Joseph Cunneen review films for NCR.
National Catholic Reporter, April 18, 2008