Issue Date: April 18, 2008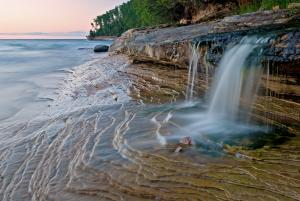 -- Dreamstime.com
Miner's Beach Cascade at twilight, Lake Superior, Michigan's Upper Peninsula
Water: Tapping a strained supply
By PATRICIA LEFEVERE
Water -- why worry? New Jersey is blessed with 40 inches of rain on average each year. Water is everywhere. Yet the state's magnificent shoreline is receding, its reservoirs are shrinking, salt is leaching into underground water and basements are flooding.
Why worry? Minnesotans count 10,000 lakes and more. But their premier waterways -- Lake Superior and the Mississippi River -- as well as several lesser bodies of water are endangered as a result of pollutants, acid rain and agricultural runoff, threatening the state's water quality, as well as its fishing and tourism trade. Why worry? Did the rifle and covered wagon win the West or was it the ability of engineers to harness rivers, construct reservoirs and build a reliable water supply? Millions of recent settlers in the arid lands of Arizona, California, Colorado, Nevada, New Mexico, Utah and Wyoming have gambled that the future will be wet enough for them and their progeny.
Every indicator says it will not.
The snowpack in the Rocky and the Sierra Nevada Mountains that supplies most of the fresh water to the region's rivers is dwindling. Climatologists predict that much of the snowpack will disappear in the second half of this century in the wake of global warming.
The Colorado River, which provides water to 30 million Westerners, has experienced reduced flow this decade compared to the recent past. Two of its principal reservoirs -- Lake Mead and Lake Powell -- stand at 50 percent of capacity.
Lack of rainfall has rendered drought conditions in much of the southeastern United States, in the western Dakotas and parts of Texas' Rio Grande Valley. Los Angeles went five months without measurable rainfall last year and water tables across the nation have been falling due to overuse.
"Water is the axis issue that intersects the world's greatest challenges, from health, poverty and security to climate, immigration and environment, even financial and commodities markets," said J. Carl Ganter, director of Circle of Blue, a network of journalists and scholars concerned with water issues worldwide. "We're just beginning to grasp the stresses on our world's water supplies."
How will water shortages affect U.S. population -- predicted to reach 400 million by mid-century? Much of this growth could come from illegal immigration from places like Mexico where severe drought and declining aquifers have pushed people north.
Where will newcomers go within the United States and will they have sufficient water supplies to ensure their livelihoods and futures?
Such questions do not usually occur while one is taking a shower or enjoying an iced drink.
"People have very little idea where water comes from. It comes out of the tap. That's it," observed Joan Ehrenfeld, who heads New Jersey Water Resources Research Institute, based at Rutgers University in New Brunswick.
For years Ehrenfeld has studied the source of the water coming out the tap in New Jersey -- its wetlands. She and others at the institute cover 20 percent of the state, including thousands of square miles of freshwater and coastal wetlands, estuaries, bays, lakes and ponds.
The state boasts "the strongest wetlands law in the nation," Ehrenfeld said. But New Jersey -- the fifth smallest and the most densely populated state in the nation with more than 1,000 persons per square mile -- has added 1.3 million citizens over the last 30 years. Demographic pressures have meant more acres of wetlands and virgin habitat have had to surrender to urban growth and suburban sprawl.
Though few of its 8.6 million residents are aware of it, they rely on wetlands to filter and recharge ground water, making it safe for drinking and for crops. The Garden State has significant agricultural land between Philadelphia and New York City.
Widespread flooding last spring brought a new awareness to some that wetlands are vital for storing floodwater from overflowing rivers and surface water runoff, thus protecting downstream businesses and basements.
Any reduction in water quality effectively reduces supply as water quality relies on the quantity available to dilute pollutants and sediment. In the case of another drought, as befell northern New Jersey in 2002-2003, urban water supply will be increasingly seen as more important than that used for agriculture, putting greater pressure on farms, predicted Karen O'Neill, associate professor of human ecology at Rutgers.
The state's northern supplies are dominated by the Delaware River, which New Jersey shares with New York and Pennsylvania through participation in the tri-state Delaware River Basin Commission. In the south, ground water supplies are receding in some areas from overuse, especially along the shore region, where suburban forms of development have spread.
Overdrafting ground water in coastal areas has increased the encroachment of saltwater into ground water supplies, said O'Neill, because the pressure from freshwater in the ground that held back saltwater from estuaries has been reduced.
Neither the north, the central or southern area of New Jersey has the political will or the transfer capabilities to move a water surplus from one basin to another.
While New Jersey has undergone rampant growth, it has also led the way toward strict drinking water standards among states, including regulations to safeguard its reservoirs and feeder streams from further degradation and to protect its 800,000-acre Highlands, which supply half the state's drinking water.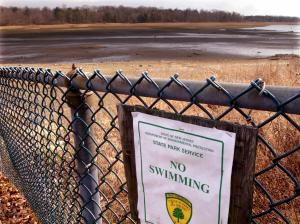 -- Getty Images/Spencer Platt
A nearly dry reservoir near Clinton, N.J., in February 2002, during a record-setting drought
"As New Jersey goes, so goes the nation," said O'Neill. "The problems we're confronting today other states will face tomorrow."
Keeping watersheds clean and healthy is not only crucial for New Jersey and the Northeast, but is a chief concern of the Great Lakes area and much of Middle America.
Mighty dirty
From its pristine start in Lake Itasca, Minn., until it flushes out into the Gulf of Mexico in New Orleans, the Mississippi River runs through or borders 10 states, gathers in the waters of its chief tributaries -- the Ohio and Missouri rivers -- and gouges a 2,300-mile water highway of vital economic and recreational commerce for the nation.
More than 50 cities along its route and 18 million Americans depend on the river and its tributaries for drinking water. No wonder it is legendary as "the Mighty Mississippi."
But in many areas the river is brown and foul-smelling, its backwaters filled with silt. Often would-be swimmers are warned not to, due to high bacteria levels along its shores. Fish caught in its waters may be unsafe to eat.
Years of bad farming practices in the northern zone of the river -- Minnesota, Iowa, Wisconsin, Illinois and Missouri -- have dumped sediment, fertilizers and pesticides into streams, creeks and rivers that flow into the Mississippi with each rainfall.
The runoff endangers the health of river users, and ends up downstream in the Gulf of Mexico where it has produced a "Dead Zone" the size of Connecticut. In summer, cloudiness from suspended sediments blocks out sun and oxygen to certain plants and fish, upsetting the aquatic food chain.
As fishermen and shrimp boaters see it, farmers in America's heartland are increasingly threatening the livelihoods of those who work in the Gulf.
Last October, the National Academy of Sciences called the Father of Waters "an orphan" whose state and federal caretakers have failed to protect it. In a detailed study by the Academy's National Research Council, titled "Mississippi River Water Quality and the Clean Water Act," the researchers urged the Environmental Protection Agency to enforce existing standards curbing phosphorous and nitrogen pollution.
Although the Clean Water Act of 1972 halted the dumping of industrial waste and city sewage into U.S. waterways, the act had little jurisdiction over farm chemicals and urban runoff. Moreover, states along the river have failed to set consistent pollution standards, allowing varying amounts of fecal bacteria, PCB contamination and sediment into its waters.
"The EPA has to insure adequate interstate cooperation," said Gretchen Bonfert, program officer for the environment at the McKnight Foundation, which funded the report. "They're the ones responsible for protecting water quality."
The Minnesota-based McKnight Foundation has made grants of more than $70 million in support of efforts to maintain and restore the Mississippi River basin.
Ten years ago the EPA urged states bordering the Mississippi to adopt specific limits on nitrogen and phosphorous pollution entering the river. It warned that it would impose its own limits if the 10 states had not complied by 2001. But to date, states have ignored the mandate with few or no consequences from the federal government.
"We're not clamoring for new regulations; we're asking for enforcement of the EPA's existing regulations," said Bonfert.
U.S. agricultural policy has long rewarded farmers who plant wheat, soybeans and corn while little compensating crop growers who use less fertilizer, reduce soil disturbance and employ better conservation practices. Although "corn for ethanol" may raise farmers' income temporarily, it can have devastating long-term effects on America's premier waterway and on the Gulf, Bonfert told NCR. "We shouldn't have to do a tradeoff between energy and drinking water."
Lake Mediocre
Many regard Lake Superior as an inland sea rather than a lake that laps the borders of Minnesota, Wisconsin, Michigan's Upper Peninsula and the Canadian province of Ontario. The Great Lakes, their bays and tributaries contain 18 percent of the earth's freshwater supply and 90 percent of the U.S. supply of fresh surface water.
But vastness does not preclude vulnerability. In recent years Lake Superior has dropped to within inches of the record low set in 1926, due both to too little rain and increased evaporation rates during 2005 -- one of the warmest years on record.
The lake holds more than 40 percent of the country's fresh surface water and more than 10 percent of the world's. But runoff from development is harming both the quality of drinking water and Lake Superior's fish stocks. Storm water and sewage seepage from aging pipes in Duluth have also affected the lake adversely.
Minnesotans and their out-of-state visitors have in recent years built pricey condominiums and large summer or year-round lakefront homes. "All that new housing has come at the expense of forests and rivers that flow into Lake Superior," said Chuck Laszewski, chief of communications for the Minnesota Center for Environmental Advocacy.
Nobody wants to rename Superior "Lake Mediocre," he said. The lake's "dramatic decline" caught the attention of Minnesotans, he said, noting that the state was first to approve the Great Lakes-St. Lawrence River Basin Water Resources Compact early last year. The compact is an effort by the eight states and two Canadian provinces bordering the Great Lakes to improve their water resources while preserving and sheltering them.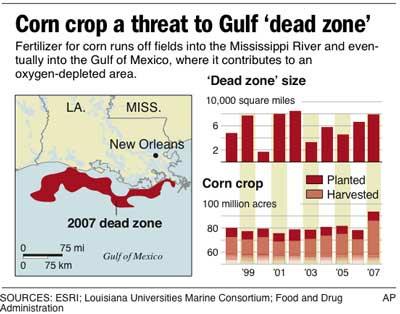 Illinois, Indiana and New York are now on board, but the compact needs approval from Michigan, Ohio, Pennsylvania and Wisconsin and from Quebec and Ontario. Before it can take effect, it must be ratified in eight state legislatures and in Canada.
In recent years as the demand for water has grown worldwide, pressures to tap the lakes have mounted: Proposals have surfaced to use water from the Great Lakes to feed a coal-slurry pipeline in Wyoming, to replenish the depleted Ogallala aquifer stretching from Texas to the Dakotas, and to ship nearly 800 million gallons of Lake Superior water to Asia.
As water managers in the politically strong Western states face ever lower water tables along with rising populations, some have devised schemes for shipping water from the Great Lakes and Canada -- schemes that Great Lakes politicians are dead set against. Beyond the billions-of-dollars price tag for building a water pipeline across the continent, questions arise over where the electricity would come from to power such a pumping project. And where would the states get the $26 billion, which experts say is needed to clean up and protect the Great Lakes?
Across the nation environmentalists with whom NCR spoke indicated the need for citizens -- from children to seniors -- to be informed about water issues. They pointed to actions individuals and communities could take (see story) and stressed the need to conserve water, preserve wetlands, protect watersheds and treat wastewater for reuse.
In the vast exhibit on water on display at the American Museum of Natural History in New York (see story), a reminder appears from the Hausa people, who inhabit the arid region of Northeastern Nigeria, Chad, Niger and Mali. It reads: "The stone in the water does not comprehend how parched the hill is."
Patricia Lefevere is a longtime contributor to NCR.
National Catholic Reporter, April 18, 2008