Issue Date: April 18, 2008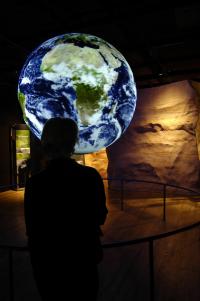 -- © D. Finnin/AMNH
"Science on a Sphere" shows moving images of the Earth from space, projected on a six-foot-diameter globe in the exhibition "Water: H2O = Life."
The wonder of the world's most precious resource
By PATRICIA LEFEVERE
New York
Ask any 10 people what is the most essential element of life and chances are a majority of them will say "water." Yet few if any of them may know that less than 1 percent of the Earth's water is available for human use.
A 2006 survey by the National Oceanographic and Atmospheric Administration found that only 4 percent of respondents knew how scarce is the world's supply of freshwater -- water that has to be shared among 6.6 billion humans and all other creatures.
While freshwater makes up only 3 percent of all the Earth's water, much of it is sealed inside glaciers, ice caps and sea ice or locked deep underground. The 1 percent that is available to humans and other life forms is not a renewable resource.
The water we have is finite. It's the only water we will ever have. This reality lends weight and wonder to an exhibition that opened in November at the American Museum of Natural History here, titled "Water: H2O = Life."
Viewing water as a sacred and endangered resource carries the power to alter behaviors, said Eleanor Sterling, director of the Center for Biodiversity and Conservation at the museum and curator of the show. In a short video that is part of the exhibit, Sterling and others tell visitors why they need to rethink the ways we get and use water.
The exhibit shows the stresses that population growth is putting on the planet's water supply. A 68-inch globe presents maps and satellite images of Earth, dramatically illustrating how water is distributed and used around the world.
Civilizations have flourished and spread depending on their access to freshwater. The exhibit shows a still-in-use 2,200-year-old dam as it chronicles eons of irrigation and damming. But competitive demands on the limited supply have caused water wars.
The exploitation of water for industrial, energy and farm uses has wrought devastating consequences -- as is seen in the recently built Three Gorges Dam in China. The world's largest manmade producer of electricity from renewable energy, Three Gorges has displaced some 1.13 million Chinese and increased pressures on the shoreline and other points of relocation. Such stresses have caused water pollution and landslides and could, some engineers fear, spark geological hazards in the event of an earthquake or floods.
More than 60 percent of the world's largest rivers have been dammed or diverted, bringing enhanced agriculture, but also destruction of species and their habitat, the exhibit reveals.
Museum volunteers who accompany schoolchildren through the maze of displays, walk-through dioramas and interactive quizzes have overheard them "pledging to one another" that they will turn the faucet off while brushing their teeth, drink tap rather than bottled water and eat less meat after they learned that the average hamburger requires 600 gallons of water to grow grain for its cow producer.
Such pledges made in public places and encouraged in the classroom can "change behaviors," Sterling told NCR.
At Columbia University, where she directs graduate studies for the Department of Ecology, Evolution and Environmental Biology, Sterling likes to challenge her students to become aware of the "virtual water impact" made by the T-shirt they're wearing rather than just thinking about water use as "what I let flow down the drain," she said.
New Yorkers can still view the exhibit through late May. Later in the year it will move to the Science Museum of Minnesota in St. Paul, a cocreator of the show. Water users in Cleveland; Chicago; San Diego; Toronto; Singapore; Canberra, Australia; and São Paulo, Brazil, will have a chance to see it in their cities in coming months.
National Catholic Reporter, April 18, 2008