National Catholic Reporter
Subscribers only section
May 2, 2008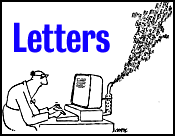 Regarding Bill Frogameni's article, "The pitfalls of shrouded finances" (NCR, March 21): It's not surprising that the Roundtable, comprised in large part of corporate officials and other "establishment" types, would place its faith in detailed, complicated and expensive-to-implement procedures familiar in the corporate world. As has been demonstrated repeatedly in the case of CEO-dominated businesses (for example, Enron, and more recently New Century Financial, whose books were audited by the largest accounting firms), such procedures in the absence of truly independent oversight are no guarantee against fraud and mismanagement.
The best and most effective safeguard against the misuse of resources given to dioceses is the involvement in governance by committed and knowledgeable people in addition to the clergy. Service on finance councils needs to be meaningful and must allow council members the authority to exercise genuine financial oversight. Such service cannot be just at the pleasure of the bishop or pastor or regarded as purely honorary. Just as the poor will always be with us, so will the dishonest and greedy. Mr. Frogameni is correct in stating that the sex-abuse and financial scandals that have been inflicted on the church are a result of a lack of transparency in the way that the church is governed. Nothing short of fundamental reforms in governance can really be effective in bringing about the kind of genuine accountability that is needed.
GENE KRAMER
Lakewood, Ohio
---
How sad that Rosemary Ruether used the Holocaust as a hook on which to hang her delegitimatization of Israel (NCR, April 4). Chief among her arguments is the familiar refrain: "Why should the Palestinians have to pay for the Holocaust?" In so doing, Ms. Ruether denies the entire history of Middle Eastern Jewry. She skirts the fact that Palestinians were not asked to pay for the Holocaust. It was they and the entire Arab world that rejected a two-state solution in 1948, and ever since. Had they accepted a two-state solution in 1948 or 1967 or under the Clinton-brokered plan in 2001, there could have been at least a cold peace. Unfortunately, the Palestinian cause has been built almost entirely for the negation of Israel, and not for its own sake.
DORON LUBINSKY
Atlanta
* * *
Israel's continuing unwillingness to recognize the truth of its incredibly unfair treatment of Palestinians will only result in the very conclusion that Israel wishes to avoid. That truth is, as Ms. Ruether points our in her article, that both sides have suffered, and are suffering, not just one side only. It is beside the point to argue that the nature of one kind of suffering is different from the other. Oppression and unfairness should both be treated on their own terms, and not have their differences used as an excuse to avoid the uncomfortable truth of one's oppression. The longer that Israel insists on denying its responsibility for what its policies are doing to the Palestinians, the more difficult it will be to bring about peace. Only truth will bring about that peace, and peace alone will assure Israel's survival.
PETER A. O'REILLY
Claremont, Calif.
* * *
Ms. Ruether blames the victim. She fails to acknowledge that anti-Semitism has a life of its own in the Middle East as well as being rooted in both secular and religious ideologies. Anti-Semitism is used by leaders of all stripes within the region to distract people from intractable problems in Arab and Muslim society.
GAIL FREEDMAN
Minneapolis
---
In "Catholic book editor recounts lifelong moral journey" and "Pentagon Papers revealed government lies" (NCR, Feb. 8), it is noted about Daniel Ellsberg that "the U.S. government case against him eventually fell apart" and that "all charges against Ellsberg were eventually dropped." Actually, his trial ended with a dismissal in federal court in Los Angeles in May 1973 for a number of reasons including not least the public disclosure that the Nixon plumbers had burglarized the Beverly Hills office of Lewis Fielding, Ellsberg's psychoanalyst, in an attempt to find material in his patient files that might be damaging. An indirect effect on the outcome was the fact that President Nixon, through John Ehrlichman, had tried to bribe the presiding judge, Matthew Byrne, in April by offering to appoint him director of the FBI, which made Byrne's legal position untenable.
Given the Bush administration's trespass on individual rights in concert with the wars in Iraq and Afghanistan, the above incidents heavily motivated by the war in Vietnam deserve to be remembered.
JAMES W. HAMILTON
Santa Fe, N.M.
---
Regarding "Confronting White Privilege" by Tom Roberts (NCR, March 21): It is heartening that he uses our book as a way to interrogate the upcoming presidential election. We envisioned the book, Interrupting White Privilege: Catholic Theologians Break the Silence, with the hope that people outside the academy would read the essays and begin to understand and share responsibility for white privilege. Yet it is disheartening to read that the essays do not "prescribe any large societal program that would bare white privilege and move to eliminate it."
The arrogance of white people believing they could actually suggest a societal plan that would eradicate something so deeply rooted in our history, psyche, culture and economy would not only be dangerous but perpetuate the privilege we seek to address. Our history is littered with grand social "plans" that failed to address complex relationships between privilege and oppression. Maybe the lack of a societal plan makes whites anxious because God and people of color call us to do something different, give up our control, precisely the opposite of what we are taught to do, to fix things.
We invite prayerful reflection by whites to examine our privilege in relationship with people of color. We invite a way of following Christ that demands relocating ourselves on the margins of society, developing a willingness to be disturbed, to listen, to learn from and work with all our brothers and sisters. Perhaps this way we might learn, and together envision, Christ's way toward new life.
LAURIE CASSIDY and ALEX MIKULICH
West Hartford, Conn.
---
Regarding the letter from Fr. Paul McLoughlin condemning Fr. Marek Bozek for breaking his vow of obedience to Bishop John Leibrecht: It's exactly this blind obedience to bishops that allowed the sexual abuse of children to continue unabated for decades because no one would dare question the decision of a bishop. It was exactly that blind obedience that allowed my perpetrator to be assigned as the guidance counselor at my all-boys high school, despite the fact there were at least 50 complaints of sexual misconduct against him and that he had been in psychological treatment several times. Is it this blind obedience that you demand of our priests? Does this blind obedience take precedence over informed conscience? Outweigh the Gospel message of Christ? Does it apply when a bishop knowingly endangers the well-being of children?
You claim that if only Fr. Bozek would follow the bishop, everything would be fine. I guess if we all just followed our bishop, there would be no sexual-abuse crisis, at least we would never have heard of it. But thousands of children would still be being preyed upon by priests enabled by bishops. Are you telling me all of the decisions made by a bishop are devoid of human foibles? Christ did not condemn the prostitutes or the tax collectors; he condemned the Pharisees and teachers of the law for crushing the people with religious demands and not lifting a finger to help. Jesus called these people hypocrites.
DAVID LORENZ
Bowie, Md.
---
Your interview with educator Tom Zanzig was thought-provoking (NCR, April 4). However, I question the word "formation," especially for the older crowd. Perhaps the word should be something like "reeducation" or "continuation." Either way, I agree with Mr. Zanzig that the bishops cannot let go. When I requested that my parish council allow me to search for people who were interested in expressing their spirituality through the arts in painting and writing, I was told that it was not in the bishop's document or plan. I do question Mr. Zanzig's business model, especially the box approach, and I doubt if businesspeople are happy in their cubicles. I guess I would favor a more Jesus-like holistic model for a church that is truly in need of engaged renewal at all levels, and a shift of thought and images with relevance to both our contemporary culture and the true teachings of Jesus.
J.M. ZATLUKA
Wappingers Falls, N.Y.
---
Regarding "Upbeat pope to peddle basics" (NCR, April 18): The pope's visit to the United States brought to the surface the church's handling of the sex-abuse scandal. The New York Times editorialized, "There has been no diocesan resolve to lay bare the hierarchy's guilt. … The church faithful still await an accounting of the long years of cover-up."
In 1983, when I was chairman of NCR's board, a bishop phoned saying, "Your newspaper is doing a disservice to the church" by reporting on a sex-abuse scandal by a Louisiana priest. I asked if he thought the story was true. When he replied, "Probably yes," I asked what good was it to sweep the problem under a rug. The church covered up the scandal for the next 20 years with disastrous results.
Not until 2003 did publicity cause the bishops to form a lay-run National Review Board for the Protection of Children and Young People. The first report of the board in 2004 identified possible systemic problems that might have led to the sex scandal and cover-up: seminary life, celibacy, clericalism, diocesan bankruptcies, reliance upon attorneys, lack of episcopal accountability. In the 2005 report the issues were "still under review" and in 2006 the systemic problems were not mentioned.
Now that Pope Benedict has acknowledged that the sex abuse scandal was "poorly handled" and has met with some victims of sexual abuse, perhaps he will address the reasons for the cover-up and take actions against the bishops who participated.
JOHN B. CARON
Greenwich , Conn.
---
Thank you for your two excellent editorials (NCR, April 18). First, you bring our attention to Martin Luther King's total vision for restoring our nation to its highest values. In the second, you alert us to the mischief going on behind the scenes as we prepare for our presidential election. In addition, you offer an objective look at the issues involved. Once again, NCR has supplied the background we need to keep our balance in these murky times.
JEANNE B. DILLON
Summit, N.J.
---
In the name of all the retired Sisters of Charity of the Blessed Virgin Mary who taught at St. Augustine in Memphis, Tenn., opened by the order in 1937, thank you for the article "Miracle in Memphis" (NCR, April 4). It reassured us concerning the value of our past ministry. As encouragement to the present teachers in the Jubilee Schools, we extend to them the inspiring words of our founder, Mary Frances Clarke: "You have the most laborious duty but the most profitable for time and eternity. You teach the poor of Our Lord. Do thank him for that glorious privilege."
(Sr.) KATHRYN LAWLOR, BVM
Dubuque, Iowa
---
Stafford Betty gives an excellent analysis and summary of Eckhart Tolle's views (NCR, April 18) and rightly states that they are positive, but wrongly concludes that Mr. Tolle's views on God differ from the Christian view. Mr. Betty feels that Mr. Tolle's God is "in the world in a more radical way than for the Christian." Isn't "the Word became flesh and dwelt among us" more radical than Eckhart Tolle's view? I think Mr. Betty is confusing the Christian God with the God of the Old Testament who refuses to show his face to Moses (Exodus 33:23), who destroys anyone who dares to touch him (2 Samuel 6:8), a tribal deity who takes sides and fights with his people against "the other people" by throwing stones at the enemies (Joshua 10:11). He is a God up there and separated from humanity. The God of Jesus is far from that.
The God whom Jesus taught us to call "Father" is the Christian God. We human beings are different from the Supreme Being but we are not divided from that Being. That's why Jesus reminds us that we are "gods" (John 10:34) and invites us to be perfect as his heavenly father is perfect. Jesus would not have invited us to that perfection if the seed of that perfection were not already embedded in us as the image and likeness of God.
PAUL VELIYATHIL
Coral Springs, Fla.
---
With regard to your article on water shortages in the Ecology special issue (NCR, April 18), you have repeated the trite and obsolete "warning" on Page 2a in the "Doable Steps" of running the washing machine only when it is full. As someone who does his own laundry, I know that modern washing machines have a control setting to regulate how much water is put into the wash basket. If only a quarter basket will be washed, then you can specify a quarter basket amount of water. If only a half basket of water is needed, then you can specify half a basket. In this way you can wash your clothes using just enough water for the task.
THOMAS KNOEDLER
Springfield, Ill.
---
Letters to the editor should be limited to 250 words and preferably typed. If a letter refers to a previous issue of NCR, please give us that issue's date. We reserve the right to edit all letters. Letters, National Catholic Reporter, PO Box 411009, Kansas City, MO 64141-1009. Fax: (816) 968-2280. E-mail: letters@ncronline.org (When sending a letter via e-mail, please indicate "NCR Letters" in the subject line. We've installed a new spam filter on our letters e-mail account. If it's not clear to us that yours is a letter, we might delete it.) Please be sure to include your street address, city, state, zip and daytime telephone number
National Catholic Reporter, May 2, 2008