---
European Synod II
---
Leading Italian Vatican-watcher assesses the papabile
By JOHN L. ALLEN JR.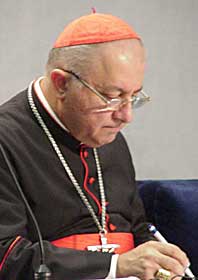 Cardinal Dionigi Tettamanzi, Archbishop of Genoa
photo by -- Tom Fox
Italian Vaticanistas - Vatican affairs writers - are the world's most dedicated watchers of the papabile. Serious devotees of the art of guessing who the next successor of St. Peter might be will turn regularly to the pages of Il Messagero, or Corriere della Sera, or la Reppublica to find out who's up and who's down in the papal sweepstakes.
Marco Politi of la Reppublica is among the elite handful of Vatican correspondents whose words have the power to shape, not just reflect, the views of the 106 cardinals who would have the right to vote if the next conclave were held today.
Politi is most familiar to American readers from the book he co-authored with Carl Bernstein about John Paul II, His Holiness: John Paul II and the Hidden History of Our Time. Its central argument - that the pope made a secret deal with Reagan to subvert communism - may be speculation, but the surrounding biographical detail and analysis is regarded as some of the best writing ever done about this pope.
That material, insiders say, was pure Politi.
At the close of the European synod Oct. 23, Politi offered his assessment of who the candidates and king-makers among the Europeans now seem to be in the wake of this event.
Politi's list of papabile includes: Godfried Daneels, 66, of Belgium; Pierre Eyt, 65, of France; Dionigi Tettamanzi, 65, of Italy; Camillo Ruini, 68, of Italy; Angelo Sodano, 71, of Italy; Jan Schotte, 71, of Belgium; Vinko Puljic, 54, Bosnia Herzegovina; and Christoph Schönborn, 54, of Austria.
Politi's "grand electors," men who will not themselves become pope but who are positioned to influence the selection, include: Carlo Maria Martini, 72, of Italy; Jean Marie Lustiger, 73, of France; Joseph Ratzinger, 72, of Germany; and Miloslav Vlk, 67, of the Czech Republic.
Among the papabile, Politi says three gathered special strength from the synod - Tettamanzi, Eyt, and Daneels.
Tettamanzi is from Genoa, and serves as the vice-president of the Italian bishops conference. He has also been the secretary, meaning that he knows all the Italian bishops well. He is conservative, but less divisively so than Ruini, who was appointed by John Paul II to head the conference (thereby dislodging Martini). Thus if the Italians are divided among themselves between partisans of Martini and Ruini, Tettamanzi is someone upon whom they might be able to agree.
A moral theologian, Tettamanzi is rumored to have worked on the encyclicals Evangelium Vitae and Veritatis Splendor for the pope. He is also close to Opus Dei. He has praised founder Jose Maria Escriva de Balaguer as comparable to Saints Benedict and Francis of Assisi, and most recently he appeared at the presentation of a new biography of Escriva to laud the good work Opus Dei is doing "for the church and for the world."
Politi notes that Tettamanzi won high marks for his handling of the final message of the European synod, which struck an optimistic and positive tone about the continent, in sharp contrast to the gloom-and-doom of the first few days.
Daneels, Politi says, had been out of the circle of papabile for a while, but the European synod marks his return. A scandal involving a pedophile priest in Belgium, which included a finding that Daneels and his archdiocese had been negligent in its supervision, seemed to taint him, as did concern about a heart condition in 1997.
At the synod, however, Daneels came across as anything but hobbled. He was articulate and forceful, ending up elected by his colleagues to serve as one of three "grand relators" responsible for the final propositions to go before the pope. His speech on contemporary Europe, arguing that even apparent evils carry elements of good, was the decisive moment that set the synod on a more optimistic course.
Daneels said that rather than condemning hedonism, the church should applaud the human desire to be happy - Christ came to bring fullness of life, he said. Even the church's loss of property and prestige in the modern era can be a good thing if it teaches the church humility, Daneels said.
Given the preponderance of other candidates on the right, Daneels probably left the synod as the "great moderate hope" - assuming that Politi is right about Martini as an elector rather than a candidate.
Eyt, from Bordeaux, is a bit of a dark horse. Politi says he impressed people by not backing down from talk of confronting European culture and its "rising paganism."
There is "a sort of 'unconcerned apostasy' of most Europeans, at least in Western Europe," Eyt said, "especially among adolescents and young people."
Eyt spoke as if Europe is today mission territory, arguing for the need to "inculturate" the gospel. "The natural soul of Europe," he said, "thus is not Christian" (he offered the phrase in Latin).
Eyt was created a cardinal by John Paul in 1994, and is said to be close to the "new movements" - such as Focolare, Communion and Liberation, and the Neocatechumante. Yet he argued here that evangelization cannot be the work just of the movements.
He is considered a "moderate conservative" and an accomplished theologian. Heiner Boberski, editor of Die Furche in Vienna, sees Eyt as a possible successor to Ratzinger at the Congregation for the Doctrine of the Faith.
Of Politi's other candidates, Sodano and Schotte seem like long shots because they come from the curia - meaning they have had a long time to accumulate enemies. Ruini may have been too controversial a figure inside the Italian bishops conference.
Schönborn is a serious candidate, but at 54 he is probably too young. He did, however, impress many people at the synod with his intelligence and cosmopolitan bearing. He asked Western Catholics to ask forgiveness for their silence about the sufferings of the church in the East.
Puljic, also 54, is from Sarajevo. He is very much a John Paul II kind of prelate.
At the 1994 synod on religious,for example, he reported that sixty-two percent of the religious he interviewed in Zagreb and Spoleto said they could justify disobedience to their superiors in the name of human rights. Puljic feared that some religious were more concerned to defend "the collective ideology of their congregation" than the founder's charism. Obedience, virtue and sacrifice had been exchanged, he opined, for "democratic values."
All of Politi's king-makers are men who are too controversial or from the wrong part of the world. Ratzinger would deeply alienate progressives, just as Martini would conservatives. Lustiger is too much in the mold of John Paul, and is also perhaps getting too close to the mandatory retirement age for bishops. Vlk - who was a hero under communism, speaks several languages, is conservative but open, and who unites Eastern and Western European outlooks - would be a serious candidate, except that the chances of the electors turning again to someone from behind the (former) Iron Curtain seem long.
John L. Allen Jr. can be reached at JLA12065@aol.com.
National Catholic Reporter, October 25, 1999