---
European Synod II
---
English aristocrat who runs the Dominicans has a common touch
By JOHN L. ALLEN JR.
NCR Staff
Rome
Timothy Radcliffe comes across as a regular guy.
Under other circumstances that might seem unremarkable, but one has to remember that Radcliffe is a product of two of the most rigidly hierarchical institutions in the entire world: the Roman Catholic church and the English aristocracy.
A 53 year old priest and scion of one of England's most distinguished Catholic families, Radcliffe is the worldwide head of the Order of Preachers, better known as the Dominicans. That makes him an important man, the successor to St. Dominic and someone who can pick up a telephone and quickly have a curial cardinal on the other end.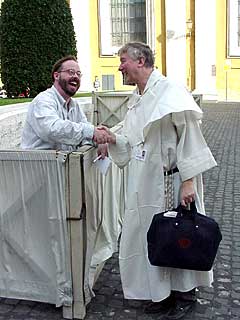 John Allen Jr., left, Fr. Timothy Radcliffe, Master General of the Dominican order.
photo by -- Tom Fox
The day he sat down with NCR at the Dominican headquarters at the basilica of Santa Sabina, Radcliffe had just come from lunch with Cardinal Carlo Maria Martini of Milan, the molto papabile of the Catholic scene these days. It's another sign that -- to put it in American political terms -- Radcliffe is a player.
Yet in person, Radcliffe does not drip power like other ecclesiastical heavyweights. Sitting in his office, one could mistake him for a professor at a small Eastern liberal arts college -- rumpled, amiable and bookish, with the air of a man slightly puzzled that you're interested in what he might have to say.
Radcliffe is considered to be among the front-runners to replace the recently deceased Cardinal Basil Hume of England. Radcliffe was a good friend of Hume, and the two men share much in common - a gracious, pastoral style, and a moderate outlook on church affairs that contrasts sharply with the hard line approach of many bishops appointed under this papacy.
A tireless campaigner for social justice, Radcliffe's blunt criticisms of western military and economic policies - for example, the sanctions imposed on Iraq - have repeatedly made headlines. If he did become the primate of England, one could look forward to a fascinating relationship with Britain's political establishment.
Radcliffe is also among a handful of church leaders who have a personal feel for the diversity of Roman Catholicism across the globe. He travels constantly; this year, he's been to India, Latin America, and Africa three times. He once said his goal as leader of the Dominicans was to personally meet every member of the order.
This month, Radcliffe is focused on the conversation about the future of the church unfolding at the European synod - both the official speeches and the informal dialogue going on behind the scenes.
An issue dear to Hume, with vast importance for the global church, is the desire for decentralization. It's based on the belief that under this papacy, too much power has flowed away from the local church into the Vatican. Radcliffe said many synod participants shared the concern.
"I think it is on people's minds," he said. "It's been raised by various people. Cardinal Daneels raised it in an open lecture recently. It was raised by Cardinal Hume in the lecture he was going to give in the United States. So there is a concern about the relationship between the local churches and the Vatican.
"I think there is a commonly-felt desire that the dicasteries of the Vatican should be seen to be supportive of the local churches, empowering them. This was very clear in Cardinal Hume's lecture and in many conversations I had with him before he died," Radcliffe said.
Indeed, Radcliffe suggested that even some members of the Roman curia realize that things have gotten out of balance. "I think often we have a very monochrome view, as if everybody shares the same views. In my contacts with the Vatican, many of the people I've met know that there is in fact a need to make a shift and would be in favor of it. So it would be overly simplistic to imagine the Vatican just set in concrete resisting the demands of the local churches," he said.
Radcliffe said that so far, the synod seems to be groping towards a sense of its mission. "My impression is that we're not quite sure yet what clearly identified challenges we wish to respond to. In some ways that's good, because you're more likely to be surprised if you don't have a feeling that the direction is all set," he said. "The fact that we're swimming around a bit now I think is a rather good thing."
Many observers here felt that the opening speeches of the synod, especially the relatio delivered by Spanish Cardinal María Rouco Varela of Madrid, struck a bleak note about the condition of European Catholicism. While Radcliffe said it's natural for a meeting to start with problems before moving to solutions, he said he was glad things have begun to take a more positive turn.
"People aren't necessarily just handing in pre-written interventions, but they're reacting to what they've heard," he said. "I think there has been a shift towards more optimism, and that's very welcome."
So far the most talked-about speech has been that of Belgian Cardinal Godfried Daneels, and Radcliffe agreed with the positive reviews.
"Cardinal Daneels is a great man who has a rare vision of the church and its renewal ever since the Second Vatican Council," he said. "I thought the way that he underlined that even the negative things can actually be fruitful, even the things we criticize have an element of good in them, is very refreshing."
On the social front, Radcliffe says a major challenge for the church in Europe is to help the continent adjust to its new diversity. "There's heavy immigration - from Africa into France, from Turkey into Germany, and so on. I think one of the big challenges is not to be a little Europe with a wall around it, but to have that welcome and a dynamic relationship with the other continents," Radcliffe said.
"I think there was a time when imperialism - whether Spain, Portugal, England, Germany, the Austro-Hungarian Empire - meant we Europeans had this great vision of ourselves as carrying cultural enlightenment to the rest of the world. Now the dynamism of European culture is coming from other places in the world," Radcliffe said.
With that, he went in search of a book he just read, which argues that Europe's cultural hegemony was a historical anomaly -- that the continent is in the process of resuming its reduced status as "a bubble on the western edge of Asia," as Radcliffe put it. One got the sense he felt that such a dose of new humility for Europe would be no bad thing.
Regardless of who ends up in Westminster, for anyone tracking the rising stars of the Catholic church, Timothy Radcliffe is a man to watch.
National Catholic Reporter, October 8, 1999