---
European Synod II
---
How to care for an ailing Holy Father?
By THOMAS C. FOX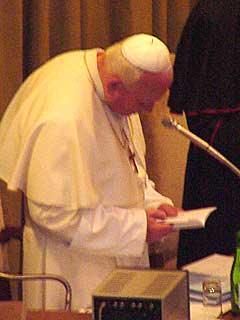 Pope John Paul II
photo by -- Tom Fox
Children of aging parents will best understand this reflection. Anyone who has been forced to provide active care for an elderly mother or father knows how complex dynamics can be. The tendency of a loving child is to do all one can to enable parental independence, but there comes a delicate time when one is forced to step in. The children gather, perhaps listening most to an older sister or brother, and discuss the deteriorating health of the parent. They plan and encourage the parent, or parents, to heed their advice. Sometimes it happens. Sometimes not. The transition from child to "parent" of parent never seems to come easily.
Stories abound of frustrations and anger, as parents, hanging to old ways, resist. Children themselves can disagree on the best path to be taken. Some take advantage; others rise to new heights of selfless love. It is never easy.
Coming to Rome and seeing Pope John Paul II close up, one is struck by his deteriorating health. His spirit today, though weakening, seems larger than the body that contains it. Watching him greet a head of state or endless pilgrims, hearing of him hosting lunches, celebrating morning mass with guests in his private chapel, is to be painfully aware he is not the man he was only a few years back.
I was first struck by the pope's physical decline at the synod on Asia a year-and-a-half ago. I am doubly struck watching him today. Reading his greetings to an audience in St. Peter's Square today, the pope sat hunched, as he does, holding a paper in his right hand, his voice cracking as he spoke slowly into a microphone inches from his face. He kept his left hand, shaking uncontrollably, under his red cape. Occasionally, that hand would grab the paper, which would then begin to shake making it difficult for the pope to read the text. The hand would then let go and he would continue reading.
Pope John Paul beckons compassion by his presence. All around him cardinals or simple visiting pilgrims sit on the edge of their seats, seemingly rooting for him just to make it through the day.
At the Asian synod when the pope entered the synod hall, then already stooped and walking slowly, the bishops clapped affectionately, standing in place until he was comfortably seated. It took a while because the pope already moved slowly, shuffling his feet forward.
The European bishops greet the Holy Father in much the same manner, standing while applauding, just loud enough to send their messages of affection and respect. The slower he moves the more those around him, mostly bishops, appear ready to assist him, clearing a path, holding an extended arm, pointing a direction, backing off, and always visibly ready to grab him if need arise. Many bishops are 15 to 20 years younger than he is. Those closer to his age appear noticeably healthier.
Once seated John Paul loves to jest. One word or sentence can cut through the tension built by his presence. No one expects much from him. He continues to respond as best he can.
The Holy Father is 79 and fighting Parkinson's disease. He has been for nearly a decade. He has also suffered the wounds of an assassin's bullet and has undergone major intestinal surgery. He has fallen and spent time in the hospital recovering from broken bones. His body is weak, though, buy most accounts, his mind is clear.
Not many years back, Pope John Paul II commanded attention by the strength of his physical demeanor; today he commands attention by the very lack of his physical strength. He is the Holy Father, but not the father figure he once was. Increasingly others are being called upon to provide him great care and to keep him functioning. There is no reason to believe this path will be reversed.
Watching the Vatican at work today, one hears stories and detects shifting relationships. Curial offices increasingly appear to operate on their own. The pope's energies seem largely contained to public functions, writings, and travel plans. His papal trips are getting shorter and less frequent.
Meanwhile, a shift in relationships seems to be occurring between the bishops and the pope. Those who work with the pope seem to be taking a more active role as care givers. The pope has immediate physical needs that are always a concern. The papal office has needs that require greater outside assistance -- and will continue to do so.
This is not to suggest that the Holy Father is no longer capable of carrying out the work of the papacy. A pope's work is whatever he makes it. It is, rather, to recognize the obvious. Pope John Paul has no where near the physical stamina he once had, a stamina that characterized his pontificate through most of its years
An Asian bishop once told me the pope is respected as much for his age as for his office. What he meant was that Asians respect the elderly and therefore have special affection for this elderly pontiff. It is also a respect that grows out of the desire to protect life, especially fragile life.
I saw the Holy Father pass by in his limousine the other day. I was just a few feet away. The streets were lined with police and shopkeepers early one Sunday morning. They applauded as the pope drove by. I could see in the car. Sitting in the middle of the back seat, hunched and almost unable to look out the window, Pope John Paul raised his right hand slightly with fingers curled, gesturing a blessing. It was ever so slight.
Both sadness and worry comes with all this. An image of a once stern pope has given way to an image of a frail and elderly pope. This is a man in the twilight of life, a declining giant. Pope John Paul II remains the Holy Father, but not the father figure he once was. How the pope carries on, who assists him and acts in his behalf in the months and years ahead, are bound to be growing concerns for the church. Catholics have not been in this position since the last years of the pontificate of Pope Paul VI two decades back.
As children of aging parents know, the dynamics of the road ahead are complex, the path quite uncertain.
Fox is NCR Publisher and can be reached at TCFOX@aol.com
National Catholic Reporter, October 20, 1999