---
European Synod II
---
Pope John XXIII - an essay
By THOMAS C. FOX
With several hundred Italian pilgrims singing loudly under the dome of St. Peter's Basilica where they celebrated mass at the high altar, John Allen, my wife, Hoa, and I slipped quietly down some circular marble steps a few feet away to visit the papal crypts.
I find peace and perspective here. Not far from the steps is the crypt of Pope John XXIII. Memories and the ageless marble invite prayer. Failing official proclamation, John XXIII fits the bill as NCR patron saint. It was out of his vision, hope and council that NCR was born in 1964.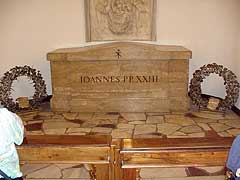 The crypt of Pope John XXIII
photo by -- Tom Fox
It was on Oct. 11, 1962, thirty-seven years ago this month, John XXIII opened the Second Vatican Council, his gift to the church. He spoke that day and told us not to fear. He told us to have faith and to dispel the "prophets of gloom." He meant, of course, those members of the Roman curia whom he saw as having a stranglehold on the church.
He was open and wanted a church engaged with the modern world. He saw the Holy Spirit active in the world. It was to be our task to find Her by understanding the "signs of the times."
How seemingly different is the mood among the hierarchy in Rome today. If images speak, then in place of the smiling John XXIII, we see a pained John Paul II, his face grimaced, his tired body leaning on his crosier, carrying the world's burdens on his shoulders. Pope John gave us Pacem in Terris, a map to worldwide human understanding. Pope John Paul II gives us an analysis of the "culture of death," an acknowledgment of global human failure.
This is not to say John did not understand the cross or John Paul the resurrection. It is to say their views of how grace operates in the world are radically different. John saw the church as an instrument of cooperative acts. John Paul sees the church as a fortress tested by evil. John saw the world, the playground of God's love, as primary. John Paul sees the church, instrument of salvation, as primary. Operating out of John's vision, the church not only can but also must adapt. It changes because the world changes. Operating out of John Paul's vision, the church must strengthen itself by purification. It must not adapt because to do so is to blur the sign of contradiction.
The pain Catholicism has endured this past quarter century has resulted in large measure from being conflicted by these seemingly irreconcilable ecclesiologies.
At the synod's first press conference Oct. 2 journalists asked a handful of synod bishops, including Cardinal Antonio Maria Rouco Varela, archbishop of Madrid, the synod general relator, what the synod fathers had new to offer the people of Europe. The question was significant because Rouco Varela's opening relatio, or reflection, was viewed as quite pessimistic. His remarks mirrored those found in the synod's Instrumentum Laboris, the synod's official working document. It spoke of European apostasy.
Entirely gone this time was the hope expressed at the first European synod, in 1991, held just months after communist regimes were swept off the European map. In 1991, John Paul looked out across Europe at his native Poland and saw infinite possibilities, new hope for an unshackled church coming to full life. By contrast today, he is deeply troubled, seeing his fellow Poles lost in misused freedom.
As if to reflect this view, one British journalist claimed a word search found the most frequent noun in Rouco Varela's opening remarks to be "despair."
Given such utter failure, such inability to convincingly preach the promise and path of salvation, then what radical change might the church fathers consider? It seemed a reasonable question.
The late NCR Vatican Affairs Writer Peter Hebblethewaite once said the deeper underlying problem with John Paul's black and white assessment is not that the world is so black but it makes the church so white. So unrepentive. So resisting of change. The perfect instrument of God requires no change. Further, it must not change.
Off the ecclesial roadmap, then, are reasonable correctives that could fundamentally alter the course of Catholic history overnight. Clericalism could end with a married priesthood. Sacramental life could be enriched by inviting the divorced and remarried back to the Eucharist. Women could be rightfully recognized as complete images of the divine by encouraging an open theological discussion on the women's ordination. Theologians could again reflect upon the lived experiences of Catholic couples who could finally emerge from bifurcated lives torn between official church teaching and marital love. Church teachings on human sexuality could finally become relation-based. Similarly, gays and lesbians could more readily recognize God's hand in their lives. Catholic scientists could freely enter into pressing examinations of complex questions, seeking deeper answers in the expanding field of bioethics.
So is the turn-of-the-millennium crisis to be placed entirely at the feet of an "apostate" people?
Or is Roman Catholicism increasingly irrelevant to a younger generation of honest and intelligent, spiritually and ethically- motivated, men and women?
The Pope John figures who sit among the bishops at this synod have learned they must temper, even hide, their thoughts and remarks. Conversation, the sharing of ideas as normally understood, is not encouraged by the synod format in which bishops speak, one at a time, without theme and without debate. In the perfect church there is not debate because there is only one "truth" and it is proclaimed by only one man for all time. One only has to learn the catechetical response.
Some might say the John figures no longer exist among the assembled bishops of Europe. This would be an incorrect assessment. Like so many others, they, too, have learned to bite their tongues and wait for another day.
Thomas C. Fox is NCR publisher.
National Catholic Reporter, October 7, 1999