Issue Date: January 11, 2008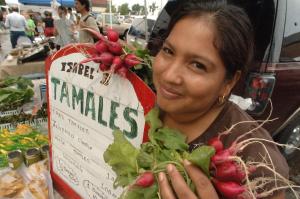 -- Richard McCarthy
Isabel Mendez of Independence, La., has moved from farm worker to farm owner via participation at the Crescent City Farmers Market in New Orleans.
Slow Food is cooking in 50 states
The U.S. headquarters of Slow Food, Slow Food USA, opened in New York in 2000 -- but local convivia had been popping up in the United States as early as 1991, as enterprising foodies stumbled upon the philosophy and transplanted it here. The first convivia started in Portland, Ore., and San Francisco, and now there are chapters in almost all 50 states, as well as Puerto Rico. The formation of the chapters is entirely the initiative of local leaders and advocates who coalesce around the Slow Food philosophy and ask the national office to help them get started.
Chapters' activities vary a great deal from place to place, in part because Slow Food emphasizes pride in local distinctiveness. A popular fundraiser in Portland, Maine, for example, is the Fiddlefest, which features foods showcasing the fiddlehead, part of a fern that grows only in Maine and only for a few months a year. The Atlanta convivium recently hosted a barbecue dinner that paired heritage meat breeders with local chefs to create a distinctive and sustainable Southern meal.
Meals and food tastings are only part of the story. Julie Shaffer, Slow Food Atlanta's convivium leader, hopes to get her group more involved in agriculture legislation in 2008. There are many legislative hurdles, she said, that render it difficult for small farmers to sell their goods. "These are ridiculous laws that don't serve anybody but the Big Ag people. Slow Food New Orleans is meanwhile busy helping its local fishermen and farmers recover from Hurricane Katrina." (See related story.)
In Detroit, convivium leader Melinda Curtis is focused on urban agriculture, edible school gardens in particular. Slow Food Detroit's first such project has taken root in a special needs school, and Curtis hopes it will serve as a template for future school gardens. "[Detroit] got hit with an economic Katrina," Curtis said of the loss of manufacturing and auto industry jobs. But she sees a parallel between Detroit and Turin, Italy, the city that used to be home to a Fiat factory and now accommodates Slow Food's biggest festivals. "Turin set a goal, a vision to become the greatest and most sustainable city in Europe, and they're on their way to achieving that," she said. She hopes for a similar future in her hometown. "I'd like to see Detroit transform itself."
Pieces of Turin are appearing elsewhere in the United States, as well. The New York Times reported in October that a miniature version of Eataly, Turin's 30,000-square-foot organic, local and sustainable food market, will open in New York City's Rockefeller Center in the spring. The 10,000 square foot market will showcase local produce -- like meat from Piedmontese cows raised in New Jersey -- but will carry a heavy emphasis on Italian imports as well. By 2011, owner Oscar Farinetti intends to open a full-sized store in the city's Meatpacking District.
The city where the concept of convenience food service originated now supports a Slow Food convivium that has more than 175 members, the largest in the nation. In 1891, the YWCA of Kansas City, Mo., established what many food historians regard as the first public cafeteria. It provided cheap, self-service meals to working women. Restaurateur and [Kansas City, Mo., Convivium board of directors member] Jasper Mirabile credits a hunger for community for Kansas City's large convivium. "We respect our local farmers and the land but above all we want to come back to the table for an hour every day to share good taste, healthy eating, good conversation and to build strong families."
On the other side of the country, [one of Slow Food International's three vice presidents], noted restaurateur Alice Waters, is busy forging an American version of the Turin food festival Salone del Gusto. The event, Slow Food Nation, will take place in San Francisco in 2008. Sarah Weiner, Slow Food Nation's content director, is encouraged by what seems to be the growing food consciousness in this country. "Things like the Michael Pollan book [The Omnivore's Dilemma] becoming one of the top 10 nonfiction books, and it's all about food; the increase in the organic industry; Wal-Mart putting in an organic line; these are all indications of where we're at as a nation," she said.
Slow Food Nation will include a market but will be more heavily focused on politics and education than its Italian counterpart, and will include a networking day for nonprofit organizations to see how their activities fit into the movement. Weiner notes that the market, while lavish, should not veer into consumerism. "We want everything that's there to be there for a reason," she said. The goal, she said, is to educate people about "why you might want to pay more for that pixie tangerine."
-- Kathy Gilsinan
National Catholic Reporter, January 11, 2008 [corrected 01/25/2008]